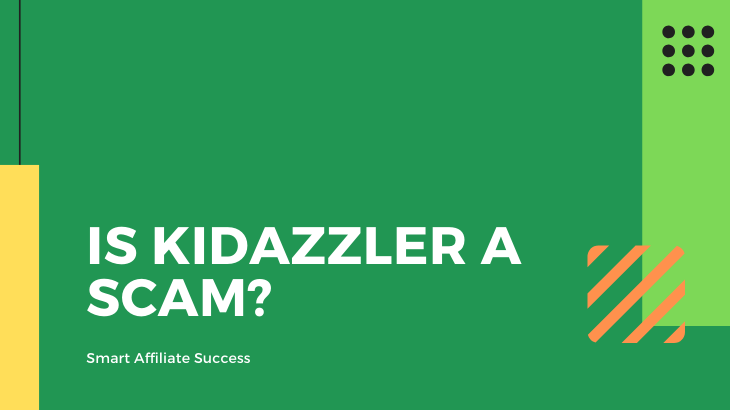 Is Kidazzler a Scam? It's A Promising App For Parents But…
Welcome to my Kidazzler review!
There are lots of unique MMOs or make-money-online programs out there, and some of them are actually decent enough to give you a full-time income.
Today, we're reviewing one of them called Kidazzler, which recently went through an update last August 2019.
First of all, I must Congratulate you for taking your time to do your own research before buying into any "seemingly good" product.
That's the way to avoid scams and find the legitimate way to make money online!
Let me be completely transparent with you, I'm not associated with Kidazzler in any form.
So, rest assured that I'm not here to pitch or sell anything to you.
Instead, I'm here to reveal what makes this app very promising and why it's something that you could check out if you're a parent.
Kidazzler Review Summary
Product Name:  Kidazzler
Founder:  Alex Rehman
Product Type:  Child-Friendly Directory Service
Price:  Free to join
Best For:  Parents who want to help build a child-friendly directory of stores.
Summary:  Kidazzler is a directory of child-friendly stores and restaurants that pays parents for helping them build the list. Their income potential is decent enough, but at this point it's too early to tell. They're still very new, and they just went through an upgrade last Aug 2019. It's got a long way to go, but it's something worth checking out.  
Rating: 80/100
Recommended:  Yes and No
More...
Kidazzler is a free parenting mobile app built around a community of parents. Its mission is to create an all-in-one parenting platform for people with kids to find anything they need to make parenting more convenient and comfortable.
The man behind Kidazzler is Alex Rehman. He released his own blog just last year, but little information can be found about him.
They are currently headquartered at 14900 W Magnolia Blvd, 57304, Sherman Oaks, CA 91403, in the US.
Their long-term goal is to provide parents with a list of functional go-to parenting directory, which will include listings for:
Child-friendly restaurants
Childcare and day cares
Schools and training centers
Kids events and parties
Safe playgrounds and parks
Suggested health clinics
Family fun and leisure places
Museums and learning centers
A list of recommended Pedia, Doctors, Dentists, etc
And everything else related to rearing a child
The main thing about Kidazzler is that it gives everyone a chance to make a recurring monthly income by contributing and helping Kidazzler reach their goals.
The only contribution that Kidazzler wants from you and other members are quality listings to their directory.
You can also earn commissions through their referral system, which I'll talk about below.
How Does Kidazzler Work
Kidazzler has two phases: Phase 1 and Phase 2.
Each phase has different goals, and you need to understand what these are.
Phase 1
Your ultimate goal during Phase 1 is to "Lock In" as many businesses as you can under your name as possible.
To do this, you need to download the app on your mobile or desktop. Then you can start to list businesses under your name.
Locking A Business In Kidazzler
It's easy to lock a company or business under your name. All you have to do is literally Copy and Paste business opportunities (along with some conditions).
To lock in a business, just provide the basic business information such as:
Business name;
Official business contact or phone number and;
The business' address.
When you add a new business or place to the directory, that business will be locked to you.
All of the businesses you locked in the app will have your name on it.
It's also worth noting that the Kidazzler community is exclusive, so you need someone to invite you to join the app.
I'm Jerry!
I Created My Own 4-Figure Monthly Passive Income at just 21 Years Old!​
Phase 2
Phase 2 is focused on the recurring monthly income. Kidazzler and their team will reach out to businesses that you listed. They'll try to get in touch with them in the hopes of getting them to advertise on their parenting app.
If the company advertises on Kidazzler, then the one who signed them up earns $10/month as long as they remain subscribed to the advertising services.
If you have 10 businesses locked in and they all signed up for the advertising services, then you can get $100 per month.
Kidazzler Referral Program
Their referral system pays out $2 if the person you referred to also gets their business to advertise with Kidazzler.
Phase 2 is currently adding more ways for people get more income.
How Much Can you Earn with Kidazzler?
Kidazzler offers its members the potential to make as much as $4,800 per month at this time of writing.
This is based on their passive income system and their referral system.
They don't guarantee that you're going to make this amount, which is a good thing because there are several variables in play that could affect your income system.
Getting Paid with Kidazzler?
You can get paid by Kidazzler through:
Redemption options include:
Direct bank transfer
Venmo
PayPal
In-store purchases
Gift cards
And others that are not specified yet
Kidazzler is for parents who are interested in building an all-around parent directory for their kids and who're interested to make money in the process.
What I Like About Kidazzler?
#1 Unique and Inspired Idea
Kidazzler is a unique all-in-one parenting platform and an all-in-one parent directory.
Now don't get me wrong. Directories aren't really innovative, but the fact that this is a niched directory means that it's a solid and tight market that no one's tapped into yet.
If things go as planned, Kidazzler will be the first only-parenting platform with a directory built by parents for parents.
#2 Free to Join
Another positive feature about Kidazzler is that it's free to join, so there's no membership fee as of this writing.
I don't think they'll be adding a membership fee anytime soon given that it might defeat the purpose of the entire program. Having a membership fee would also chew into their members' profits.
#3 Active Facebook Community
Kidazzler boasts of an amazing online community called Kidazzler Elite Inner Circle on Facebook. The members are responsive and the group is always active.
You can also interact with admins and get involved with their discussions. On top of that you also get updates and news coming in straight from the admins themselves before they get announced on the site.
Kidazzler Ugly Truths Revealed!
#1 USA And Canada Only
As of this writing, Kidazzler is only available for USA and Canada residents who're at least 18 years old.
Their website doesn't hint as to when it'll expand its services. ​
#2 No Track Record Yet
Kidazzler is relatively new, so there's no saying yet if their income opportunity is indeed good. As much as it promises a lot of things, there's still no proof about their claims.
This doesn't mean that people didn't succeed in this program. It could be just no one really came forward yet.
What I Like About Kidazzler?
Kidazzler has a lot of promise, especially with the way their system is built for helping you make income. However at this time of writing, I don't think I could recommend this program just yet simply because it has no track record yet.
What I mean by this is no one's really came forward yet and mentioned about how much money they're making through this program. The program itself doesn't make any guarantees, but they do possess the potential of giving you a decent income online.
But that's completely far from it for the meantime. Either way, you could still check the site out and get into the program if you want to get your feet wet before anyone else. 
I've personally created a 4-Figure Monthly Passive Income Stream and become financially independent at just 21 years old without any College degree or working experience!
Through my own hard work, I went from a broke restaurant waiter to living my dream laptop lifestyle in less than a year's time...
If you want to discover the secrets of how I did it at such a young age, click here!