2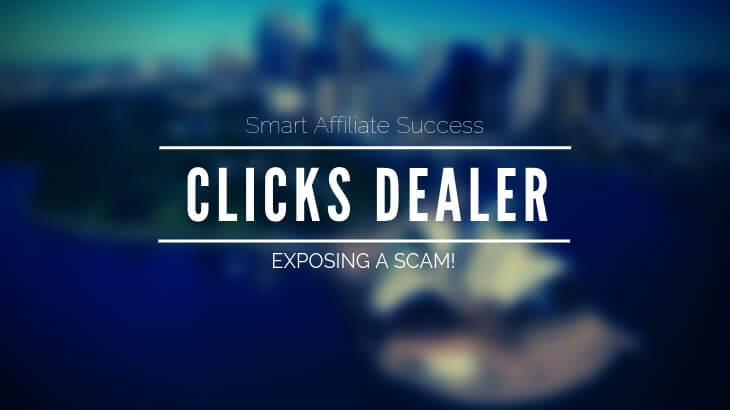 Is Clicks Dealer A Scam? A Money-Making System That Doesn't EXIST!
Welcome to my Clicks Dealer review!
If you're thinking that you're going to make money off of this system by posting other companies' ads, then you're dead wrong.
Someone somewhere probably gave you the wrong information on how ads are supposed to work online, and now you're confused about this program.
I am talking about Clicks Dealer.
First of all, I must Congratulate you for taking your time to do your own research before buying into any "seemingly good" product.
That's the way to avoid scams and find the legitimate way to make money online!
Let me be completely transparent with you, I'm not associated with Clicks Dealer in any form.
So, rest assured that I'm not here to pitch or sell anything to you.
Instead, I'm here to reveal why this reminds me of an older ad placement scam that made the rounds on the Internet some time ago.
Is Clicks Dealer a scam.
Yes it is, and here's why...
Clicks Dealer Review Summary
Product Name: Clicks Dealer
Founder: Not disclosed
Product Type: Ad Banner Placement Platform
Price: $250 minimum deposit
Best For: No One. This program is a scam!
Summary: Clicks Dealer is supposed to be a system that helps you generate income online by selling and buying ads, and displaying them on third party sites. However, there are several program with their system. First and foremost, the system that they're selling doesn't exist and that ads don't even work that way. Second, this is nothing more than a rehashed version of an old ad banner placement scam that was also popular some time ago. Need I also mention that there's no real person or company behind this program, so everything about it is just plain suspicious.
Rating: 1/100
Recommended: No
More...
Clicks Dealer is a one-of-a-kind money-making system because they claim to be an "advertising marketplace" that allows people like you to profit from online advertising.
In simpler terms, you're buying and selling ad banners and making a profit from their system.
These ads are supposedly published on other third-party websites.
When you buy an ad, you make money when people click on them while they're on that site.
You can also sell your ad banners back to the marketplace.
You'll find out more about how the system works in the next section.
Who's Running The Show?
Okay, their company information raised a lot of red flags on my end.
First, the website doesn't disclose who's behind it.
This is alarming to me considering that it's asking for a $10,000 investment from you.
This is all that you'll find on their website.
If I'm not missing out on any other detail, they're not exactly being upfront with their real operating address.
That would make me suspicious about who they actually are and what their goal is for this program.
The website does not do a good job at explaining how their system works.
I felt that a lot of important details were left out, which I feel should've been disclosed before they start to ask you for money.
But I guess that it was all intentional on their end.
All the site does is make you hyped enough to speak to their "account manager" in order to make sense of their website.
But the account manager is just a sales rep whose sole task is to convince you into buying as much stuff as you can within their platform.
As you talk to their rep, you'll be instructed to go through the four main aspects of their platform, which I'll explain below:
Activating Your Account
To get started with their program, you'll need to activate your account.
And this involves giving people a lot of your money.
The funny thing about this process is that they don't tell you how much you need to deposit.
All they say is "select an amount", and then show the various packages on the right, which shows no dollar value.
In any case, there are 5 packages to choose from, each with their own "matching bonus".
I guess this is to match whatever you deposited based on a set percentage.
Here's a quick breakdown of the different packages:
Bronze – 20% Matching Bonus
Silver – 50% Matching Bonus and account manager for 1 month
Gold – 75% Matching Bonus and account manager for 3 months
Platinum – 100% Matching Bonus and account manager for life
Diamond – 200% Matching Bonus and 'VIP mentoring'
There's no price indicated as to how much each package cost, so I had to do more research.
Then I found out that these were all within their Terms and Conditions page.
So you have to spend a minimum of $250 to activate your account, and this would automatically get you the "Bronze" package.
I'm Jerry!
I Created My Own 4-Figure Monthly Passive Income at just 21 Years Old!​
Buying Ad Banners
Assuming you deposited the $250, you can start to buy an ad banner within their "marketplace" tab.
The costs of each banner ad range between $25 and $1000, based on what I could see.
These are the categories where you can purchase niche-specific ads:
Fashion
Electronics
Automotive
Beauty
Kids
Crypto
From there you can bid or buy on these banners.
If you buy, you have 7 seconds to hit cancel before you can commit to buying, assuming you have enough money in your account.
If you hit bid, it works similar to eBay's auction system. You can win or lose ads the moment they expire.
How To Earn Revenue From Your Ads?
The whole point of buying and selling ads is to earn a revenue.
According to their Terms and Conditions, you'll generate revenue from each and every click the banner receives on a site.
So your ads will appear on any site, and when people click on them, you earn money.
Now this is where it starts to unravel.
First and foremost, a lot of the major companies use legitimate and credible affiliate and advertising programs to run their ads and that would be Google Adwords.
Second, there's no way for their system to verify if the ads you buy are going to get traffic or not.
What could happen is you're just buying these ads and nothing happens.
Selling The Ad Banners
Another way for you to get your money back is to sell your ads back to the same marketplace.
Basically, you're just buying and selling ads, and then hopefully earning a profit.
But based on their entire system, I doubt you're even making money from this method at all.
Referral System
The company claims to pay you $1000 for referring people to their program.
As someone who's a strong supporter of affiliate marketing, I can totally say that this is complete nonsense.
No company will ever pay you that amount of money to refer someone for free.
No one.
There's just nothing legitimate about the system that makes me want to even recommend it to anyone.
This is a system that's best avoided!
Clicks Dealer Ugly Truths Revealed!
#1 – There's No Such Thing As Ad Flipping
At the bare minimum, they are merely an "ad flipping" company under the disguise of a system that helps people make money online.
I've seen similar systems before like Free Ad Cash System and Banner Bit, and they both work the same way as Clicks Dealer.
However, those two programs ended up to be nothing but scams.
Also on the Internet side of things, ad flipping does not really make sense at all.
Why would you get paid just to run ads on other people's websites?
#2 – Fake Personalities Using Paid Actors
I'm not even surprised that they hired paid actors to run their program's tutorial videos.
Assuming you bought the program, you'll be taken to a series of tutorial videos on how the program works.
Based on the presentation, you'll think that the person is actually working for the company.
But they aren't.
The people fronting the tutorial videos are paid actresses from Fiverr, a freelance content site.
I guess they don't even want to show their real faces to the world.
#3 – It's A Rehashed Version Of An Older Scam
Banner Bit had a lot of negative reviews and complaints that the site got shut down.
My guess is that Clicks Dealer is just a newer version of Banner Bit, but with minor tweaks to make it look like they're not a scam.
The sad thing here is that once people figure out that Clicks Dealer is a scam, they'll just close down the website and rebrand the entire thing.
And the cycle continues.
What I Like About Clicks Dealer?
There's just absolutely nothing positive worth mentioning about a site that falsely promising you two things:
That you'll make money online
That the program is a legitimate way to make money
Clicks Dealer is just like any other scam that I've reviewed, and they're not even trying hard enough to pretend that they aren't.
Based on what I've read and what I found out about the program, I can safely assume that the program is nothing but a complete scam.
And anyone trying to tell me otherwise would probably be a paid spokesperson for that site.
Apart from a website that provides you with vague information about a money-making system that doesn't exist, it's nothing more than a newer version of an old scam that used to make the rounds a couple of years ago.
And sure enough, if people find out that Clicks Dealer is a scam, the site will just close up, get a new name, and start over.
And then they find new victims.
How I Make A Living Online?
I've personally created a 4-Figure Monthly Passive Income Stream and become financially independent at just 21 years old without any College degree or working experience!
Through my own hard work, I went from a broke restaurant waiter to living my dream laptop lifestyle in less than a year's time...
If you want to discover the secrets of how I did it at such a young age, click here!