3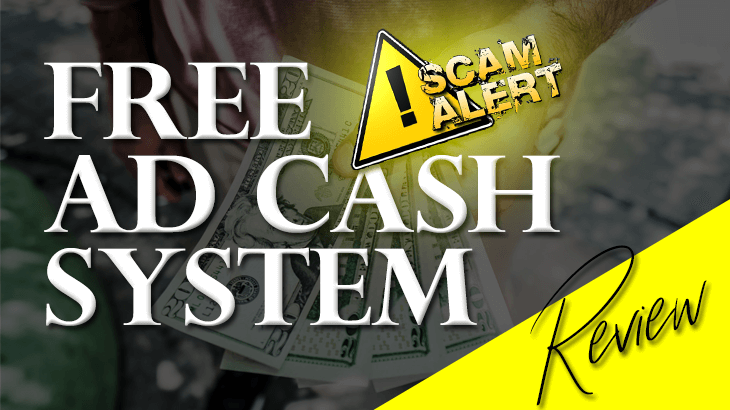 Free Ad Cash System Review – Outright Scam Stripped Naked!
Welcome to my Free Ad Cash System review!
First of all, I must say congratulations for putting in the time and effort to do your own research before buying into any "seemingly good" products.
If you've checked out Free Ad Cash System's sales page, most likely you'll feel it's way too good to be true.
Let's be completely honest upfront, Free Ad Cash System is a TOTAL scam! After reviewing so many products, it's one of the worst products I've came across so far.
By the way, I never give my opinion without evidence. So, I'll be revealing to you the various ugly truths about this product with proofs!
You'll really be amazed by the extent scam artists will go beyond just to take money away from you...
Free Ad Cash System Review Summary
Product Name: Free Ad Cash System
Founder: Simon Green Unknown
Product Type: Binary Options Trading scam in disguise
Price: 100% Free $250
Best For: The Scam Artist behind this product
Summary: Free Ad Cash System is a Binary Options Trading scam disguised as an "Ad Flipping" platform for you to make big bucks in a very short period of time. Everything in this product is fake and it's not free at all.
Rating: 0/100 (First time I give a ZERO rating!)
Recommended: No (Scam Alert!)
Wanna Make Money Online but Tired of Scams?
More...
What is Free Ad Cash System?
Just like any other scams out there, the narrator of Free Ad Cash System, Simon Green, claimed that his life was totally changed just by using this "system".
He has some very bold promises in the beginning such as:
You can make more than $3,500 per day just by leveraging the Free Ad Cash System for FREE
Not only that, you can earn up to 3 million dollars within 3 months' time
Lastly, he claimed that he has made over $22 Million with this "system"
Oh yes, he even claimed that affiliate marketing is just a waste of time because it never works.
I didn't know there are people out there who are so ignorant to say such things.
I'm personally making good passive income every month from affiliate marketing. Many friends of mine are having successes with affiliate marketing as well because we're following the right training.
So for someone to say affiliate marketing never works, he must be the one who's not telling the truth.
The FAKE Sales Story
Such scams always start their sales pitch with a very dramatic & emotional story...
This Simon claimed that he was laid off from his high flying job and suffered from illness. His life was so miserable until his brother-in-law, Mike, revealed to him about "Ad Flipping".
After discovering this thing called "Ad Flipping", he started making lots of money with very little work involved. He even managed to make over $22 Million dollars.
That's why he called himself - Simon "the flipper" Green, LOL!
To be honest, I don't believe every single word from this guy because he didn't mention anything about how this "system" works. Everything is about telling you stories despsite they're all fake.
This is a very common sales technique because marketers know that "Facts tell, stories sell!"
Other than that, there are a ton of lies within this product.
Let me prove to you...
I'm Jerry!
I Created My Own 4-Figure Monthly Passive Income at just 21 Years Old!​
Free Ad Cash System Ugly Truths Revealed!
1. FAKE Business Model
When Simon mentioned about "Ad Flipping", all he said was that you can buy and sell Ads online and money will just come in easily.
To be honest, I have no idea what "Ad Flipping" he was talking about. So I did some Google search.
Guess what I found?
NOTHING!
You can search it yourself. I've heard of flipping domains and flipping websites. But there's really no such thing as flipping Ads.
Upon further research, I found that the name of Free Ad Cash System's sales video is actually called "BannerBit.com":
What I found is that BannerBit is a binary options trading platform which is a scam as well.
Since a lot of people are aware of the common scams in binary options, that's why they tried to hide themselves as a binary options trading business and called it "Ad Flipping" business.
If you really go and invest in their platform, those scammers will be earning good commissions from you and you'll never earn any money back.
2. FAKE Testimonials
Other than the fake business model, they're also using various fake testimonials in their sales video.
Those testimonials are actually filmed by paid actors on a freelancing platform called Fiverr.
The mysterious owner of Free Ad Cash System paid these actors to film fake testimonials for the product.
Below are just a few proofs:
What's interesting about this second fake testimonial is that I've actually seen this guy before in another scam product called 30 Minute Money Method:
As you can see, such techniques are actually very common. There are lots of other scam products doing the exact same thing.
Also this kind of written testimonials can also be faked:
Just do a simple Google Image Search, you can see that the photo is actually being used on many other websites as well.
The most shocking truth about this particular fake testimonial is that they are actually using the photo of an award-winning director...
What the hell?!
They're not scared to get into lawsuit or whatsoever trouble. I'm amazed. This is definitely illegal!
3. FAKE Founder
This is also another very common strategy scam artists are using. They simply use a fake name and claim it to be the owner of the product.
In this case, I believe "Simon Green" is also a fictitious character. The real scammer is still hiding behind his/her computer because there's no way for you to find out more about "Simon Green". He didn't even show his face in the sales video.
4. Not Free At All
On the sales page of Free Ad Cash System, it claimed that you can start making $3,671.32 per day by using the "system" for FREE.
However, as you go further into the sales video, they actually said that you have to deposit a minimum of $250 in order to invest in buying ads.
The truth is that these money will go directly to those scammers once you deposit it into the account.
100% Free is another scam pitch!
5. Everything is FAKE!
As you can see on their sales page once again, they're using lots of fake sales techniques just to take money away from those innocent individuals.
Things like having a fake scarcity and fake income proof to push for sales...
Last but not least, look at what I've found...
There's another product called "Quantum Ad Code" and the design of the sales page is exactly the same:
They must be created by the same scammer!
To be honest, there's no benefit of this product at all.
Other problems of this scam product include:
Extremely hyped up & unrealistic income claims
Absolutely ZERO Support
No Refund Policy (You can't get your money back!)
This site has no Privacy Policy page, Disclaimer page, Income Disclosure page, etc.
Basically, this is illegal. You can sue them if you're able to find the owner of the site.
But the owners of such scam products are smart enough to hide themselves nicely behind their own computers without being found.
That's why there are so many scams on the Internet today. You should really be careful.
On this site, I do my best to review all sorts of digital products in the most unbiased and authentic way as possible.
I hope you can feel that. My goal is to help as much people save time and money as possible. And guide them in the right direction.
So if you are serious about making money online, check out my sincere and honest recommendation for you here! 🙂
Is Free Cash Ad System a Scam?
Absolutely. Free Ad Cash System is a complete scam. Full Stop! No further explanation is needed.
I believe I've given you more than enough evidence to prove it.
A Much Better Way to Make Money Online...
Seriously, there's no such thing as flipping Ads. No one will be buying and selling ads. Advertisement is not like stock. You cannot buy and sell.
If you're serious about making money online, my top recommended business model is Affiliate Marketing.
Don't believe the BS in Free Ad Cash System's sales video saying that Affiliate Marketing is just a waste of time because I'm personally earning consistent passive income from Affiliate Marketing every single month or even every single day.
In fact, with affiliate marketing...
I've personally created a 4-Figure Monthly Passive Income Stream and become financially independent at just 21 years old without any College degree or working experience!
Through my own hard work, I went from a broke restaurant waiter to living my dream laptop lifestyle in less than a year's time...
If you want to discover the secrets of how I did it at such a young age, click here!