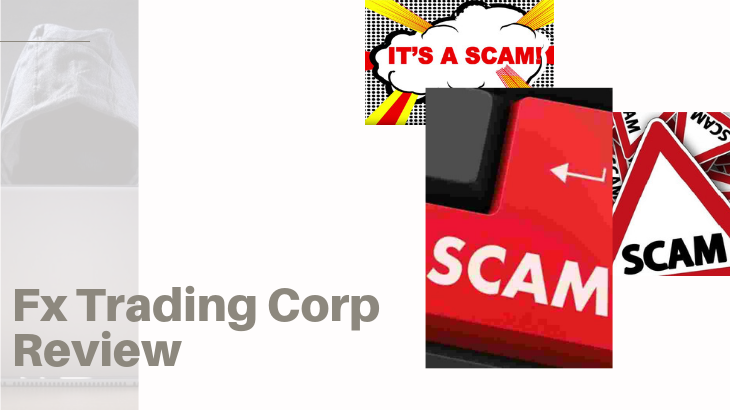 Fx Trading Corp Review – A Possible Ponzi Scheme Exposed!
Welcome to my Fx Trading Corp review!
A couple of weeks ago, a friend of mine told me about an investment scheme that he got recruited into. He told me that this was a big deal in their village considering that a lot of people in there are part of the program.
He asked me to look into the program and to find out if this scheme is legitimate or not.
Ladies and gentlemen, this is Fx Trading Corp.
First of all, I must Congratulate you for taking your time to do your own research before buying into any "seemingly good" product.
That's the way to avoid scams and find the legitimate way to make money online!
Let me be completely transparent with you, I'm not associated with Fx Trading Corp in any form.
So, rest assured that I'm not here to pitch or sell anything to you.
Instead, I'm here to reveal why this investment scheme is a possible Ponzi scheme and why it's not worth your time and money. 
Fx Trading Corp Review Summary
Product Name:  Fx Trading Corp
Founder:  Phillip Han
Product Type:  Investment-Based Network Marketing
Price:  $350 minimum investment
Best For:  No one!
Summary:  Fx Trading Corp is an investment scheme that lets you buy into trading bots and promises you huge ROI after 200 days. However, this program looks to be like a ponzi scheme due to the fact that a government warning has been issued against them, so that's more than enough to shut down this program and to stop people from joining it. 
Rating: 1/100
Recommended:  No!
More...
Fx Trading Bot is an investment program that lets you invest towards trading bots, which are designed to do all the trading. All that you need to do is to buy bots from them and then you'll get your ROI based on the investments made.
According to research, Fx Trading Corp is located in Korea and founded by Phillip Han and other traders.
Now, it's been said that Phillip Han is only listed as the CEO and not a founder, but other third-party reviews who claim to know Han say otherwise.
Other founders of the company include Young Min Oh (CEO), Joon Park (CFO) and Yang Jae Seok (CMO). The company has reached 76 countries with 26 trading professionals within their network.
Fx Trading Corp Product Line
Fx Trading Corp is a MLM or Multi-level marketing model that relies on arbitrage trading, which they claim is lucrative that members can take part in daily profits. But I find that hard to believe, nor is there a legitimate bot that does that as well.
Here are the investment packages that you need to sign up for:
Bot 300 – $300
Bot 500 – $500
Bot 1000 – $1000
Bot 3000 – $3000
Bot 5000 – $5000
Bot 10000 – $10,000
Bot 20000 – $20,000
Bot 30000 – $30,000
Bot 40000 – $40,000
Bot 50000 – $50,000
More about their investment model will be discussed in the Compensation Plan Section below.
I'm Jerry!
I Created My Own 4-Figure Monthly Passive Income at just 21 Years Old!​
Does The Product Work?
Investment models are effective based on how much money they make within a period of time. Unfortunatley for Fx Trading Corp, there doesn't seem to be any indicator that people are earning money from this program.
Unless there's an income disclosure statement provided, it's safe to say that this program does not work.
How To Make Money With Fx Trading Corp?
Fx Trading Corp provides you with 2 ways to make money:
ROI Commissions
Referral Commissions
How To Get Started With Fx Trading Corp?
It's free to sign up for Fx Trading Corp. the amount of money you spend depends on the investment package listed above. With that said, you need a minimum of $300 to get into the program to start earning.
Fx Trading Corp Compensation Plan
Fx Trading Corp's compensation plan is quite complicated with all of the different ways to make money, but unfortunately, not a single one of them can guarantee any form of income.
Here's a short rundown of their compensation plan:
ROI Commissions – you get 2.5% commission on your investment for 200 days and get 500% ROI of your investment made.
Referral Commission -  6% commission on funds invested by personally recruited affiliates
Residual Commission -  This is paid via binary compensation structure. Members are paid 10% residual commission on funds generated on their weaker binary team side. Leftover volume is carried over the fllowing day
Matching Bonus -  This follows a unilevel compensation structure that pays out the member at the top of their unilevel team, with each member placed under them.
More detail about their compensation plan is revealed on this video:
Fx Trading Corp Ugly Truths Revealed!
#1 - Public Warning Against Fx Trading Corp
The knife that digs deep into Fx Trading Corp's chest is the Spanish Comisión Nacional del Mercado de Valores (CNMV)'s official warning against the company.
As seen on this document right here:
This warning sign, together with their incredible lack of financial regulation, means that the brokers behind this program are nothing more than fraudsters who are going after poor schmucks who keep falling for these get-rich-quick schemes.
Crypto robot websites such as Fx Trading Corp are designed to mislead everyone by registering their personal information and then giving away their money by promising phenomenal returns.
#2 - There are NO Refunds!
Just like most investment schemes, there's no way for you to get your money back in case crap hits the fan.
The software and business model is designed in a way that the money invested in distributed at will, so there's no way to backtrack out of your investment.
Even if they do allow it, there's no possible way for them to do this.
#3 - There are NO Guarantees!
Much like their no refund policy, they don't have any guarantee that you're going to make some money out of their program. All they talk about is how you get 500% ROI from your investment within 200 days.
All of the sales pitch they throw at you are not guarantees that you're making money, so don't waste your time listening to them.
#4 - You Need to Invest a Decent Amount
Even if you do make money from their program, you're going to have to invest a substantial amount of money to make the most out of their program.
And on top of that, you have to recruit a lot of people to get a good commission stream going.
Other than that, it's not worth waiting 200 days to make hundreds of dollars back. It doesn't make sense.
#5 - This Will Not Last!
I don't care what anyone says about Fx Trading Corp or any similar investment programs. These business models are not made to last. Once members get scared enough to join, the money wheel stops turning and everyone will start to withdraw their money.
But this is also intentional in their design as well. Because once the founders have more than enough money, they'll start to lay low and before you know it, their disappearance will be all over the news.
What I Like About Fx Trading Corp?
There's just nothing about the program that I like because it works a lot like a Ponzi scheme.
If you want to get into trading, there are far more legitimate programs out there. Here's a short list of trading platforms that we reviewed and that we highly recommend:
Is Fx Trading Corp a Scam?
Fx Trading Corp may not be a scam, but it does possess the qualities of a Ponzi scheme where there's no products being sold and a lot of recruitment is involved.
However, what should dissuade you from joining the program is the fact that they have a public warning against them, which is a government agency telling the public that no one should trade with them.
This is more than enough for me to not recommend this program to anyone.
How I Make a Living Online?
I've personally created a 4-Figure Monthly Passive Income Stream and become financially independent at just 21 years old without any College degree or working experience!
Through my own hard work, I went from a broke restaurant waiter to living my dream laptop lifestyle in less than a year's time...
If you want to discover the secrets of how I did it at such a young age, click here!