4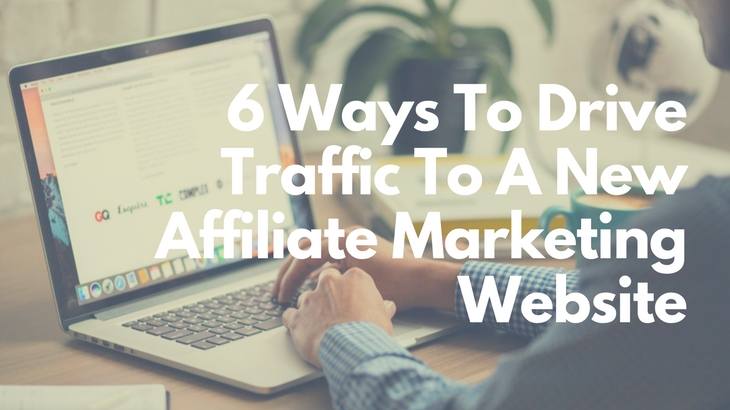 6 Ways To Drive Traffic To A New Affiliate Marketing Website
Affiliate marketing websites are a great way to earn loads of money overnight. With no blaring alarm tones to wake up early for office hours, or no complaining boss throwing deadlines at you, an affiliate marketing website can eliminate all your money-making troubles.
​An affiliate marketing website is basically any website that utilizes a form of affiliate advertising technique.
Say for example when a link on a website redirects you to another website in order for you to make a purchase there, it is nothing but affiliate marketing. The website owner receives a commission when you proceed to make a purchase.
However, it is not always as easy as it sounds. You need a sufficient number of customers to visit your website who can then go on to make a purchase on another.
So how to gain considerable traffic on your affiliate website in order to maximize profits?
Here are some quick tips...
More...
​6 Ways To Drive Traffic To Affiliate Websites
---
#1 ​Build Your Website With A Plan In Mind
​Build a website by having a strategic plan in your mind.
Decide on a theme for your website. It could be anything, be it a blog about cooking basics or even a site related to drone reviews.
If you have a set goal in mind, with the kind of visitors on your website and the services you wish to offer, you would streamline all your subsequent plans accordingly.
#2 Quality Content Goes A Long Way​
Your audience should love your content if you have a high quality content that is helpful to them. Users need new and exciting information about whatever they are looking for.
Your content should be well-researched and appropriate for your audience. Avoid keyword stuffing in your blog posts, make them authentic and unique.
You should make sure that your content lives up to its title name, for example, if your article is about "5 tips to avoid procrastination", make sure there are 5 crisp tips helping the reader figure out a solution to their problem.
#3 ​Help Your Audience
​Focus on building a website that HELPS your customers out, instead of selling and promoting. Guide your customers in helping them decide which products or services would be best suited for them.
For example, a book reviewing blog can help the visitors decide upon a book to read. The more user-friendly and the more value your website proves to be, the more traffic it gets.
#4 An Appealing Website Design​
No, you don't want your visitors to get instantly bored by the look of your website. Make sure you use attractive website designs that are up to date.
Everyone loves interactive designs, like when you hover your cursor on some tab and it automatically changes into something cool. Make sure your website design is responsive, meaning it is mobile and tablet friendly. Sites that suit the theme go a long way.
For example, if you have a photography website, make sure multiple tabs display your best shots on the first page itself. This helps your visitors build trust and they are bound to visit your affiliate marketing website more often.
#5 ​Try To Include User-Friendly Opt-In Form
​Opt-in forms can be an essential part of your website. Your content may be of excellent quality, however having a botched up clumsy opt-in form may make you lose on sales per customer.
​Therefore, make sure to have a list that is neatly presented on your website that helps the customer subscribe.
For example, it can be a report usually worth 10 dollars that you are willing to give on a discounted price. These opt-in incentives can help your audience to opt-in to your list effectively. This way you will attract multiple considerably.
Related: How to use Abandoned Cart Email Strategy to boost conversion rate?
#6 ​Excellent Customer Service
​Your customers are your Gods. Make sure you look after every customer, regardless of him making a purchase or not.
A customer is bound to visit your website again and again if he finds quality service and catering to his demands. Make sure you reply to customer queries and complaints instantly. This way not only your website traffic would improve, but your website would be trustworthy and reliable for every user.
Conclusion
​These were only a few of the many tips, on building a quality affiliate marketing website that can help you increase traffic. Managing an affiliate website is not just about randomly throwing affiliate links throughout your website.
Every success requires great devotion and hard-work. Your dedication is bound to help you in gaining increased revenues in the long run.
---
​About The Author
This is a Guest Post by Emily.
Emily is currently serving as a content writer for Hell Copters. She focuses on writing about technological advancements that can be great boon for the society. She also has a Master's Degree in Business Management from the University of Michigan.
---
If you are an Internet Marketer or a blogger who is looking for Guest Posting opportunities, go to my Guest Posting instruction page for more information.