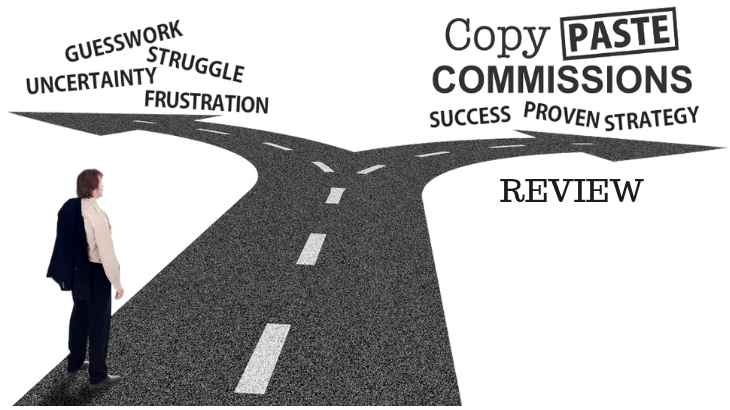 Copy Paste Commissions Review: Unraveling The Scheme
Welcome to my Copy Paste Commissions review!
If you've ever seen an ad about copying and pasting your way to some serious income, then you may have stumbled across Copy Paste Commissions.
First of all, I must Congratulate you for taking your time to do your own research before buying into any "seemingly good" product.
That's the way to avoid scams and find the legitimate way to make money online!
Let me be completely transparent with you, I'm not associated with Copy Paste Commissions in any form.
So, rest assured that I'm not here to pitch or sell anything to you.
Instead, I'm here to reveal the real story behind this affiliate marketing program and if it can deliver what it promises its customers.
Come check out my Copy Paste Commissions Review
Copy Paste Commissions Review Summary
Product Name: Copy Paste Commissions
Founder: Chris Harter
Product Type: Affiliate Marketing
Price: $49
Best For: People who want to get into affiliate marketing but don't have a money-making system in place yet.
Summary: Copy Paste Commissions is an affiliate marketing system that hypes up the potential of earning $1,000 in less than a day. It does everything else apart from its supposed name, which is Copy and Paste. After paying the premium membership fee, you're taken to several pages of upsells before you get to the product. The system is nothing more than a sales funnel into other products. And you know what I found? All their testimonials are FAKE. (I'll prove to you in my full review below!)
Rating: 10/100
Recommended: No
More...
What is Copy Paste Commissions?
Before anything else, this review is about the site from CopyPasteCommissions.Com, and in no way related to Omar Martin's Copy Paste Commissions, which can be found on JVZoo.
Copy Paste Commissions is being sold by a guy called Chris Harter, who claims to be a Internet marketer living the high life.
Upon closer inspection, there is no other profile or information about Chris Harter anywhere on the Internet except for being linked to Copy Paste Commissions.
Inside Copy Paste Commissions
Copy Paste Commissions is a system that claims you can "copy and paste" your way to $1000 a day, at least that's what it says on thier sales video.
In reality, the program is not even a program. It merely funnels you into various bizopps or business opportunities and make money online programs that the creator of the site is affiliated with.
The actual program that it funnels you into is based on what affiliate of theirs make more money for them at the time.
One of the funnels will take you to a program called Automated Daily Income, a 21 step training program that costs $49 and is nowhere near what Chris Harter pitches on the videos.
So, Does Copy Paste Commissions Work?
Copy Paste Commissions claims that you can apply their training and build your mailing list through their system.
This will then allow you to earn $1000 per day or more on "auto-pilot" and turns your business into a six-figure business.
This may sound like a lot of hype, and I don't blame you. They've marketed their system in a way that marketers are now living the lifestyle they've earned through the system.
But there are other companies out there like Wealthy Affiliate that are actually realistic about how much you can earn and the time it takes for you to do that. And these companies don't hype it up.
So, Does Copy Paste Commissions Work?
This is where I have to be brutally blunt.
When asked if the products worked, I would have to base the answer on two things:
If the product has at least done what it's supposed to do based on how it's marketed
If the product has made anyone else (apart from the founders) money.
Copy Paste Commissions fails on these two points alone.
First, this is a system that they claim can help you make $1000 or more within 24 hours. The video even says that a lot of inexperienced marketers are able to make $10,000 within their first 30 days.
When marketed like this, of course people want to buy it. But has it done what it's supposed to do?
No. In reality, Copy Paste Commissions is not even an entire program. I
t's only a website that funnels people into various business opportunities and other "make money" programs. Dubbed as upsells, you're actually presented with more product after you purchase their product.
Has anyone else (outside its founders) made any money using this system?
Again, the program funnels you into another program called Automated Daily Income, which is a 21-step training program created by none other than MOBE (My Own Business Education). Now you may or may not know this, but MOBE was shut down by the FTC just this year.
I'm Jerry!
I Created My Own 4-Figure Monthly Passive Income at just 21 Years Old!​
I'm Jerry!
I Created My Own 4-Figure Monthly Passive Income at just 21 Years Old!​
Copy Paste Commissions Ugly Truths Revealed!
#1 - Fake Testimonials
One thing that bothers me is the legitimacy of their system's testimonials.
But as I was digging around, I found that the people on their testimonials were no more than paid actors from a site called Fiverr.
You don't believe me? Check these screenshots out and tell me if I am making things up:
Doesn't this guy look the same as...
Oh it might be a coincidence, you say? Here's another one:
And then...
Okay, I can go on about the fake testimonials because I found three other people, but I won't be posting them.
Instead, I'll point out why this is alarming...
Copy Paste Commissions made use of these fake testimonials to add to the hype of their products and false promises.
Now tell me, what's to stop them from actually making another video or image about a fake seminar with these fake people?
All it takes for them is to book a hotel room, get a bunch of people together, make them pretend it's a seminar, capture them on video, and edit into a highlight reel.
If it costs them $200 to do this but get $1000 back in customers, then the entire endeavor was worth it.
But will it be worth it for the people they fooled into joining?
#2 - No Copy And Pasting Involved
You'd think for a second that this is a system that would let you copy and paste your way into some serious income.
Well, this system does little or nothing of that. It only provides you with an e-book on how to do Internet marketing and affiliate marketing "the right way" and nothing else.
That, and some questionable testimonials from their marketers about how they are now earning the big bucks through the system.
#3 - It's All About The Hype
Chris Harter uses the hype of a lavish millionaire lifestyle which can be attained through his system. With the help of his "fake testimonials", he succeeds in doing so.
On the site's page, they like to throw around the money they made using the system, but when you take a closer look at their income disclaimer at the bottom of the page, they make it clear that this is not going to be the money that you'll be ACTUALLY EARNING.
What I Like About Copy Paste Commissions?
The program is obviously a scam and there's nothing good about the site that's worth mentioning.
Is Copy Paste Commissions A Scam?
Again, this Copy Paste Commissions program is in no way related to Omar Martin's Copy Paste Commission (which is actually the more legitimate one).
Copy Paste Commissions is a system that I would probably avoid at all costs. While it's not exactly a scam, it doesn't exactly deliver the promises that it makes and markets.
It's a system that has nothing to do with copying or pasting and more of a system that funnels you into more programs for you to purchase.
Another reason to really avoid this product is that they use fake testimonials to lure people in.
It is one thing to claim something about a product and not be able to deliver what it's supposed to do. It's a different story when you're paying people to lie for the company.
If they spend this amount for fake videos to get 10 times the amount in return, they'll continue to do it again and again.
A product that goes out on its way to craft fake testimonials will not be completely honest with its customers all throughout.
Remember, once they get you into the system, they won't care much about you. All they care about is that their bottom line is fat and the paychecks are fatter.
The positive reviews about Copy Paste Commissions look like they're affiliates of the system and are actually making money by promoting the system, so the legitimacy of their review goes outside the window.
How I Make A Living Online?
I've personally created a 4-Figure Monthly Passive Income Stream and become financially independent at just 21 years old without any College degree or working experience!
Through my own hard work, I went from a broke restaurant waiter to living my dream laptop lifestyle in less than a year's time...
If you want to discover the secrets of how I did it at such a young age, click here!