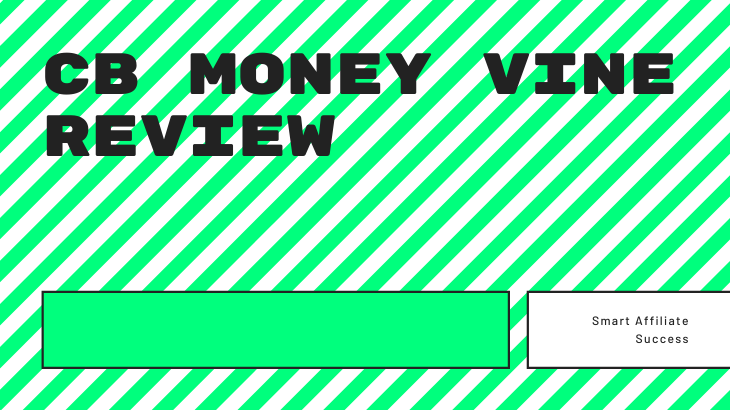 CB Money Vine Review – An Affiliate Marketing On Autopilot
Welcome to my CB Money Vine review!
We've all seen these affiliate marketing programs that promise automation and having you earn thousands of dollars on auto-pilot.
These programs are either scams, or not good enough to be worthwhile investments.
Today, we're looking at CB Money Vine and we're going to determine if it's a good program or nothing more than a sham.
First of all, I must Congratulate you for taking your time to do your own research before buying into any "seemingly good" product.
That's the way to avoid scams and find the legitimate way to make money online!
Let me be completely transparent with you, I'm not associated with CB Money Vine in any form.
So, rest assured that I'm not here to pitch or sell anything to you.
Instead, I'm here to reveal what this autopilot program promises and why it's not something we can expect something from.
CB Money Vine Review Summary
Product Name: CB Money Vine
Founder: Tom E and Bryan Winters
Product Type: Affiliate Marketing System
Price: $20 per month plus upsells
Best For: No one
Summary: CB Money Vine markets itself as an affiliate marketing system on autopilot that can get you earning hundreds of dollars on your first day. Sales hype and pitches notwithstanding, there's just something about this program that doesn't really sit well with me. The expensive upsells can be disappointing because you may need to purchase them to get this system running. And just like our reviews of past DFY systems, these are completely unreliable because they could go anytime and so will your business.
Rating: 50/100
Recommended: No!
More...
CB Money Vine markets itself as a 1-click software that instantly attaches affiliate products to your websites in 60 seconds.
Unlike traditional affiliate marketing where you have to go through the products manually, CB Money Vine does the difficult part for you and gives you the best matching products for you and your website.
From there, you're going to just build content, get traffic, and then earn money.
The founders behind this program are Tom E and Bryan Winters, who've develop various products outside of CB Money Vine.
Tom E was the person behind 5iphone Reloaded, Arbitrage Underdog, Arbitrage Underdog Evergreen, and so on.
Meanwhile, Bryan Winters is the brains behind Piggyback Payday, IG Money Tree, Lazy Profit Engine, and so on.
With the two of them under one product, one could easily expect great things from CB Money Vine.
You have access to its 2 main products once you sign up:
CB Money Vine Software
This is the software you use which will link you to more than 4000 products. The setup's about 1 minute and you're ready to go. The payment will also go directly to your account.
I'm Jerry!
I Created My Own 4-Figure Monthly Passive Income at just 21 Years Old!​
CB Money Vine System
The CB Money Vine System is responsible for converting the commission links into income for you. From what we gathered, this "autopilot" system has a lot of features and we're going to take a look at them:
100% Automated
They promise that the system's automated and that it will care of your website and business without you having to lift a finger. The system's on autopilot so it will continue to work every day.
More than 4000 Physical and Digital Products
CB Money Vine promises more than 4000 physical and digital affiliate products on your website. All of these are commission-based. No selling or fulfillment gigs going on here.
You get about 40 to 70% commission for these links.
Your earnings also get deposited to Warrior Plus or ClickBank accounts free of charge.
CBMV Reverse Income System
The CB Money Vine Reverse Income System is their bread-and-butter. You're given a website built by professionals the moment you sign up and login.
This is where you'll be able to post affiliate products and links.
How does it work?
Sign up and activate – Purchase their membership and you'll need to create an account with them.
Website – You'll be given a ready-made website that's set-up for you and you'll go through a couple of steps to hardcode your links into a lot of products.
Earn commissions – You can also earn by referring people to join CB Money Vine.
Pricing
CB Money Vine costs you $20 a month for their main product, including the Reverse Income System.
Then you have other upsells which aren't mandatory, but are marketed to you to "supplement" your income.
Commission Accelerator - $47: You multiply your earnings by passing up commissions from referrals or vine members.
10K List Mogul - $97: You get to cash in on leads by sending them to your CB Money Vine website, along with follow-up emails.
4 Figure Commission Club - $197: Access to high-ticket back-end webinars that pay to about $500 per pop-in commissions.
Autopilot Traffic Co-Op - $197: This is responsible for driving traffic to your website on autopilot.
6 Figure Empire - $397: You get access to 6 best-selling income streams, allowing you to multiply your income.
CB Money Vine is a lot of promise and hype, but there's just nothing about it that completely makes me want to recommend this to anyone.
And here's why…
CB Money Vine Ugly Truths Revealed!
#1 Upsells are Expensive
To make more money, you have to spend more money and you'll need to purchase upsells #1 and #2 to get the traffic coming in.
The potential value of your system including the upsells would be anywhere between $465 and $935.
You're also going to need an autoresponder, which they don't mention or include in the package, so that's another monthly expense.
#2 You Can't Earn Without Traffic
Your website with 4000 products is practically useless if you don't have traffic coming in. unless you have to pay for the upsell which drives traffic, you're going to have to work your butt off in getting traffic from all sources: search engine, social media, and even direct referrals.
#3 You Don't Own The Website
You're more or less going to have a subdomain of their website, so you don't have full control and ownership.
If something goes wrong with their business and they shut everything down, your income stream goes away too.
#4 Done For You Systems are not Reliable
Some of the DFY systems you find on the Internet may not work for you at all especially if you're completely new into affiliate marketing.
You'll just have someone do things for you without you learning the basic skills and developing the foundation necessary to be a successful affiliate marketer.
#5 Same Day Income Potential
It may not be impossible to earn money on day one from this system, but it's not going to be guaranteed that you'll make money a few minutes after you sign up as well.
Like all of the affiliate marketing businesses, these are built on hard work, time, and money. CB Money Vine is not going to be able to give you just that.
What I Like About CB Money Vine?
Unfortunately, I'm not completely sold on this program and mostly because there are far better programs out there that could give you better value for your money and time.
Is CB Money Vine a Scasm?
CB Money Vine is a legitimate affiliate marketing platform that makes a lot of promises, but unfortunately, this isn't one of those platforms that's going to make you a lot of money.
The expensive upsells are going to be very disappointing because you're not going to be able to make the system work without these.
Then there's the issue of these being DFY websites, so you're not going to have full control over your business. If the system goes down, your entire business goes down too.
How I Make a Living Online
I've personally created a 4-Figure Monthly Passive Income Stream and become financially independent at just 21 years old without any College degree or working experience!
Through my own hard work, I went from a broke restaurant waiter to living my dream laptop lifestyle in less than a year's time...
If you want to discover the secrets of how I did it at such a young age, click here!