29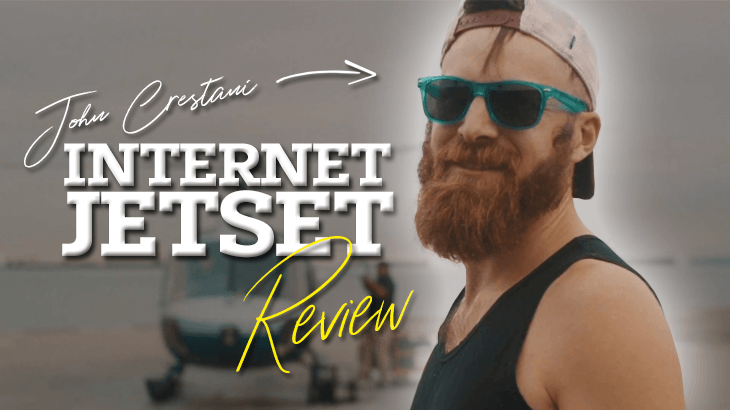 Welcome to my Internet Jetset review!
I know I only have a few seconds to capture your attention here. 
So, why should you read my Internet Jetset review by John Crestani? 4 quick reasons:
I've personally purchased his courses
It took me countless of hours to go through the entire system & research all the necessary information you need to know
There are a lot of reviews online promoting Internet Jetset, but none of them are telling you the truths I'm going to reveal to you today
Lastly, I was personally contacted by John himself because I'd written a scam review for his product
What exactly happened was that I purchased his course many months ago (in fact, more than a year ago at the time of this writing) and found out that he under-delivered a lot of things. Yet there were so may unrealistic income claims and upsells, so I labelled it as a scam in my review here.
Luckily, my review managed to go viral, got a lot of social shares and landed on page 1 position 1 of Google.
That's how John found me and contacted me privately.
Apparently, after I've written my scam review, John has re-done his courses and upgraded many things inside the member's area.
So, let's take a look at how much John Crestani's Internet Jetset & Super Affiliate System have improved over the months, shall we?
John Crestani Internet Jetset Review Summary
Summary: After taking a second look at his courses, I can see that John really puts in a lot of effort in delivering great training to help his members. There are tons of value in his course.
However, I'm sorry to say that I still don't recommend Internet Jetset & Super Affiliate System because there are A LOT of hidden costs involved. Not only that, John is basically leveraging the member's area to make more affiliate commissions for himself. (I'll explain more & prove to you in my detailed review below)
I'm sad to see that there are many positive reviews online about Internet Jetset because the owners of these sites are trying to promote this product to make money. (In fact, most of the reviews you found online won't tell you the truths I'll be revealing to you in this review)
Rating: 55/100
Recommended: Legit course but don't really recommend
Continue reading