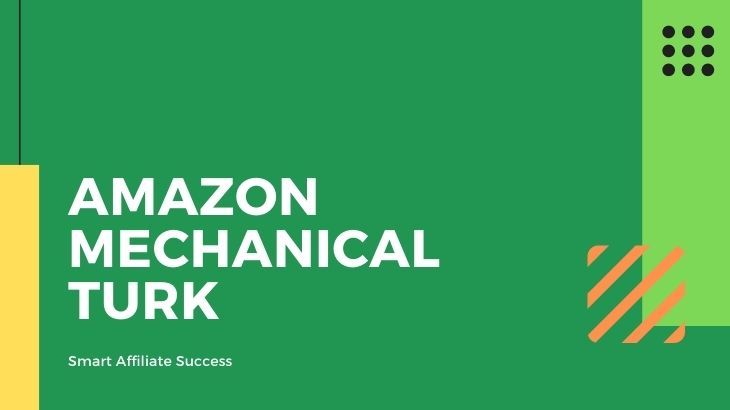 Amazon Mechanical Turk Review – Make Money With Tasks from Amazon?
Welcome to my Amazon Mechanical Turk review!
GPT or Get Paid To programs are very common on the Internet. Majority share the same offerings with having little to no difference in compensation, while there are a handful out there that provide a more unique income opportunity.
This opportunity that we're about to review comes from Amazon, so is it safe to assume that it's going to make us a lot of money?
You be the judge.
This is Amazon Mechanical Turk.
First of all, I must Congratulate you for taking your time to do your own research before buying into any "seemingly good" product.
That's the way to avoid scams and find the legitimate way to make money online!
Let me be completely transparent with you, I'm not associated with Amazon Mechanical Turk in any form.
So, rest assured that I'm not here to pitch or sell anything to you.
Instead, I'm here to reveal what the program is all about...
Amazon Mechanical Turk Review Summary
Product Name: Amazon Mechanical Turk
Founder: Amazon
Product Type: Get Paid To Do Tasks
Price: Free to Join
Best For: People who want to do mundane tasks
Summary: Amazon Mechanical Turk is a GPT or Get Paid To program created by Amazon. It's been around for more than 15 years and has paid out more than 500,000 members. The only disappointing thing here is that the income potential might be low, and there are reports of clients not paying their Workers.
Rating: 50/100
Recommended: No!
More...
What is Amazon Mechanical Turk?
Amazon Mechanical Turk is a GPT or Get Paid To platform in the guise of a crowdsourcing marketplace for freelancers. Various jobs and tasks are posted by businesses who want valuable human input.
And by human input, we mean feedback from the company's actual users and consumers.
Amazon Mechanical Turk is owned and run by Amazon.com. This was launched in November 2005 and is still operational.
Inside Amazon Mechanical Turk
Amazon Mechanical Turk is a marketplace for HIT's or Human Intelligence tasks. These are jobs or tasks that are the equivalent to what you'd normally see on most GPT and survey sites.
These jobs and tasks are posted by Amazon Mechanical Turk's clientele, or what they call as Requesters. The people who do these tasks are called Workers.
Each HIT has its own rate. Some will pay more than others, even if they are the same tasks. For example, one company may pay you $5 for a survey and another one might pay you $10 for the same thing.
There are tons of HIT's available at any given time. That's because Amazon Mechanical Turk does a good job at curating tasks from Requesters and getting more Requesters in the process.
How to Get Started on MTurk?
You can sign up for free on their website at mturk.com. They'll need your information such as name, contact number, and Social Security Number for tax purposes.
It will take 2 to 3 days to approve your request to join the program because they need to verify your Social Security number.
Once you're verified, you start on a probationary period where you need to do at least 1 HIT for 10 days. Within this period, you're capped at doing 100 HITs per day and you can't withdraw your earnings.
After the 10 days are over, you can withdraw your earnings and your cap is removed.
Common Amazon Mechanical Turk Tasks
You'll find a lot of tasks available on Amazon Mechanical Turk. These include:
audio/video transcriptions
categorization tasks
excel spreadsheet work
YouTube video ratings
and more…
These are also coming from different industries, ranging from finance to health to medical. You'll find anything that has to do with consumers.
How Much Can You Make on Mechanical Turk?
Some Workers reported earning anywhere from $150 to $300 in a week, which isn't exactly that bad if you're just trying to make money off of your free time.
However, this may not be consistent because as we mentioned earlier, tasks are paid out differently. You won't be paid for doing the same tasks unless they come from the same Requester.
The More Tasks You Do, The Higher You Could Earn
Your potential earnings depend on the time you put into the site. Some of the Requesters will be requiring Workers who've completed a set number of HIT's. For example, a Requester can put in a survey job for people who've completed over 100 HIT's. This usually means that this kind of task pays out more than the average, and is available to those who've done their time.
Amazon Mechanical Turk Income Potential
You're not going to start out with a high-income potential, even though some of the HITs pay out really well. On some days, you're going to make a few bucks while there are most days that has you earning pennies.
Either way, this is the give and take of GPT programs. Income potential is not going to be consistent, and that's a given. If you're already at the tier where you can accept the higher-end HITs, it's still not going to guarantee any rate of income.
Who's Amazon Mechanical Turk For?
Amazon Mechanical Turk may be worth checking out if you're looking for some meaningful way to spend time online. Granted, it's not going to pay a lot of money, but you're going to get paid.
Amazon Mechanical Turk Ugly Truths Revealed!
#1 Low Income Potential
The biggest source of complaint for Amazon Mechanical Turk is its low-income potential. The site's overcrowded, so the tasks are limited in terms of availability.
Some people who've been with the company have said that the income potential is not what it was back then. Sometimes, you may not even qualify for the tasks because they've already filled the slots.
#2 Some Clients Will Not Pay
There has been complaints about clients not paying for the tasks completed with little to no explanation.
You end up wasting hours of your time only to find out that you're getting scammed by the Requester, or that they'll even respond to your queries about it.
#3 Limited Payment Options
As of this writing, you only get paid via direct deposit or through Amazon Gift Cards. This may take quite a while to process, but you're still getting paid. It would be nice if they offer PayPal.
What I Like About Amazon Mechanical Turk?
#1 No Payment Issues
One good thing that we like about Amazon Mechanical Turk is that you can withdraw your money anytime as long as the amount checks out. There's no minimum threshold for payouts, so feel free to withdraw when you feel like it.
#2 No Technical Expertise or Background Required
The tasks are pretty straightforward, and doesn't require you to have any special skill or knowledge about anything. The only requirement is the number of HITs you've completed. As long as it's available and it allows you to do it, then take the chance.
Is Amazon Mechanical Turk a Scam?
Amazon Mechanical Turk is a legitimate platform for doing tasks and getting paid to do so. If you're looking for a source of full-time income, this might be hit or miss for you.
There's no guaranteed rate of income. Some days you'll earn more, while other days will have you earning pennies. This is part and parcel of any GPT program.
Some clients may not pay because it could be partly from Amazon Mechanical Turk's screening process. The fact that they have clients who are not going to pay you is just disappointing, and may affect your income potential.
However, the income potential is still there and Amazon Mechanical Turk may be good to get into if you want to just a way to make money online for a few hours per day.
How I Make a Living Online?
I've personally created a 4-Figure Monthly Passive Income Stream and become financially independent at just 21 years old without any College degree or working experience!
Through my own hard work, I went from a broke restaurant waiter to living my dream laptop lifestyle in less than a year's time...
If you want to discover the secrets of how I did it at such a young age, click here!