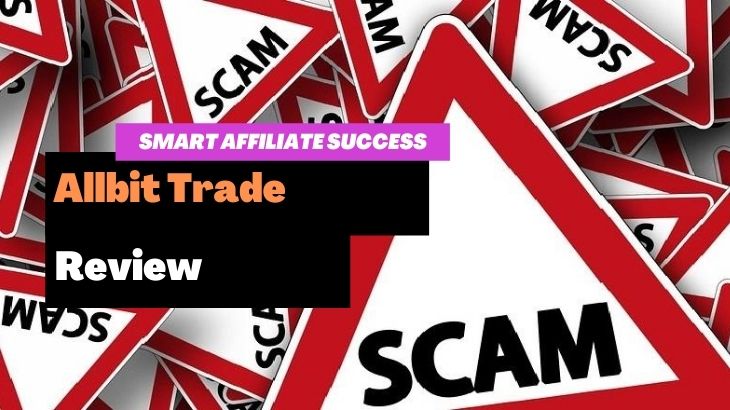 What Is Allbit Trade? Another Russian Crypto Ponzi Scheme Exposed?!
Welcome to my Allbit Trading review!
The cryptocurrency boom heading into 2021 was nothing short of surprising. Bitcoin and other cryptocurrencies all went so high that people were just buying and selling at an extraordinary rate.
For people who aren't familiar with the way cryptocurrency works, they're forced to go look for companies that can help them with that. Unfortunately, there are a lot of Ponzi schemes out there that prey on these people.
One of these Ponzi schemes is called Allbit Trade.
First of all, I must Congratulate you for taking your time to do your own research before buying into any "seemingly good" product.
That's the way to avoid scams and find the legitimate way to make money online!
Let me be completely transparent with you, I'm not associated with Allbit Trade in any form.
So, rest assured that I'm not here to pitch or sell anything to you.
Instead, I'm here to reveal what this scheme is all about...
Allbit Trade Review Summary
Product Name: Allbit Trade
Founder: Not disclosed
Product Type: Cryptocurrency Trading Ponzi Scheme
Price: Minimum investment depending on currency invested.
Best For: No one!
Summary: Allbit Trade is a cryptocurrency investment Ponzi scheme that appears to come out of Russia. There's nothing legitimate about this program and the red flags are all there. We also believe this is part of a network of Ponzi schemes.
Rating: 1/100
Recommended: No!
More...
Allbit Trade is a MLM or multi-level marketing company that operates in the cryptocurrency investment niche. Unfortunately, there's nothing legitimate going on around here.
We have not been able to dig up any information about who owns or runs the company. There's no name attached to this company.
As for their domain name info, it was registered on April 12th 2020 under a private registration.
They also have a UK incorporation to make themselves look legitimate, but for the sake of this article, it's just a form of pseudo-compliance. They were incorporated in July of 2020.
In the MLM industry, a UK incorporation is useless because it's cheap and unregulated.
On their landing page, we did notice something weird when they used the currency Russian Ruble for their investment payouts.
This leads us to believe that they are operating from Russia. We also believe that they might be related with another investment scheme called Sincere Systems.
We recently reviewed Sincere Systems and they too had Russian texts on their site documents and their YouTube channel were in Russian. Sincere Systems also had a UK incorporation that's just as useless too.
Are they part of a huge network of pyramid schemes that we've about to uncover? Who knows, right? I mean we did expose the influencer network scam last year.
Allbit Trade's Alexa data shows Peru, Vietnam, and Venezuela as the top three traffic sources.
Allbit Trade Product Line
As expected from a pyramid scheme, there are no retail products or services available here. You're only here to take part in their income opportunity, which is investing. We also don't consider their "investing" as a service and we'll explain that below.
I'm Jerry!
I Created My Own 4-Figure Monthly Passive Income at just 21 Years Old!​
Does The Product Work?
Why do we think Allbit Trade is a pyramid scheme. Well, for starters, their business model doesn't make sense. And we're not talking about the MLM industry itself. We've reviewed numerous MLM companies that were as legit as they could be and even recommended some of them to be great sources of income.
What we are referring to is Allbit Trade's investment scheme. They claim that they are generating external revenue by crypto trading. External revenue refers to the money coming in to help sustain the business other than new member investment.
Unfortunately, there's no proof that trading is done in any form to generate income. This leads us to believe that the only verifiable source of income for them is recruitment.
And this is where the problem comes in.
You see, when a company relies on recruitment income alone, that's consider a red flag by regulatory agencies such as the FTC and its global counterparts. The FTC or Federal Trade Commission are tasked with monitoring businesses, including MLM companies. They even made out a simple guideline to help determine whether or not a MLM company is a pyramid scheme.
As you can see, Allbit Trade meets all of those guidelines listed and more.
Furthermore, Allbit Trade claims that they're able to generate 3.3% ROI a day. So why do they even need other people to invest on it? They already have enough money to cycle through their own investments that they could easily become millionaires in a heartbeat.
As it stands, once recruitment has died down, the money will stop coming in too. This will force Allbit Trade owners to exit, meaning they'll think of a way to restrict member withdrawals while cashing out on the funds generated by the scheme. This leaves all members with no ROI's and the owners richer. They'll exit, go into hiding for a bit, and rebrand the program.
How To Make Money with Allbit Trade?
There are supposedly two ways to make money with Allbit Trade.
Promised ROI's or returns on investment

Recruitment commissions
How To Get Started with Allbit Trade?
If you do want to become a member of Allbit Trade (please don't), then you'll be required to invest in some form of cryptocurrency they offer.
Bitcoin investment require a minimum of 0.005 up to a maximum of 4.3 BTC

Ethereum investment require a minimum of 0.003 up to a maximum of 128 ETH

Litecoin investment require a minimum of 0.6 to 880LTC

Dogecoin requires 4200 to 1,515,000 DOGE

Cash investments are done via credit card and need 2500 RUB ($30+) to 3,400,000 RUB ($46,000+).

Direct USD investments are done via Perfect Money and Payoneer and require $10 minimum investment up to $50,000
Allbit Trade Compensation Plan
You can generate 3.3% perpetual daily ROI based on your investment listed above. But they also have the MLM side of their compensation plan by offering referral commissions.
Referral Commissions
Allbit Trade follows a unilevel compensation structure for their referral commissions. If you don't know what it looks like, let us explain.
The structure places you at the top of your team (note that you can't start your own pyramid). Your personal recruits are placed under you and marked as your level 1.
When your level 1's get new people into the program, these new recruits are placed under them and are marked as their own level 1's. Meanwhile, their recruits become your level 2's.
And this goes on for up to 4 unilevel teams.
Residual commissions pay out a percentage of funds invested across these levels as follows:
level 1 (personally recruited members) – 7%

level 2 – 3%

level 3 – 2%

level 4 – 1%
Allbit Trade Ugly Truths Revealed!
#1 All Recruitment! Pyramid Scheme!
All right, it's obvious that they're only earning through recruitment. This makes them a pyramid scheme whether you want to believe it or not.
Following the FTC guidelines, you'll know that this is the biggest red flag of them all.
#2 No Proof of External Income
In line with their recruitment incentives, it's clear that they are not earning any money outside of new member investments.
This means that there's no proof that they're doing any form of trading or investing to generate their promised ROI's to their members.
#3 Unknown Owners!
The cherry on top of this pyramid scheme cake is the absence of any information. This means that they don't want to be legally liable for any wrongdoing and don't want to be caught by the authorities.
Remember what happened to the people behind OneCoin? Yeah, they were so public about who runs it that it was easy to track and apprehend them when the moment came.
What I Like About Allbit Trade?
There's nothing to like about this pyramid scheme.
We're confident that Allbit Trade is a pyramid scheme because of all the red flags that we uncovered.
As a MLM company, their business model just doesn't make any sense. They offer perpetual ROI for their members, but there's no proof that any trading is done to generate ROI's.
Their incentives for earning are all based on how many people you can recruit, which is another red flag.
Stay away from this program!
How I Make a Living Online?
I'm not a fan of MLM, not because it's illegal or not profitable, but because of all the restrictions and the expensive costs involved.
Instead, Affiliate Marketing is my top recommended business model for anyone to make money online.
The reason is simple...
You don't have to recruit anyone to make money
You have the freedom to promote any products you want and not being restricted to only promote the products from one MLM company
It's Free to get started
In fact, with affiliate marketing...
I've personally created a 4-Figure Monthly Passive Income Stream and become financially independent at just 21 years old without any College degree or working experience!
Through my own hard work, I went from a broke restaurant waiter to living my dream laptop lifestyle in less than a year's time...
If you want to discover the secrets of how I did it at such a young age, click here!