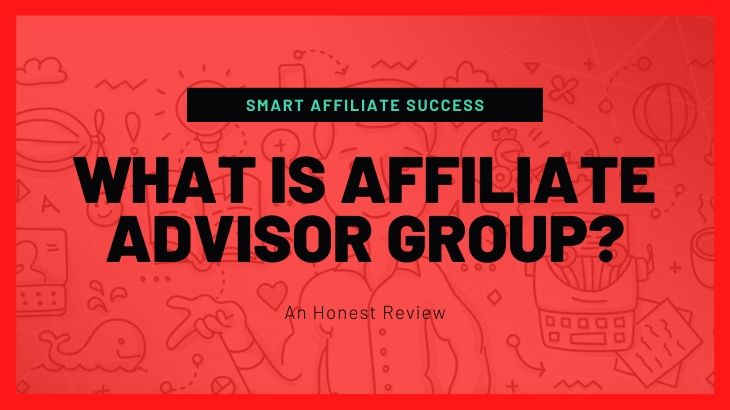 What Is Affiliate Advisor Group? It's An Affiliate Marketing Scam!
Welcome to my Affiliate Advisor Group review!
Affiliate marketing is a legitimate business model, and many people have been successful in making money online through it. Due to its popularity, these successful entrepreneurs have created courses to help new people get into the business.
Unfortunately, not all of them are made equal. And not all of them are legitimate. Some of them may end up trying to scam you out of your hard-earned cash by making you think that you're going to earn six digits in a week with little to no effort.
Today, we're going to expose one of those scams called Affiliate Advisor Group.
First of all, I must Congratulate you for taking your time to do your own research before buying into any "seemingly good" product.
That's the way to avoid scams and find the legitimate way to make money online!
Let me be completely transparent with you, I'm not associated with Affiliate Advisor Group in any form.
So, rest assured that I'm not here to pitch or sell anything to you.
Instead, I'm here to reveal what this scam is all about...
Affiliate Advisor Group Review Summary
Product Name: Affiliate Advisor Group
Founder: Not disclosed
Product Type: Affiliate Marketing DFY System
Price: $37 one-time fee plus $15 upgrade cost
Best For: NO ONE!
Summary: Affiliate Advisor Group is an affiliate marketing DFY system that tries to pass itself as a legitimate business opportunity. But there's nothing of value here because this system isn't legitimate. The testimonials here are fake, and the income potential is nothing short of hyped up. There are still several things wrong with this company, and we'll expose them in this article.
Rating: 1/100
Recommended: No!
More...
What is Affiliate Advisor Group?
Affiliate Advisor Group claims that you can make hundreds of dollars a day using their "foolproof" "done-for-you" system that a few people only know about.
All that you have to do is click a few buttons and watch the money start pouring in.
It sounds good to be true, but we guarantee you that there's nothing legitimate going on around here.
There's no information as to who's the brains behind this company, which is probably one of the smallest red flags we'll ever see compared to the others we're about to expose.
On their landing page, they'll have a news video that talks about working from home and how a lot of people are making money from it.
Take note that this is an actual news video but it doesn't really mention Affiliate Advisor Group or any other company name for that matter. They only make you think that their company is popular because it's on the news.
Inside Affiliate Advisor Group
Somewhere on their landing page, you'll find the "Get Instance Access Now" button that will allow you to check out the Affiliate Advisor Group.
The program costs $37 one-time fee plus a $15 one-time upgrade. It doesn't look like a lot of money, but it's still $50 gone from your wallet.
Then once you've forked over your money, you get access to their members' area where it contains some basic and possibly outdated training on making money online with affiliate marketing.
What Is Affiliate Advisor Group Exactly?
Affiliate Advisor Group claims that you can earn as much as $5000 in a single week, but this is nothing more than an outright claim from a get-rich-quick scheme.
What you get from the program is a DFY or done-for-you website which already has existing content and some affiliate links on it. All you have to do is drive people to your website and you're on your way to passive income.
Or that's what they want you to think. The website's very low quality and is impossible to rank in search engines due to the duplicate content. Why duplicate content? You're not the only one with the same website, so you're going to be punished for it.
I'm Jerry!
I Created My Own 4-Figure Monthly Passive Income at just 21 Years Old!​
Affiliate Marketing Is Legitimate
Affiliate marketing is a legitimate business model, but Affiliate Advisor Group isn't.
Affiliate marketing is one of the most lucrative means of making money online, and a lot of people (including myself) have been successful in making thousands of dollars a month.
But make no mistake. There's no shortcut to success here. There's no automation being done to get automatic cash flow through affiliate marketing. It takes weeks and months of hard work to get to where a lot of successful marketers are.
Who's Affiliate Advisor Group For?
No one. This program is an absolute scam and will not be of benefit to anyone. We'll prove below on why we think this is a scam!
Affiliate Advisor Group Ugly Truths Revealed!
#1 Unknown Owner
There's no clear mention of who owns the Affiliate Advisor Group, but in the sales video, there's a mention of someone named Jessica and Sarah. But we're sure that she's not the owner of the video.
This is a major red flag because if a person claims that their program can make you $1000 a week, then he or she should be proud of it.
But like most affiliate marketing scams, the owner never reveals their identity. Once the scam is exposed enough, they'll just close this program and start over. That's why they remain anonymous.
#2 Hyped-Up Earnings
Another red flag is the hyped-up earnings posted on their landing page and sales video. Again, it's possible to make hundreds of dollars per day with affiliate marketing. But it's not going to be something that's instant.
To make the business model work for you, you have to have a solid foundation and at least a basic understanding of how the Internet works.
There's no proof here that people are making money, and I'm pretty sure that anyone coming forward to say that they do are probably fake.
#3 Fake Testimonials!
Speaking of people coming forward to talk about their success, there are testimonials that you can find on their landing page. But you'll find one that's probably more obvious than the others.
Enter Sarah, or Jessica, or whatever her name is. In her testimonial, she claimed that she's down on her luck and that she's had no income due to her losing her job or some other BS. Then she found Affiliate Advisor Group and it changed her life.
Now she's telling people that their lives can change too once they sign up.
Unfortunately, Sarah or Jessica is fake. The picture that she has on her testimonial is actually a stock photo, and a quick retrieval from TinEye reveals the other sources of this photo.
#4 Basic Training? NOPE!
The training that you're supposed to get from Affiliate Advisor Group is found on their members' dashboard, but it's actually just outdated information on affiliate marketing.
You can do a quick search for what affiliate marketing is on Google, and they'll point you to free articles that have more substance than Affiliate Advisor Group.
What I Like About Affiliate Advisor Group?
There's nothing to like about Affiliate Advisor Group. The program's a waste of time and Internet bandwidth.
Is Affiliate Advisor Group a Scam?
Affiliate Advisor Group is a scam, and doesn't even try hard enough to look like a legitimate program. It's basically the same as the other affiliate marketing scams we reviewed on this site, and it has all the same red flags too:
There's no owner information posted so there's no liability or legal issue to be had here. People can complain all they want and it'd be just a waste of time to get to the owner himself.
There's no one making any money here. The testimonials are fake, and we proved that by reverse-searching one of the photos.
Affiliate marketing doesn't work the way as Affiliate Advisor Group promises. It's far from what it promises and it doesn't get you the results that you need when you enroll in Affiliate Advisor Group.
Stay away from this program!
How I Make a Living Online?
I've personally created a 4-Figure Monthly Passive Income Stream and become financially independent at just 21 years old without any College degree or working experience!
Through my own hard work, I went from a broke restaurant waiter to living my dream laptop lifestyle in less than a year's time...
If you want to discover the secrets of how I did it at such a young age, click here!