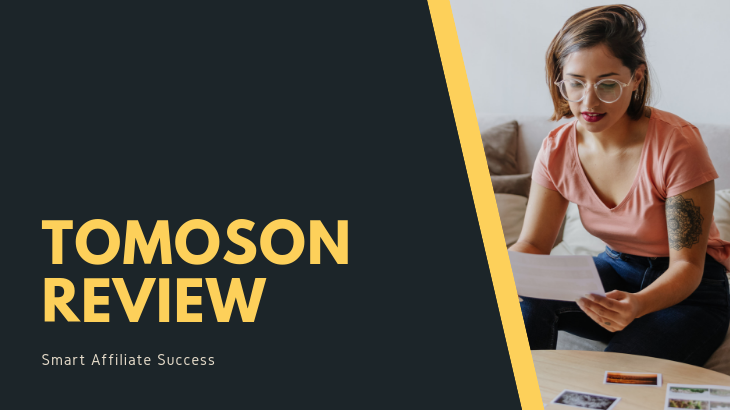 Tomoson Review – Get Paid To Be As An Influencer!
Welcome to my Tomoson review!
Companies can access what they call "influencer platforms" where they hire bloggers to review and feature their products on their blogs.
And bloggers can enjoy getting paid and even get freebies from these companies for reviewing their products.
One of the influencer platforms that we're going to review today is Tomoson.
First of all, I must Congratulate you for taking your time to do your own research before buying into any "seemingly good" product.
That's the way to avoid scams and find the legitimate way to make money online!
Let me be completely transparent with you, I'm not associated with Tomoson in any form.
So, rest assured that I'm not here to pitch or sell anything to you.
Instead, I'm here to reveal how you can earn money from their program as an influencer.
Tomoson Review Summary
Product Name: Tomoson
Founder: Not disclosed
Product Type: Get Paid As An Influencer
Price: Free to join
Best For: People who have blogs and can provide quality reviews
Summary: Tomoson is a unique platform that connects companies and influencers alike. Companies hire these influencers to review their products, and influencers get paid for their time. Despite their special program, it doesn't guarantee a full-time income so I can't recommend this program. It's also not a program for newbie bloggers because of their rigid blog requirements, so new influencers will have trouble looking for requests for reviews.
Rating: 50/100
Recommended: No!
More...
Tomoson is an influencer or review platform that serves two clienteles: the companies that need products to be reviewed and the influencers.
Companies pay to use Tomoson's platform to post the products they want reviewed.
Influencers look up products that they can review and get compensated for it.
Within this review, I'll be talking more about the side of the influencers and how Tomoson's platform works to their advantage.
Tomoson is a platform that connects companies and promoters to influencers who are in need of their services to create content for the former's brands.
The amount of money that influencers can earn depends on who they're working with and what campaign they'll bee working on.
Sometimes, influencers or bloggers can get free products from these companies for reviewing.
Based from what I've seen at a glance, Tomoson has a decent program in place that allows these bloggers to make money, and I've done my fair share of research as well.
How Do You Join Tomoson?
Tomoson's application process is quite interesting.
It's free to join their program, and there doesn't seem to be any geographic-restriction. As long as your country is able to accept PayPal transactions, you can join Tomoson.
Signing up is one thing, but you also have to apply to be an influencer, which is a different application process in itself.
I'm Jerry!
I Created My Own 4-Figure Monthly Passive Income at just 21 Years Old!​
What Are The Requirements To Join Tomoson?
The most important requirement to join Tomoson as an influencer is that you need to have a high-quality blog.
This blog shouldn't be a dummy blog either. There should be high quality content present as well as your blog having decent SEO or Search Engine Optimization.
The reason here is that companies that pay Tomoson to use their platform want to make sure that their product promotions are in a legitimate site.
How Does Tomoson Pay Their Influencers?
Tomoson pays influencers through PayPal, and they don't offer any other payment option as of this writing.
What's worth mentioning here is that Tomoson "absorbs" the fees so you get paid the exact amount that the company advertises.
Tomoson uses an Escrow system to make sure that the company gets what they asked for and the writers get paid.
Payment is sent out once the article is completed and reviewed by the company.
How Much Can You Make With Tomoson?
Tomoson works on a bidding system, so you set your own price and compete against other bloggers for the promotions.
But at the bare minimum, some reviews pay out at least $5 and can go as high as $50 to $100 for an honest and lengthy review.
Again, this depends on their clients' requirements.
Tomoson is definitely for bloggers and influencers who aim to monetize their blogs through paid reviews.
Whether you're an aspiring blogger or already at a professional level, this is an opportunity that may be worth checking out.
On the other hand, if you want to turn your blog into a full-time income generating machine, then I invite you to come check out my FREE 1-HOUR TRAINING that shows you all of my TOP AFFILIATE MARKETING SECRETS!
Tomoson Ugly Truths Revealed!
#1 – Unrealistic Blogging Requirements.
Tomoson lets clients set the review parameters, so they can just open their reviews based on certain demographics like how many Twitter followers the blog has, their SEO rank, and other small factors.
This may sound ridiculous for something so small, but it's actually within reason. These companies are paying for a platform to get them access to a high-end platform.
My only gripe here is that sometimes, their parameters are too far-fetched or too restrictive that it doesn't allow a fair opportunity for new and upcoming influencers on the platform.
#2 – Confusing Review System
Like a lot of these systems, Tomoson's ratings are BS.
The writers can actually rate the companies, and the companies will rate these writers.
If a writer doesn't see eye to eye with a company, then they could send out a negative review to make the company look less appealing and vice versa.
The system is flawed in so many ways that there's just too much wiggle room to sabotage one another.
#3 – Not Newbie-Friendly
And when I say Newbie, I mean those who're just starting to blog.
Tomoson is making it hard for newcomers to bid for jobs because they are more driven towards getting the highly respected blogs.
You need to have a blog that just stands out enough that you get the jobs that you want from Tomoson.
#4 - Projects for US Residents Only
Tomoson is an international platform, and some companies accept reviews from international bloggers, but there are those that will only require US-based bloggers to review products.
Again, this is part of the company's unrealistic requirements for influencers, so double-check if that company is willing to accept international blogs before you apply for the review.
#5 - PayPal Only
PayPal is their only payment option as of this writing, so if your country doesn't accept PayPal transactions, then you can't take part in their opportunity.
They don't do direct deposits or checks as alternative payment options.
What I Like About Tomoson?
#1 – No Complaints About Not Getting Paid!
Platforms like Tomoson are quite uncommon, so people aren't really familiar with programs like these.
But one of the things that people usually look out for is the presence of complaints about people not getting paid.
There's little to no complaints about people not getting paid or not getting their products, so that's something positive for Tomoson.
At least if you were going to check out this program, you already know that they pay. It's only a matter as to whether or not they would meet your needs.
Tomoson is a legitimate platform that connects influencers (that's you) and companies together. As an influencer, you're getting paid to review these companies' products and posting them on your blog.
However, I can't recommend this program if you're thinking this is going to earn you a full-time income.
The biggest reason why this isn't a source of full-time income is that it's difficult for new bloggers to compete against experienced bloggers on this platform because companies prefer to hire the latter.
On top of that, some companies have unrealistic requirements for reviews, so it's more difficult for newbie bloggers to get hired.
How I Make a Living Online?
I've personally created a 4-Figure Monthly Passive Income Stream and become financially independent at just 21 years old without any College degree or working experience!
Through my own hard work, I went from a broke restaurant waiter to living my dream laptop lifestyle in less than a year's time...
If you want to discover the secrets of how I did it at such a young age, click here!