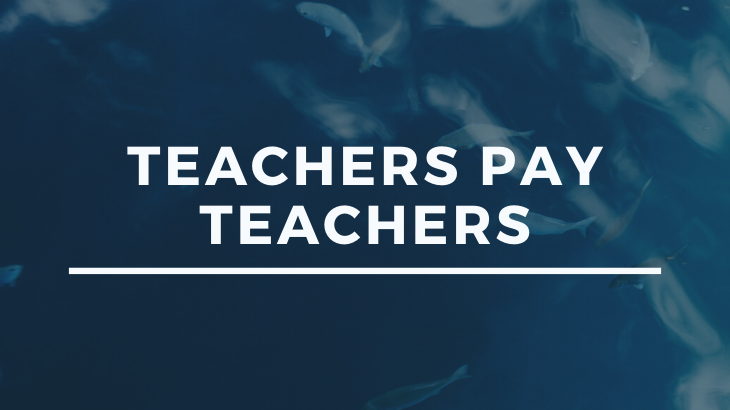 Teachers Pay Teachers Review – A Great Program For Teachers!
Welcome to my Teachers Pay Teachers review!
Imagine a marketplace for teachers where they could sell their learning materials, courses, and other educational products to fellow teachers, parents, and even students.
This is what Teachers Pay Teachers has provided and today we're going to take a look at this opportunity.
First of all, I must Congratulate you for taking your time to do your own research before buying into any "seemingly good" product.
That's the way to avoid scams and find the legitimate way to make money online!
Let me be completely transparent with you, I'm not associated with Teachers Pay Teachers in any form.
So, rest assured that I'm not here to pitch or sell anything to you.
Instead, I'm here to reveal what makes this program 
Teachers Pay Teachers Review Summary
Product Name:  Teachers Pay Teachers
Founder:  Not disclosed
Product Type:  Educational Resource Marketplace
Price:  Free to join / $59 per year
Best For:  Teachers and Educators
Summary:  Teachers Pay Teachers is a marketplace where teachers and educators can market their resources from lessons plans to curricula and put them up for sale. Parents, co-teachers, and even students can purchase their products. The program has done well enough to provide a decent source of income for teachers that they've already had a few millionaires listed on their program alone. There's serious income potential here and I would recommend this to anyone who wants to make money from their old lesson plans. 
Rating: 90/100
Recommended:  Yes!
More...
What is Teachers Pay Teachers?
Teachers Pay Teachers or TPT is an online marketplace for educators, students, and parents. The company was founded in 2006 and is currently located in New York.
Teachers can access this marketplace to buy and sell their resources such as exams, lesson plans, whiteboard activities, Powerpoint presentations, worksheets, and so on.
Marketplaces like TPT aren't uncommon and they're as legitimate as they can be.
Since then, more than 5 million teachers have accessed the marketplace and currently have 3 million resources available for buying and selling.
Inside Teachers Pay Teachers
Now don't mistake this for a "work-at-home opportunity" because this isn't what the program is all about.
This is a marketplace, so you have to put in some time and effort to make some money in the program. There's no scheduled required and the pay is not always guaranteed.
However, if you work hard enough for it, you'll be rewarded.
The sign-up process is pretty straightforward and you can set up your own store in no time.
How Much Does It Cost?
There are two seller memberships; Basic and Premium.
Basic is free of charge and you earn 55% of your sales minus a $0.30 transaction fee
Premium is $59.99 a year and you earn 80% of your sales minus a $0.15 transaction fee
Big sellers can create and market entire lesson plans and courses that cover multiple grades and sell them as licensed products for as much as $10,000.
But before anything else, you need to start small first.
Majority of the products on TPT average at about $5 per, and the higher the grade level, the more expensive the materials are.
Some products are going to cost $15 and up, but these are for more specific grades (middle school, homeschooling, etc).
I'm Jerry!
I Created My Own 4-Figure Monthly Passive Income at just 21 Years Old!​
Teachers Pay Teachers Pay
TPT deposits your monthly earnings via PayPal or Dwolla (for US only). Deposits are made no later than the 21st of every month.
As far as income potential is concerned, it all depends on you. I mentioned earlier that you're probably looking at pricing your products at about $5 to $15 on average, and the amount you earn depend on your membership.
So if you're a basic member, a $10 would net you around $5 (after transaction fees) and if you sell by volume within a day, you'll be able to make a lot of money.
The more products you sell and market, the higher your income potential.
Who's Teachers Pay Teachers For?
Teachers Pay Teachers is a marketplace for anyone who wants to make money out of their lessons, curricula, and so on.
What I Like About Teachers Pay Teachers?
#1 There's Potential!
For those of you who're wondering if there's money to be made here, the answer is YES. There's some potential to their income opportunity. According to TPT, their top seller earns about $2 million a year and 150 people are earning over $50,000 in a year.
A thousand users are reporting income of about $200 per month. Here are the top users who've gained millionaire status on their platform, and as you can see they have about 400 products available.
The Moffat Girls – 584 products
Rachel Lynette – 469 products
They both have more than 80,000 followers and both have an average user rating of 4.0. and the numbers prove that this is indeed a numbers game.
The more products you have, the more likely people are out to buy it. Let's do some quick math.
Let's say you have 400 products and your products cost $10. You get to keep $7 per sale (after transaction fees), so if you sell one of each product in a day, that's $2,800!
In a month, that's $84,000 if you manage to sell one of each of your products per day. And so on. But this isn't something that can be achieved overnight.
#2 Easy To Market
The products are easy to market. You're going after teachers, students, and even parents. You're providing value towards a necessity and in this day and age, some people are willing to pay for gtting an extra edge.
#3 Added Income Foe Teachers!
Teachers are underpaid for the amount of time and effort they put into their jobs. That's why TPT allows them to get paid for all of the resources they use outside the classroom.
Your unused educational resources could be a parent's best investment for their child.
#4 Set Your Own Prices And Products
You can set your own prices and market your own products, and what matters here is the value that you're providing to your customers. While the marketplace may end up dictating how much you need to sell a lesson plan for, it still boils down to you.
Teachers Pay Teachers Ugly Truths Revealed!
#1 Not Strictly For Teachers!
So the thing about TPT is that it's a marketplace for teachers. Unfortunately, they don't really enforce that it's strictly only for teachers.
Anyone can market their own educational resources, so you have competitors who are not teachers. This isn't a big deal, but it does pose a problem. Imagine an online marketer taking all of these materials and simply changing a few here and there. Then they rebrand and name it as their own.
You think this might not happen in TPT but it's a common occurrence in most marketplaces.
Is Teachers Pay Teachers a Scam?
Teachers Pay Teachers is a legitimate marketplace that allows you to sell your educational tools.
It has some serious income potential so I would recommend this to anyone who wants to make money from their old lesson educational resources.
They've produced some millionaires from their program, and so it's safe to say that a lot of people are enjoying the benefits of this marketplace.
Note that this isn't a work-at-home opportunity, but it will require you to put in some time and effort to create and market your tools. Put in enough of it and you could earn some serious cash.
How I Make a Living Online?
I've personally created a 4-Figure Monthly Passive Income Stream and become financially independent at just 21 years old without any College degree or working experience!
Through my own hard work, I went from a broke restaurant waiter to living my dream laptop lifestyle in less than a year's time...
If you want to discover the secrets of how I did it at such a young age, click here!