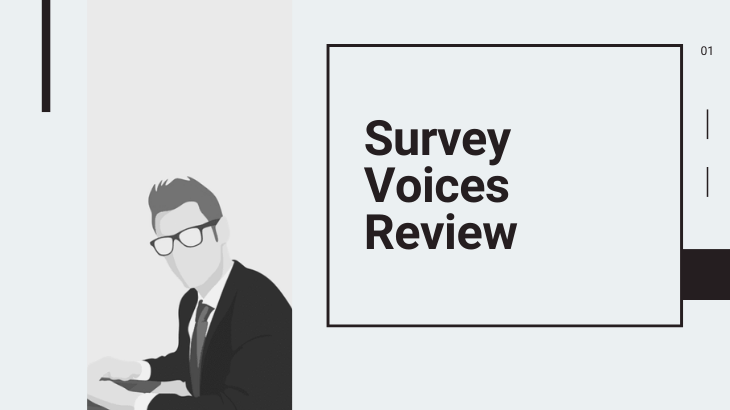 Survey Voices Review – It's A Platform Everyone Should Avoid!
Welcome to my Survey Voices review!
There are a lot of survey sites that promise you can make a lot of money, but majority of them just don't hold up to the promise.
One of these companies is Survey Voices, and we're going to review this program.
First of all, I must Congratulate you for taking your time to do your own research before buying into any "seemingly good" product.
That's the way to avoid scams and find the legitimate way to make money online!
Let me be completely transparent with you, I'm not associated with Survey Voices in any form.
So, rest assured that I'm not here to pitch or sell anything to you.
Instead, I'm here to reveal why this is something you should definitely avoid.
Survey Voices Review Summary
Product Name: Survey Voices
Founder: Reward Zone USA LLC
Product Type: Paid Survey Aggregator
Price: Free to join
Best For: No one
Summary: Survey Voices is a paid survey aggregator/portal. They don't host their own surveys but they'll just lead you to other survey sites. But there are several problems with this platform, and one of them is confidentiality issues. They are known for selling your contact information without your consent, so that's something to watch out for.
Rating: 10/100
Recommended: No!
More...
Survey Voices is a survey aggregator platform owned by Reward Zone USA LLC developed to connect people who want to earn money by taking surveys.
Survey Voices doesn't have their own surveys, nor do they have their own platform. They are a platform that connects users to paid survey sites. They're not a market research company as well.
They don't gather information about their users, and they promise you're going to make $300 on your first week.
Doubtful.
Survey Voices is the middleman between users and third-party survey sites. They don't provide their own surveys, as mentioned early. They just act as a portal to other survey sites that are already established and are proven to get you some money.
They claim that they're partnered with trusted survey companies, and upon closer inspection, it looks like they are true to their word.
They also claim to be the world's leading and most transparent aggregator website, which I don't doubt because I don't think there's any other platform that works like this.
There's no information provided as to how much percentage they get out of your earnings through their platform, but I am guessing they're affiliated with these sites and that they already earn once you're earning through those partnered sites.
How Much Money Can I Make With Survey Voices?
Survey Voices doesn't have any fixed compensation plan for you since they don't host their own surveys. Your earnings depend on which survey site you go to.
Some survey sites pay anywhere between $3 and $75, depending on your location. Some will also pay you to do other tasks such as watching videos, opening emails, and so on.
Survey Voices is partnered with Survey Junk and Inbox Dollars, which are two of the biggest survey sites in the industry, so they've got that going for them.
Some of the sites they are partnered with also appear to be questionable, but we'll discuss it in the next section below.
You'll also have to check with their partnered sites on how much you're going to earn if you do decide to sign up. Survey Voices doesn't host enough information about their partnered sites, nor do they have a table or chart of sorts that makes it easy to track income potential.
I'm Jerry!
I Created My Own 4-Figure Monthly Passive Income at just 21 Years Old!​
How Do I Get Paid?
Survey Voices doesn't really pay you your earnings, but instead it's their partnered sites. So just like with how much you're earning, you're going to have to do some research.
By default, you have these payment options that are common in most survey sites:
Bank deposits
Wire transfers
PayPal
Visa Debit Cards
Gift Cards (Amazon, etc.)
The payout threshold also varies between one site to another, so there's no consolidation of sorts if you're earning from more than one platform.
For example, if you have three survey sites with real life cash, Survey Voices doesn't let you withdraw all three in one go. You'll need to process them individually from the sites themselves. This could be something to work on in the future, but I doubt that they'll even do that.
Unless you really want to make money by doing tedious surveys, you might want to just check out these sites individually and not go through Survey Voices. And I'll explain why in the next section.
Survey Voices Ugly Truths Revealed!
#1 Inconsistent Recommended Sites
One of the most dominant problems with Survey Voices is its inconsistency. Some of the sites they link to are reputable and legitimate, but there are users reporting that they've been directed to sites that are refusing to pay, or pay very poorly.
Some sites don't even offer any surveys at all. This can be frustrating for people because Survey Voices claims that they've done their homework and that you don't have to worry about getting led to the wrong site.
Apparently, this isn't the case.
#2 Spam Everywhere!
Signing up for Survey Voices come with a lot of spam, either from their end or from their partnered sites. They also take your telephone number and email address as part of the sign-up process.
A lot of users also complained that they've been hit with different marketing calls after they signed up for Survey Voices.
And they've been proven to sell your information to third-party companies without your consent and knowledge, and they've already had a lawsuit on their hands.
#3 Some Survey Location Restrictions Apply
Some survey sites aren't available to residents outside the USA, UK, and Canada, which is a deal breaker if you're from those countries.
#4 Low Income Potential!
And like most survey sites, the income potential is low so it doesn't really give you enough to make it worth your while.
At best, you're looking at a few bucks every month or so, and that's not even going to be worth the hassle of withdrawal.
What I Like About Survey Voices?
Survey Voices doesn't really impress me that much, to be honest. I thought they had something exciting going on but the complaints about their program just killed it for me.
Survey Voices is a legitimate platform that acts as a survey site aggregator. It doesn't have its own surveys but rather, it pools together different survey sites for you to choose from.
However, there are several issues that concern me and this is what basically drove me to write this review the way that I did.
The main issue is that they're inconsistent in terms of providing the survey sites.They claim that they do quality checks, but you see some fraudulent survey sites in the mix.
Then there's the issue of them selling your personal information to third-party websites, and they've been by a class-action lawsuit by doing that. So that's something to consider.
How I Make a Living Online?
I've personally created a 4-Figure Monthly Passive Income Stream and become financially independent at just 21 years old without any College degree or working experience!
Through my own hard work, I went from a broke restaurant waiter to living my dream laptop lifestyle in less than a year's time...
If you want to discover the secrets of how I did it at such a young age, click here!