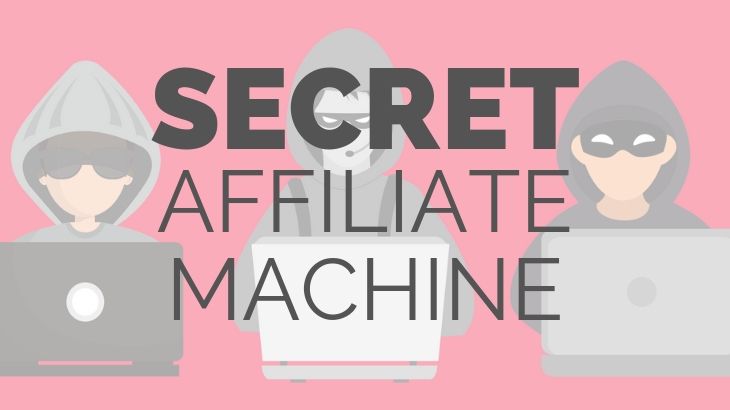 Secret Affiliate Machine Review – Not A Cash Machine You're Looking For!
Welcome to my Secret Affiliate Machine review!
The name itself has a lot of hype, and for the uninformed marketer, it sounds like a program that could help them make a lot of money.
Unfortunately, that's not the case with Secret Affiliate Machine.
Check out the full review below and find out why this program is utter BS.
First of all, I must Congratulate you for taking your time to do your own research before buying into any "seemingly good" product.
That's the way to avoid scams and find the legitimate way to make money online!
Let me be completely transparent with you, I'm not associated with Secret Affiliate Machine in any form.
So, rest assured that I'm not here to pitch or sell anything to you.
Instead, I'm here to reveal why this program is BS and why it's not worth your time at all!
Secret Affiliate Machine Review Summary
Product Name: Secret Affiliate Machine
Founder: Jordan Mederich
Product Type: Affiliate Marketing System
Price: Free to join + Upsells (ClickFunnels, etc.)
Best For: No One!
Summary: Secret Affiliate Machine is an affiliate marketing system that claims you can earn thousands of dollars on autopilot every week without doing a lot of work. But that's not the way affiliate marketing works. There's just a lot of lies that this site spews out on its landing page, from a ridiculous claim of income to fake owner information.
Rating: 1/100
Recommended: No!
More...
What is Secret Affiliate Machine?
If you're reading this review, then you probably have doubts about this program, and so do I.
Can you really make $4,000 a month and drive your dream car just by putting in 30 minutes of work per week?
DOUBT IT!
That's what Secret Affiliate Machine is going to tell you, but to understand how this program works, it's time to look behind the curtains.
The Secret Affiliate Machine, or SAM, is a done-for-you marketing funnel that claims you can generate passive income with little to no effort on your part.
It's similar to another scam that I recently reviewed called Six Figure Mentors, and just like SAM, the program was completely BS.
SAM is a series of videos and affiliate links created by someone named Jordan Mederich, and in his sales video, he explains what affiliate marketing is all about.
He actually gets it right, and it's the only thing that he got right at this point in time.
Inside Secret Affiliate Machine
Secret Affiliate Machine points you to another program called Click Funnels, which is a legitimate program. To join Secret Affiliate Machine, you'd need to sign up for ClickFunnels.
You'd think you're joining SAM for free, but you're actually paying for something else.
Apparently, the owners of SAM are affiliates of ClickFunnels, so every time someone signs up through their link, they earn commission.
Here's how you'll build their system:
Launch the Secret Affiliate Machine and sign up for a ClickFunnels account.
Import your copy of the Secret Affiliate Machine and upload your funnel to ClickFunnels and add affiliate links.
Get traffic by buying solo ads.
Send traffic to your link and wait for the commissions to start.
I can tell you a million different things right now about their system, but that'll cost me an entire article. Instead, let me just tell you that this is not how sales funnels work.
I'm Jerry!
I Created My Own 4-Figure Monthly Passive Income at just 21 Years Old!​
How Much Does It Cost?
The funnel is free to join, but to make it work, you'll need to pay for the ClickFunnels subscription, which is about $97 or $297 to maintain it.
By the time you realize that the funnel does nothing, you've already spent hundreds of dollars.
You'll also have to spend money on buying ads, which might cost you another thousand dollars. The owner of SAM wants you to get the 1000-click package, which is about $500. He says that it's going to help you test your funnels and will get you your money back.
Which is clearly not the case because the funnel doesn't work.
Who's Secret Affiliate Machine For?
No one. At this point, you're spending a lot of money for a non-existent funnel that won't generate you any income.
It's a complete waste of time and it's a pretty ridiculous system.
Secret Affiliate Machine Ugly Truths Revealed!
#1 – No Information About The Owner!
The first of many red flags on this site is that there's no information about the real owner.
Jordan Mederich is not a real person because if he was a real person, you'd find his digital footprints online.
But there's no other information about him other than being tied to this program, and that's completely suspicious.
#2 – No Work Done? ALL LIES!
One of the biggest lies that this program tells you is that you start earning hundreds of dollars hours after starting the system. You can earn thousands of dollars per week by doing only 30 minutes of work.
Any legitimate affiliate marketing system will not make that kind of promise because there are several factors involved in their success.
At best, you need to invest time and money into growing your website and it'll take a few months before you can make your first sale. And that won't be in the hundreds of dollars too!
#3 – Done-For-You Biz Ops Are Complete BS!
Done-for-you biz ops aren't sustainable in the long run because once the system collapses, your funnels go down too.
And for scams like Secret Affiliate Machine, it won't be long till they close their doors and rebrand into a different scam.
#4 – Not Transparent About The ACTUAL PRICES!
The landing page does a good job at hiding how much money you're actually losing through their programs. ClickFunnels alone costs $97 to start and you'll be presented with a lot of upsells that are supposedly going to help you make a lot of money.
At best, you're looking at spending up to a thousand dollars if you're not careful and there's no way for you to get that money back with their system.
#5 – You Don't Own The Funnels and Websites!
Last but not the least, you won't have full control or ownership over the funnels and websites that will be given to you.
Remember, these are done-for-you systems, so when the host goes down, they go down to.
You also won't be able to do anything such as change domain names or transfer your sites to a different hosting because you have no control over them. You're just given access to a subdomain of their main site.
What I Like About Secret Affiliate Machine?
Nothing about this program is legitimate, so there's nothing good worth mentioning. It's a complete waste of time and money.
If you want to get started with affiliate marketing the right way, come check out my FREE 1-HOUR TRAINING that shows you all of my secrets to success.
Is Secret Affiliate Machine a Scam?
Yes, without a doubt, Secret Affiliate Machine is a scam. At the very least, it won't fulfill its promise of helping you earn a thousand dollars.
In fact, you won't earn a single cent. I just raised 5 red flags that tell you right there and then that this program is up to no good and won't do anything for your affiliate marketing business.
Done-for-you websites are so inconsistent and unstable that it's not worth wasting money on. You're better off buying your own website and getting your own hosting. You're going to pay more, but you are paying for full control, which is what Secret Affiliate Machine can't give you.
How I Make a Living Online?
I've personally created a 4-Figure Monthly Passive Income Stream and become financially independent at just 21 years old without any College degree or working experience!
Through my own hard work, I went from a broke restaurant waiter to living my dream laptop lifestyle in less than a year's time...
If you want to discover the secrets of how I did it at such a young age, click here!