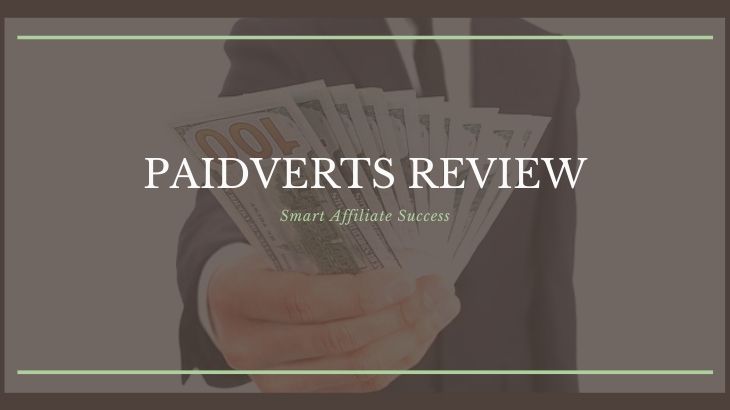 Paidverts Review – Get Paid To Watch Ads and More?!
Welcome to my Paidverts review!
GPT or PTC sites are basically one and the same, but PTC sites are generally geared towards ads. You know, those ads that kind of looked like Google Ads or the ads you see on YouTube, Facebook, or any platform.
However, these are not something to quit your day jobs for due to the income potential. Today, we're going to look at a PTC site called Paidverts.
First of all, I must Congratulate you for taking your time to do your own research before buying into any "seemingly good" product.
That's the way to avoid scams and find the legitimate way to make money online!
Let me be completely transparent with you, I'm not associated with Paidverts in any form.
So, rest assured that I'm not here to pitch or sell anything to you.
Instead, I'm here to reveal what this program is all about...
Paidverts Review Summary
Product Name: Paidverts
Founder: Jo Cook
Product Type: Get Paid To Program
Price: Free to join + Membership upgrades
Best For: People who have a lot of spare time.
Summary: Paidverts is a GPT site that focuses on you clicking and watching ads, which is their primary source of revenue for the members. However, I wouldn't recommend you quitting your day job to do this full-time because the income potential is so low. On top of that, it's going to take you a while to make some decent money.
Rating: 50/100
Recommended: No
More...
Paidverts is a PTC or Paid-To-Click site that rewards its members with real money by completing various tasks.
Paidverts started out offering rewards that were more than a dollar when they first started, with a mission of showing how PTC sites were good income opportunities. So, people flocked to their site, but after a while and after being faced with major setbacks, they started to lose money.
The founder then sold it to a different company. The new owner, Jo Cook, took Paidverts under his wing and changed the business model. Rather than offering ads immediately, he created a BAP or Bonus Ad Points system. This was their point-system that allowed people to view ads and earn money. Don't worry, we'll talk more about their system in the next section.
Jo Cook had a rough start in the Internet marketing world when he got involved with a lot of HYIP schemes and other GPT sites. But once he started his own PTC site named My Traffic Value, he started to clean his act.
My Traffic Value currently has 3 million users and has shared out more than $14 million in revenue. Signing up for Paidverts also gets you access to My Traffic Value using the same username and password.
The signup process is relatively simple. All you have to do is go to their landing page and hit the REGISTER button. Once you do that, you'll be asked to fill up this form:
You'll then be asked to confirm your email and then you'll be able to access the members' area. You'll watch a quick ad and get a bonus 325 BAP as a welcome present.
You also get a tutorial of how the program works:
And that's it, you're now a member of Paidverts.
How Do You Make Money?
Before I talk about how you can make money here, let me talk to you about their BAP or Bonus Ad Points.
BAP is just the points that you earn to help you get better ads and allows you to view more ads.
You get a welcome bonus of 325 BAP when you complete your signup, and you have a chance to earn BAP by watching ads or doing other tasks.
Every ad you watch will cost BAP, so you'll always gain and lose BAP in your stay here at Paidverts.
#1 Watching Ads
Watching ads is the main way to make money here at Paidverts. After you signup, you get 20 ads to watch every single day in the beginning. As you rank up with BAP, you get better ads that pay out better rewards.
All you have to do is watch an ad for 5 seconds and you'll get paid. You get paid in cents, so that's not much to go on.
I'm Jerry!
I Created My Own 4-Figure Monthly Passive Income at just 21 Years Old!​
#2 Clic Grid
This is a nice game that gets you a chance to win $100 or 1 million BAP, but I doubt that they're actually on some of the boards.
This is how the grid looks like. You pick a grid that costs you 1 BAP and then a 30-second ad. Once the ad is done, it will reveal if you won something or not. You get 20 tries per day.
#3 Cash Offers
Just like most GPT sites, Paidverts also has cash offers. You need to view at least 50 ads in the last 7 days or spend at least $10 in BA purchase in the last 30 days.
Cash offers give you cash rewards for doing tasks, such as signing up for an app, installing them on your phone, or filling out a survey.
Some of these cash offers also last more than a single session, so you may have to put in work for several days.
#4 Games
Like most GPT sites, you also get paid to play games. These games will have you paying, or betting, in BAP and you'll earn them back if you win and then some.
The minimum bet or entry into their games is 25 BAP.
#5 Referral Program
Of course, it wouldn't be a PTC site without a referral system. Their system is also very straightforward. You give someone your special link and when they sign up, you earn commissions from their earnings and everything they do. You get a 10% commission on their earnings.
#6 Buying Ads
This one's intended for people who have their own website and know how to run an ad campaign. You can purchase an adpack for $1 and it will get you 2400 BAP and receive 50 visits of 30 seconds to your website or ad.
Paid Memberships
There are also paid memberships available on Paidverts. Here are the membership options:
Mini Upgrade: $2.99 and lasts for 7 days. You get ads that are guaranteed to be at least $0.01 and could go as high as $0.49
Mega upgrade: $19.99 and lasts for 7 days. You get ads that pay out at least $0.50 or more.
You also get at least $2.99 worth of ads if you purchase both the Mini and Mega upgrades at the same time.
Cashing Out
There are several options for you to cash out your earnings. The minimum payout is $1:
Mediavine
Payza
Perfect Money
Solid Trust Pay
Bitcoin
Litecoin
NetellerGo
OKPay
Payeer
Paidverts is intended for people who want to earn money during their spare time. This isn't exactly a source of full-time income either so don't quit your day job.
Paidverts Ugly Truths Revealed!
#1 Low Income Potential
Bottom line, there's just not enough money to be made here. One blogger even documented his entire 90 days (20 hours) of using the platform and he earned only a little over a $1.
It's going to be difficult to make more than $10 here, even if you do go for the membership upgrades. You still have to recoup your expenses for buying the membership too.
#2 Time-Consuming
In line with point #1, 90 days to earn $1 is just too time-consuming. Granted, he may have only had a few minutes to login between those days. But even, it doesn't give you the confidence to invest that much time for so little payout.
What I Like About Paidverts?
#1 Free to Try
Paidverts has the membership upgrade option but you can access the site without paying anything. the only thing you're paying for is access to higher value ads.
Everything you can do here doesn't require you to spend money on, so you can start earning right away. You can even test out the payment system first when you reach the $1 payout before you start to invest in their memberships.
#2 Variety of Tasks
I'm not going to lie, but there are a lot of options here with Paidverts even though they're a PTC site. The games and Clic Grid are actually interesting to try out because you have a chance of making a lot of BAP or winning a lot of money.
Paidverts is a legitimate PTC site that offers a lot of ways to make money. Despite the owners' shady history, this site and its sister sites are completely legitimate and are actually paying out. However, we don't think this can turn into a source of full-time income.
The income potential is low because you're earning in cents. And the fact that you're limited in doing certain things means that you have to continuously work towards getting to the minimum payout.
It might be too time-consuming to get to the payout, as stated by one blogger who took 90 days to get to $1. But this experience might be different from the others. Even then, you still need to spend hours upon hours to get to the payout.
The program is free to try and doesn't require you to invest in a membership upgrade to make it worth your while. You can always give it a go to see if you can make it big, but don't expect too much out of it.
How I Make a Living Online?
I've personally created a 4-Figure Monthly Passive Income Stream and become financially independent at just 21 years old without any College degree or working experience!
Through my own hard work, I went from a broke restaurant waiter to living my dream laptop lifestyle in less than a year's time...
If you want to discover the secrets of how I did it at such a young age, click here!