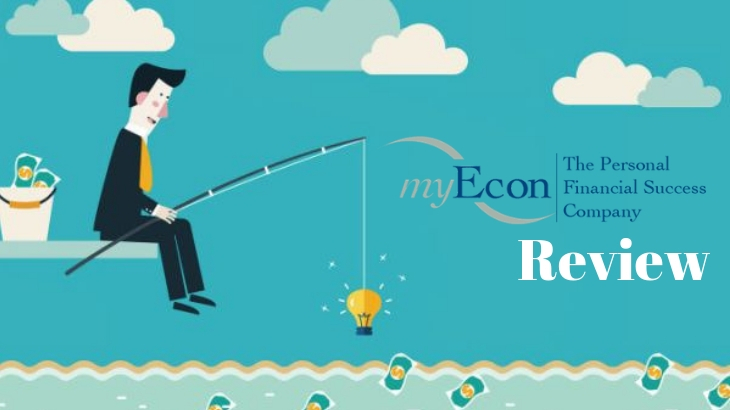 myEcon Review – Here's What They Don't Tell You!
Welcome to my myEcon review!
There's this program that wants you to invest in their products and services to help you...
Wait for it...
Save money.
I am talking about this MLM company called myEcon.
First of all, I must Congratulate you for taking your time to do your own research before buying into any "seemingly good" product.
That's the way to avoid scams and find the legitimate way to make money online!
Let me be completely transparent with you, I'm not associated with myEcon in any form.
So, rest assured that I'm not here to pitch or sell anything to you.
Instead, I'm here to reveal what makes this MLM company a bag full of irony by going through their business opportunity.
Is myEcon a scam? No, but here's what they're not telling you.
myEcon Review Summary
Product Name: myEcon
Founder: Alvin Curry and Ivey Stokes
Product Type: Personal Finance MLM
Price: $19.95 one-time signup fee + $34.95 monthly membership + various product costs
Best For: No one really.
Summary: myEcon is a MLM company that provides personal finance products and services to the table. Members earn by signing up as "Marketing Directors" where they'll earn a commission whenever they sell the company's products at retail or whenever they recruit people. Unfortunately, there's not enough reason for me to recommend this program to anyone. First and foremost, they have one of the many red flags of being a pyramid scheme (which I'll reveal in this article). Another reason why I don't recommend this program is that there are cheaper and better alternatives to their products and services. Those that don't even need you to join a MLM company.
Rating: 30/100
Recommended: No
More...
myEcon or My Economy is a MLM or multi-level marketing company founded by a group of entrepreneurs led by Alvin Curry and Ivey Stokes in 2006.
The company offers a somewhat unique product to the MLM industry by providing financial services, more specifically geared towards "personal economy".
In simpler terms, they are going to provide you with services to help you manage your finances better.
Kind of ironic in a sense that you're investing in a MLM business opportunity to save money, but I'll go more into that later on.
myEcon Product Line
myEcon's main product line revolves around finance. You'll have access to tools, software, and other digital products to help you lower or manage your debt.
These tools can be accessed within your membership, but some of them will have additional costs:
ID Defender – This helps in monitoring your credit activity online including a software that protects you and your devices from hacking.
Smart Credit Repair System – A training website that helps you repair your credit. This includes video training modules and letter templates to send to credit agencies to help remove bad credit marks.
Cash Flow Manager – An app that tracks your personal cash flow. You can also upload pictures of your receipts as well.
Book Travel – An employee portal to

priceline

.

com

's website to help you find the best deals in air travel, hotels, cruises, and car rentals.
Health & Nutrition – These are separate from the financial products and incur additional costs. This is a portal to 3 different nutritional products belonging to the myEcon line.
Cash Back Mall – A portal where you receive a link that you can give to people and you get a small percentage of whatever they purchase. It's like an affiliate marketing tool of some sorts.
Road Assure – It's kind of like a roadside assistance program like the AAA and requires a monthly subscription.
Credit Monitoring – Exactly like it sounds, it's a service that monitors your credit score. You need to pay a 6-month subscription to avail of this service.
myEcon Mobile App
When you join myEcon, you also get access to their smartphone app, which allows you do to a few things like track expenses, capture receipts, and even allow you to earn commissions.
The app also includes information about other services like:
Tax Advice
Income Tax Preparation
Identity Theft Protection
Discount Legal Services
Financial Training
Credit Restoration Services
Does The Product Work?
Most of the products that I've listed are pretty hard to determine if they work or not.
After all, these are financial services and there are probably different categories to determine their quality.
So, I did the next best thing, which was to find out what other people think about their products and services.
To my surprise, I couldn't find a decent review about their products or services because I would assume one of two things:
People were smart enough to not avail of their products
People who appreciated the product don't know how to post reviews
I am more inclined to go with #1.
But does that mean they weren't able to con anyone into joining? I wouldn't think so.
How To Make Money With myEcon?
Like any other MLM opportunity, your options to earning money with myEcon's programs are limited to two:
Commissions from sales
Residual commissions from your recruits
Now, just like any other MLM opportunity. They're not that different in terms of their marketing approach.
They are reliant on:
Traditional marketing – print media, word-of-mouth, etc.
Digital marketing – email marketing, social media, etc.
I was informed about this program by a close friend of mine who happens to be a social media marketer, and thought that it was interesting enough for me to look at.
Which I did, and now you're reading this review.
How To Get Started With myEcon?
To join their program, you're going to have to find an associate's replicated website and sign up through their referral link.
From there, you can apply as a "Marketing Director", which is the first affiliate rank within their company.
For your first payment, you'll need to pay:
$19.95 for the one-time setup fee
$34.95 for the monthly fee.
What's Included?
As a member you'll get your own personal replicated website of myEcon. This allows you to recruit people and to sell products.
You'll also get their training videos and an ISM or Income Shifting Membership. This is essential to helping you becoming financially successful.
At least that's what they say in their videos.
You also get the following benefits as a Marketing Director:
Income Shifting Strategy (already mentioned)
CashFlow Manager System
Identity Theft Protection
Free & Discount Legal Services
Credit Education Services
Discount Travel & Corporate Perks
Considering everything else, it's not that expensive to get into their program, and you are getting access to tools that you can use on a daily basis.
myEcon Compensation Plan
You can't find their full compensation plan on their website, nor will this be given to you once you become a marketing director.
Instead, you're only given a breakdown of the latest compensation plan.
I won't go much into great detail because rankings confuse me and it just bores my readers. What I'll go into are your main sources of income with their program.
In order to qualify for their commission-based program, you'll need to have two affiliates that you recruited who pay monthly fees on a regular basis.
Recruitment Commissions – As a marketing director, you earn $25 for every affiliate that you recruit for their program. As you rank up, this rate also goes up to as high as $50 per.
Direct Commissions – When you or your recruits sell products to retail customers, you earn 15% from their total order (not per item, but per order). Higher ranks earn a 25% commission and 10% from their downlines.
You'll find out more about their compensation plan in this video. Note that this will contain sales pitches.
myEcon Ugly Truths Revealed!
#1 – It Focuses Too Much On Recruitment
Oddly enough, their compensation plan is focused too much on recruitment as opposed to selling, which is kind of a red flag.
This is just one of the many indicators of a pyramid scheme, according to FTC or Federal Trade Commission guidelines.
Why do I say this?
In order to move up in rank, you have to recruit people into the program.
And in order to get the most out of the program, you need to get to the rank that gets you both direct commission and commissions from downlines.
I am not saying that they are a pyramid scheme. I have no proof of that.
#2 – Membership Fee Only Covers Access Into The Program
The membership fee that you're paying every month is only for access into the program.
Each of their products and services incur separate costs, some of them one-time fees while some of them have monthly subscriptions.
What this means is that their offering financial services to help you with your personal economy, for a price.
That's kind of ironic.
#3 – There Are Cheaper Alternatives To Their Program
I did a quick search for personal finance programs and I found out that there are others out there that are far cheaper (and possibly better) than myEcon's.
On top of that, these apps can also be used for your business' finance.
Right now, the best one on that list is Quicken, which is a holistic finance software for personal and business use.
It costs you about $89 per year or $7.41 per month to get access to the personal and business features.
What I Like About myEcon?
I try to be unbiased and objective as I can with all of my reviews, and I can't push myself to write something good about a program if there's nothing good to write about in the first place.
With that said, I don't really dig what they have to offer simply because there are already cheaper and better alternatives that are non-MLM related.
If your goal was to save money this year, then you're better off holding to that $30 or so by not signing up to anything that may not even guarantee that you're getting your money back.
myEcon is far from being a scam, and I would consider it a legitimate MLM business opportunity.
However, I don't want to recommend their program to anyone, especially those who want access to tools that help them save money.
My biggest beef with their program is that they're too focused on rewarding recruitment that it makes you think it's a pyramid scheme.
One proof of that is that you need to recruit a lot of people to move up in rankings.
Next, your membership fee only covers your membership and you have to pay for each of the products' recurring costs.
In other words, they're taking more of your money to help you save money. Ironic.
Ultimately, there are better and cheaper personal finance programs out there that are not related to MLM.
How I Make A Living Online?
I'm not a fan of MLM, not because it's illegal or not profitable, but because of all the restrictions and the expensive costs involved.
Instead, Affiliate Marketing is my top recommended business model for anyone to make money online.
The reason is simple...
You don't have to recruit anyone to make money
You have the freedom to promote any products you want and not being restricted to only promote the products from one MLM company
It's Free to get started
In fact, with affiliate marketing...
I've personally created a 4-Figure Monthly Passive Income Stream and become financially independent at just 21 years old without any College degree or working experience!
Through my own hard work, I went from a broke restaurant waiter to living my dream laptop lifestyle in less than a year's time...
If you want to discover the secrets of how I did it at such a young age, click here!