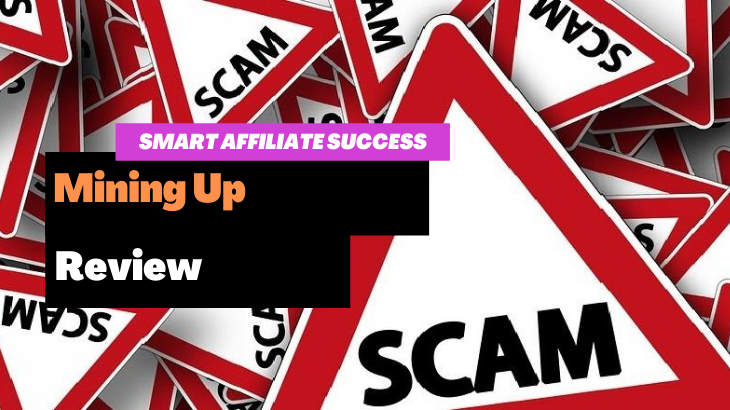 Mining Up Review – The 730% ROI Mining Ponzi Scheme!
Welcome to my Mining Up review!
Cryptocurrency has suddenly erupted once more after Bitcoin's value went up and has almost quadrupled in value over the last 4 years. Now, it's on the verge of making people a lot of money once more.
With cryptocurrency, you either invest in them directly or mine it using your PC hardware. The latter explains the sudden rise of prices for graphics cards. Going over Amazon, graphics cards are out of stock for the latest and more recent versions, and the prices are going up.
It comes as no surprise that people are mining for cryptocurrency to take advantage of the cryptocurrency boom.
But if you can't mine or afford to invest in it, you could take part in a program that would pool your finances into a mining pool and you split the income.
Sounds sketchy, right?
Well, we're about to review just that. This company is called Mining Up.
First of all, I must Congratulate you for taking your time to do your own research before buying into any "seemingly good" product.
That's the way to avoid scams and find the legitimate way to make money online!
Let me be completely transparent with you, I'm not associated with Mining Up in any form.
So, rest assured that I'm not here to pitch or sell anything to you.
Instead, I'm here to reveal what this scheme is all about...
Mining Up Review Summary
Product Name: Mining Up
Founder: Not Disclosed
Product Type: Cryptocurrency Mining Pool Ponzi Scheme
Price: $9 minimum investment
Best For: No one
Summary: Mining Up is a mining pool Ponzi scheme that promises a 730% ROI but it's all fluff and fillers. The incentives for making money are based on recruitment, and there's just nothing legitimate about this company.
Rating: 1/100
Recommended: No!
More...
Mining Up is a MLM or multi-level marketing company that operates in the cryptocurrency industry. But the twist here is that there's no investment going on, per se.
Rather, your money is "invested" into their mining pools to generate income. You choose what cryptocurrency you want to mine (they'll provide four), invest a minimum amount, and earn the promised ROI of 730%.
Fancy, right?
Due diligence requires us here at Smart Affiliate Success to uncover who owns the company, or who runs it at least. We were not surprised that we couldn't find any information about who runs or owns the company.
Their domain name was privately registered in December 2019, but it wasn't in January 2020 when Alexa started to record trackable traffic. Their main traffic comes from Estonia. This coincides with their listed address in Tallinn, Estonia. It's safe to assume that their members are from that country, but Alexa also spotted traffic from Brazil, Japan, and Russia.
Mining Up Product Line
There are no retail products or services here. No, we don't consider their mining pool to be a product nor service. This is a red flag in itself.
The only thing that they have to offer is the income opportunity by investing in the mining pool.
I'm Jerry!
I Created My Own 4-Figure Monthly Passive Income at just 21 Years Old!​
Does The Product Work?
All right, let's try to debunk this program by applying our 3-step Ponzi scheme logic.
First, is the company generating income other than through new member investments?
The answer to this question is no. There is absolutely no evidence here that mining revenue is used to pay off member investments.
Second, do we know who the owner is?
Apparently not. There's no information anywhere on the Internet that talks about who owns Mining Up. Because they operate in the cryptocurrency industry, anonymity isn't a bad thing. In fact, it's one of the biggest benefits of transacting with cryptos. However, they're also a MLM company. This means that they are required by law to divulge who owns the company.
Lastly, are members incentivized to sell the program?
No, they are not. There's nothing of value to sell here except the income opportunity. They sell this opportunity by "recruiting" people into the program and having them invest into the mining pool.
What then happens is that the recruiters are no longer the lowest tier of the pyramid. The new recruits are now the lowest tier and will have to recruit people in order to get paid.
If you're at the bottom of the pyramid, you're never going to get paid.
Like most Ponzi schemes, once the recruitment stops, the money stops coming in too. With no recruitment coming in, the company will be forced to "exit". This means they'll pay out their top members, or rather themselves, and make up some stupid policy to prevent the others from withdrawing their investments. They'll close up the company, citing some stupid reason why they did it, and they'll rebrand in a matter of weeks.
That's how Mining Up and other pyramid schemes operate.
How To Make Money with Mining Up?
Mining Up promises to make you money by:
ROI's or returns on investment

Recruitment commissions
How To Get Started with Mining Up?
It's free to join Mining Up, but in order to participate in their income opportunity, you need a minimum investment of $9.
There are also 4 different investment plans that you can choose from. These pay out through the crypto of your choice.
Here are the 4 packages:
Bitcoin Investment Package – Minimum investment of $10. Get paid through Bitcoin.

Ethereum Investment Package – Minimum investment of $9. Get paid through Ethereum.

Litecoin Investment Package – Minimum investment of $10. Get paid through Litecoin.

Dogecoin Investment Package – Minimum investment of $10. Get paid through Dogecoin.
Choosing any of the packages will grant you 730% ROI over a 365-day period.
Mining Up Compensation Plan
Mining Up follows a unilevel compensation structure to pay out the MLM part of their compensation plan.
If you're not familiar with how a unilevel structure looks like, well here's the breakdown.
Your team has you at the top of the pyramid. You're going to be someone else's recruit.
Your direct recruits are placed under you and are marked as your level 1.
Your level 1's recruits will be placed under them, making them level 2. These will be your level 1's level 1.
And this goes on for up to three levels deep.
Your commissions are based on the percentage of the investments that your downline (that's what your team is called) has made:
1st Level – 7% of all of your personally recruited members.

2nd Level – 2% on members on this level

3rd Level – 1% on members on this level
That's all for their compensation plan.
Mining Up Ugly Truths Revealed!
#1 Unknown Owners
All right, red flag #1. There's no information about who owns the company. This makes the company unreliable and can't be trusted.
The only reason why they hide their identities is that they don't want to be legally liable for anything.
#2 Recruitment, Recruitment, Recruitment!
Their compensation plan only incentivizes recruitment and nothing else. The more people you recruit, the more money you make. In theory, at least.
Mining Up, just like most Ponzi schemes, will never pay out the bottom of the pyramid because there's not going to be any money left.
If you don't believe us, check out these FTC guidelines.
#3 No External Income!
There's just no proof here that they're generating income for their members who invested into the mining pool. All the income that they have relies on the new member recruitment and having them to invest in the program.
What I Like About Mining Up?
Seriously, there's nothing to like about Mining Up. It's one big scam!
We're confident when we say that Mining Up is a Ponzi scheme. It presents itself as a mining pool investment opportunity where you only have to invest a minimum amount and then get your ROI in a year or two. By that time, they've gone and rebranded.
There's no proof here that income is generated through mining or any form of investment. The only source of income that the company is relying on is through new member investments. This makes recruitment the heart and soul of their income opportunity.
This also makes it a red flag in the eyes of the FTC and its global counterparts.
Stay away from this program.
How I Make a Living Online?
I'm not a fan of MLM, not because it's illegal or not profitable, but because of all the restrictions and the expensive costs involved.
Instead, Affiliate Marketing is my top recommended business model for anyone to make money online.
The reason is simple...
You don't have to recruit anyone to make money
You have the freedom to promote any products you want and not being restricted to only promote the products from one MLM company
It's Free to get started
In fact, with affiliate marketing...
I've personally created a 4-Figure Monthly Passive Income Stream and become financially independent at just 21 years old without any College degree or working experience!
Through my own hard work, I went from a broke restaurant waiter to living my dream laptop lifestyle in less than a year's time...
If you want to discover the secrets of how I did it at such a young age, click here!