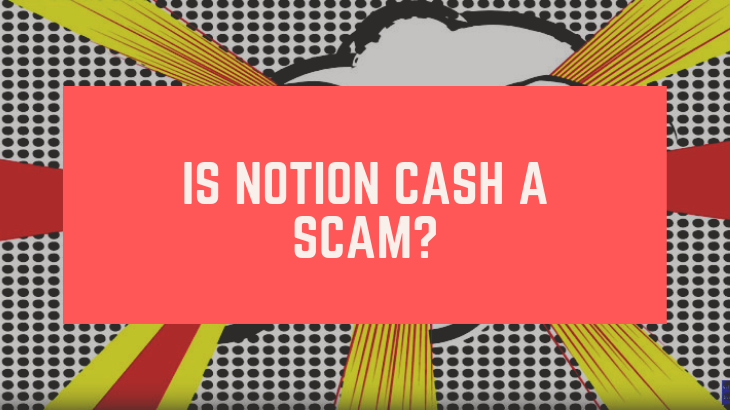 Is Notion Cash a Scam? It's a Scam In Disguise Of A GPT Site!
Welcome to my Notion Cash review!
This scam is unlike anything I've ever seen because it doesn't disguise itself as an affiliate marketing system. Rather, it's disguised as a survey and GPT (Get Paid To) website!
Can you believe that?
This is Notion Cash!
First of all, I must Congratulate you for taking your time to do your own research before buying into any "seemingly good" product.
That's the way to avoid scams and find the legitimate way to make money online!
Let me be completely transparent with you, I'm not associated with Notion Cash in any form.
So, rest assured that I'm not here to pitch or sell anything to you.
Instead, I'm here to reveal what's so scummy about this scam and why it's just NOT FOR ANYONE!
Notion Cash Review Summary
Product Name: Notion Cash
Founder: Not disclosed
Product Type: Get Paid To Program
Price: Free to join
Best For: No one
Summary: Notion Cash looks like a GPT or Get Paid To rewards program but it's actually just a front to get you to share your personal information to them. They claim a lot of things on their landing page, but what you won't find are information about the owners about the company. This is already suspect at this point because who in their right mind would trust this company? Then there's the fake testimonials too! I could go on and on, but I will let the review do all of the talking.
Rating: 1/100
Recommended: NO!
More...
While I was doing research for another program called Kids Earn Cash, I stumbled across Notion Cash because it sounded the same, and as I dug deeper, I found out a lot of things about the program that I just had to make a different review.
Notion Cash was formerly known as Kids Influencer Club and a mirror site of Kids Earn Cash, both of which are run by fake companies. Both are GPT rewards programs that promise to pay you a lot of money for doing their tasks and for referring people.
I am talking about making a few hundred dollars easily, which is quite impossible if you've actually registered for legitimate GPT sites.
Make no mistake, Notion Cash tries its hardest to look and sound legitimate because they even have an office address posted on their website!
But let's dig deeper into this scheme.
Notion Cash claims that they're a market research platform that gathers information to sell to 3rd party companies, which is a legitimate way to do business. Some survey sites and GPT programs are actually from market research companies to gather data for their clients.
That's why Notion Cash makes an easy claim of giving you $25 after you signed up for their platform. Think of it as sweetening the deal.
Right off the bat, I didn't see any logical reason as to why they would offer $25 to new members. Think really hard about it.
The business would have to generate millions of dollars a month in profits to be able to afford $25 as a signup fee.
So, I signed for the program and thought that I would make an easy $25! It turns out that the $25 is only added to your account, but you're not able to withdraw it immediately. You still need to earn a few bucks to withdraw the entire amount.
On their member's area, I found these tasks waiting for me, and I was just as surprised because their clients were corporations such as Disney and Apple.
I found this too suspicious.
The big takeaway from this program is that they're just giving away too much money for such menial tasks.
I'm Jerry!
I Created My Own 4-Figure Monthly Passive Income at just 21 Years Old!​
How Does Notion Cash Actually Work?
Notion Cash simply farms your personal information under the guise of a survey site. They sucker you in with that $25 sign-up and have you giving up names, emails, phone numbers, and even physical addresses.
They'll sell the information to third party companies, usually other scammers or marketers so you'll end up going through a lot of spam emails and cold calls.
But how did I know that the scam was a complete farce? I'll show you 4 red flags that I found when I reviewed this site in the next section!
This program is not meant for anyone. There are hundreds of legitimate survey sites and GPT programs out there that are far better and more reliable than Notion Cash!
Notion Cash Ugly Truths Revealed!
#1 – No Information About Owner!
Unlike most scams that provide you with some fake persona or owner behind the program, Notion Cash doesn't really reveal who's running the program. They don't even show the picture of the team or any contact information.
This is a red flag because when you have problems with your account or if you're facing legal issues, you have no one to reach out to on their end. You can't sue someone from their site at all!
On top of that, the address that they use for their website is actually an address for a virtual office.
This just means that they're hiding their identities and where they're located because they don't want to be caught!
#2 – Fake Testimonials!
Don't be fooled by people claiming they made a lot of money on their program.
These are nothing but fake testimonials from a site called Fiverr, a freelance content marketplace. You can get spokesperson videos like these for as little as $5!
They are using fake testimonials to get more people to sign up because hey, average Joe's and Jane's are making tons of money on their program! Why shouldn't you, right?
Take this red flag into consideration before you hand over your personal information!
#3 – This Is Not How Survey Sites Work!
Or even GPT sites for that matter. Even the most legitimate programs pay a few cents and up to a few dollars for doing their tasks and completing their surveys.
Paid surveys and GPT programs are legitimate ways of making money online, but not just through Notion Cash!
When I was browsing through their member's area, I didn't find a single survey site and the tasks that you're supposed to do pays out $20 to $30 per task. I've joined many programs to know that they don't pay this much!
The best part of their program is that their cash threshold is insanely high at $250! No survey site would ever set it that high because no one's ever going to reach that amount, realistically speaking!
What I Like About Notion Cash?
There's nothing good about the program at all. This is not how survey sites and GPT work at all.
Notion Cash is a scam under the guise of a survey and GPT program, and it actually does nothing for you in terms of making money.
The red flags alone that are listed above should convince you that this program is up to no good.
With no information about their owners and with the fake testimonials rampant on the site, I wouldn't put it past them that they lied about more things as well.
How I Make a Living Online?
I've personally created a 4-Figure Monthly Passive Income Stream and become financially independent at just 21 years old without any College degree or working experience!
Through my own hard work, I went from a broke restaurant waiter to living my dream laptop lifestyle in less than a year's time...
If you want to discover the secrets of how I did it at such a young age, click here!