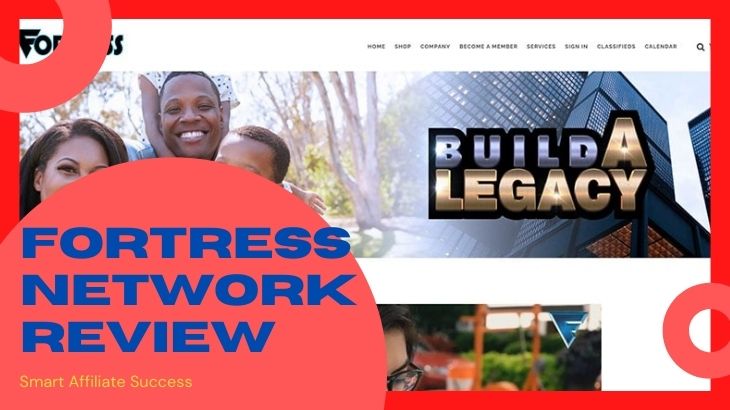 Is Fortress Network a Scam? It's a $19,000 Basic Pyramid Scheme!
Welcome to my Fortress Network review!
This program was hyped up for all the wrong reasons. The founder is delusional because he thinks his income opportunity is flawless and anything but a pyramid scheme. But he was very wrong.
If you want to know what we're talking about, we were referring to Fortress Network.
First of all, I must Congratulate you for taking your time to do your own research before buying into any "seemingly good" product.
That's the way to avoid scams and find the legitimate way to make money online!
Let me be completely transparent with you, I'm not associated with Fortress Network in any form.
So, rest assured that I'm not here to pitch or sell anything to you.
Instead, I'm here to reveal what this program is all about...
Fortress Network Review Summary
Product Name: Fortress Network
Founder: Dorian Omari
Product Type: Recruitment-Based Pyramid Scheme
Price: $10 monthly fee
Best For: No one
Summary: Fortress Network is a recruitment-based pyramid scheme and it's got nothing good to show for. The red flags are all there, and their owner is delusional for thinking that the program is legitimate.
Rating: 1/100
Recommended: No!
More...
What is Fortress Network?
Fortress Network dubs itself as the "opportunity of a lifetime" because it promises you a five-figure monthly income just by selling the opportunity.
The company was founded by someone named Dorian Akili Omari, who's also the CEO at this time of writing. The company is located in North Carolina, USA.
Prior to starting Fortress Network, Omari was known for promoting local night club events but no history whatsoever on MLM's. Needless to say, Fortress Network is probably his first MLM rodeo.
His domain name was registered in April 2017 but was updated in April 2020. This was right about the time he started Fortress Network.
Fortress Network Product Line
There are no retail products or services offered by Fortress Network. Rather, you have to sell membership into Fortress Network's income opportunity.
This is hidden behind what Fortress Network claims "selling various products for a commission of 25%".
I'm Jerry!
I Created My Own 4-Figure Monthly Passive Income at just 21 Years Old!​
Does The Product Work?
Fortress Network is in fact a typical recruitment-based pyramid scheme. The program is simple: sign up and pay the monthly fee. This monthly fee is paid to 9 other Fortress Network members who are above you.
Their own marketing video even claims that all you have to do is to become a rep and share the opportunity to three of your friends.
Why three, you ask? Well it just so happens they follow a 3x9 compensation matrix, which we'll explain below.
And these three friends will get their own three friends and so on. See how fast the network grows?
Omari is aware that he's running a pyramid scheme, so on January 2020, he uploaded a video called Is It a Pyramid Thingy. This was uploaded on Fortress Network's official YouTube channel.
His video just talks about people "not knowing what a pyramid scheme is". To protect the integrity of his income opportunity, he continues to spew scam excuse cliches such as "everything in life is a pyramid".
Everything he says is complete nonsense and it's not really up to him to decide whether his company is running a pyramid scheme or not. It's the FTC or Federal Trade Commission.
There are no retail sales being made here by Fortress Network. 100% of the commissions earned are paid out by membership fees. These fees are tied to recruitment. This makes it a pyramid scheme.
They divert your attention from the pyramid scheme model by telling you you're earning 25% commissions from products being sold, but this has nothing to do with the business at all.
Like most pyramid schemes, once the recruitment stops, the money stops coming in too. This is because they have no other source of income apart from recruitment.
As of December 2020, Omari deleted every single Fortress Network video from the YouTube channel. This includes the "Is It a Pyramid Thingy" video that we talked about earlier.
We're unclear as to what transpired that would lead him to delete the videos. We also don't know if there are any legal issues happening against Fortress Network that would prompt them to delete the videos.
How To Make Money with Fortress Network?
Contrary to what they are offering, Fortress Network only has you earning money by recruiting people.
How To Get Started with Fortress Network?
The cost to join Fortress Network is only $10 a month. You have to pay the monthly fee if you want to earn commissions consistently.
Fortress Network affiliate membership is $10 a month.
Fortress Network Compensation Plan
Fortress Network's compensation plan follows a 3x9 matrix, which is why it has you recruiting only three people.
The three people you recruit will then recruit their own three other people and goes on from there. Each new level houses 3 times as many positions.
Fortress Network pays out $1 per member directly or indirectly recruited into the matrix.
level 1 – 3 positions could lead to a potential income of $3 a month
level 2 – 9 positions could lead to a potential income of $9 a month
level 3 – could lead to a potential income of $27 a month
level 4 – could lead to a potential income of $81 a month
level 5 – could lead to a potential income of $243 a month
level 6 – could lead to a potential income of $729 a month
level 7 – could lead to a potential income of $2187 a month
level 8 – could lead to a potential income of $6561 a month
level 9 – could lead to a potential income of $19,683 a month
If the 3x9 matrix is filled and every members continues to pay the fees, they're earning close to $29,523 a month.
Fortress Network Ugly Truths Revealed!
#1 Obvious Pyramid Scheme!
From their compensation plan, the only income source is through new member signups. In this case, you also have to recruit three people in order to qualify for their compensation plan.
You paying the $10 monthly fee does not guarantee you a slice of the pie. You have to bring in three people before you can earn anything here.
And there's nothing on their compensation plan that incentivizes retail sales either.
#2 Owner Is Delusional
The owner likes to think that this program is anything but a pyramid scheme, so he's in denial. He promotes night clubs for a living before he started Fortress Network so it's in his nature to overhype things.
#3 Definitely Not Opportunity Of a Lifetime!
This is not the opportunity you were looking for. MLM companies are legitimate and we've even recommended quite a handful because their program was that good and they're a decent source of income.
Fortress Network is not a legitimate program because they're a pyramid scheme. If anything, they're going to get the attention of the FTC.
What I Like About Fortress Network?
The program is completely BS and don't believe what the owner has to say about the program. He promoted night clubs for a living. He'll hype up anything.
Is Fortress Network a Scam?
Fortress Network is nothing but a recruitment-based pyramid scheme. All the evidence points to it being one too.
The biggest concern here is their compensation plan, which incentivizes recruitment heavily. There's nothing on there that involves retail sales too.
We don't know what happened to Fortress Network as of this writing because they took down their videos from their channels. We know they're not in a legal battle against the FTC yet, but only time will tell.
How I Make a Living Online?
I'm not a fan of MLM, not because it's illegal or not profitable, but because of all the restrictions and the expensive costs involved.
Instead, Affiliate Marketing is my top recommended business model for anyone to make money online.
The reason is simple...
You don't have to recruit anyone to make money
You have the freedom to promote any products you want and not being restricted to only promote the products from one MLM company
It's Free to get started
In fact, with affiliate marketing...
I've personally created a 4-Figure Monthly Passive Income Stream and become financially independent at just 21 years old without any College degree or working experience!
Through my own hard work, I went from a broke restaurant waiter to living my dream laptop lifestyle in less than a year's time...
If you want to discover the secrets of how I did it at such a young age, click here!