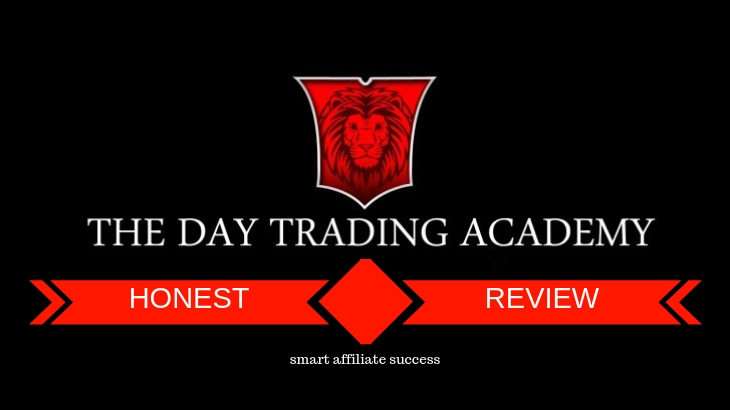 Is Day Trading Academy A Scam? A Forex Training Group Exposed!
Welcome to my Day Trading Academy review!
If you ever wanted to know more about Forex trading, you've probably stumbled across a lot of training platforms that promise you that they're different from one another. 
One of those platforms might be Day Trading Academy. 
First of all, I must Congratulate you for taking your time to do your own research before buying into any "seemingly good" product.
That's the way to avoid scams and find the legitimate way to make money online!
Let me be completely transparent with you, I'm not associated with Day Trading Academy in any form.
So, rest assured that I'm not here to pitch or sell anything to you.
Instead, I'm here to reveal why this trading training platform may or may not be worth the money. 
Is Day Trading Academy a scam?
No it's not, but I'm here to expose its dark secrets. 
Day Trading Academy Review Summary
Product Name:  Day Trading Academy
Founder:  Marcello Arrambide
Product Type:  Forex trading training platform
Price:  One-time payment of $2000 for your first year. $150 a month after completion of your first year. 
Best For:  People who want to spend a lot of money to train in Forex trading. 
Summary:  Day Trading Academy is a legitimate Forex trading training platform designed by Marcello Arrambide. Boasting of its unique open-source platform, it's able to provide its students with a holistic form of training. But despite its nifty feature, I cannot recommend this program to anyone. The biggest reason here is that the site has fake testimonials and reviews, and it's from the person I least expect it to come from (I'll expose it here in my review). This makes it difficult for me or anyone to trust any testimonial or review from its students. On top of that, it's a very expensive training platform that may not even guarantee you're getting the best bang for your buck. 
Rating: 40/100
Recommended:  No
More...
What is Day Trading Academy?
Day Trading Academy is an open-source project that relies on the lessons of different professionals from across the globe.
This form of strategy to training relies on the fact that the Forex Market is as versatile and as ever-changing as it could, so there's not really a one-size-fits-all kind of approach to this business or training.
So, once you join Day Trading Academy, you become part of an ongoing learning experience where you never out of options at any step of the way.
The founder of Day Trading Academy is Marcello Arrambide, who has been in the trading industry for almost 2 decades and has been developing and teaching trading techniques for the last 8 years.
Arrambide is also not shy of his failures, with his story of how his initial investment of $25,000 went down the drain while he did absolutely nothing to stop it.
This failure motivated him on helping other aspiring traders by showing them the different tricks that he uses to avoid losing money in the world's most volatile markets.
Inside Day Trading Academy
Day Trading Academy is quite different from the other day trading platforms because they don't sell software, bots, or indicators to you.
You're working hand-in-hand with real trainers who are involved in trading.
This makes it far better than any other platform where you're only trained by people who trade on demo only to share screenshots of their fake success.
The idea behind here is that the students who go through this program are required to offer training after they complete the program.
As a beginner, this means two things. One, you'll learn from live traders armed with the best market information.
Two, it means you'll take on the helm of training others once you complete the course.
It's kind of a give-and-take relationship with this program.
Learn How To Trade Without Indicators
According to Day Trading Academy, there's nothing wrong with trading using indicators, so it should be okay for you to trade without it.
But some trading strategies require you to invest in indicators that eventually complicate the way you trade.
In DTA, you'll learn how to make trades just by looking at clean charts.
But they'll still teach you how to use an indicator at the beginning of the training.
I'm Jerry!
I Created My Own 4-Figure Monthly Passive Income at just 21 Years Old!​
Tailor-Made Learning For You
This type of training is carried out on 4 stages, with each stage preparing you for the next one.
This eventually leads to a highly adaptive form of training where your learning experiences are tailored to fit your needs.
1. Beginner Phase
This section is intended for those who know absolutely nothing about day trading.
The trainers take you through every aspect that would help you become a better trader.
But this section doesn't guarantee you're ready to get your feet wet nor is it something that you need to skip.
Some experienced traders who enrolled in DTA still chose to enroll in this package to build consistency in their knowledge.
This phase contains 19 chapters and introduces students into technical analysis of trading, as well as the psychology of training and emotional intelligence (a.k.a. how not to let your emotions control you during trades).
2. Intermediate Phase
Once you're done with the Beginner Phase, you're ready for the Intermediate Phase, where you'll get your feet wet on risk mitigation strategies.
Here you'll learn when to trade, and when not to trade.
On top of risk management, you'll also learn about how to maximize profit targets using a module known as Ninja Trader or Emini Basics.
3. Advanced Phase
By the time you've passed the Intermediate Phase, you're now able to demonstrate your ability to read the market and makes you at least ready to trade relying on bare knowledge.
The Advanced Phase then helps you to refine your trading experience by teaching you how to gauge momentum direction.
These strategies allow you to tell the difference between valid and invalid trades without taking away a single cent from your account.
This phase is also feedback-based, so your mentors will always share their feedbacks on your trades.
Some highlights of this phase also include:
Setting dynamic profit targets
Learn Unconventional trading strategies
How to study the markets
4. Pro Phase
By the time you're in the Pro Phase, you'll now have the confidence to weather through any market storm.
The goal of this phase is to provide you with a deeper understanding of the online trading market.
Due the complexity of the facts taught in the phase, the Pro Classes are exclusively for traders who're serious and have proven themselves in the industry.
Here, you'll be exposed to the most effective techniques used by DTA's most successful traders on the live market.
How Much Does Day Trading Academy Cost?
Now this is where it starts to hurt.
Day Trading Academy has two different costs, depending on which year of training you're in.
1st year of day trading class with The Day Trading Academy: One time payment of $2000 for 1 Year.
After the 1st year of day trading classes: After your first-year ends, you can pay $150 per Month for access.
It's kind of expensive to go through the first year, and to add to that, it's a lump-sum amount.
That puts you at about $166 per month for the first year.
Who's Day Trading Academy For?
The training provided by Day Trading Academy is intended for anyone who wants to be successful in Forex trading, whether you're an aspiring novice or a seasoned trader.
What you do need to consider is that they're only accepting limited numbers of students. If you do get chosen, then you're going to enjoy specialized attention from world-class traders.
The classes are held live on the Internet, meaning you can access it anywhere using an exclusive link.
You also have access to a members' area where you can access other pre-recorded classes.
Day Trading Academy Ugly Truths Revealed!
#1 - Fake Review From The Founder Himself
Fake reviews are definitely deal-breakers for me, and in the case of Day Trading Academy, it has been exposed that their founder has been making fake reviews about their program.
This was exposed and posted on the Futures.IO forum.
Marcello Arrambide was caught red-handed trying to leave a positive Day Trading Academy review on futures.io while posing as a client.
Here's the review he posted:
And here's the aftermath:
The administrator of the forum addressed the issue by banning Marcello after the accusations were proven true.
In his statement, he said:
And that was the last time Futures.IO ever heard of Marcello.
#2 – No Proof Of DTA's Students' Successes
The biggest issue that a lot of traders have with DTA is that none of the claims that Marcello Arrambide's made are supported by any proof.
The site has been around for more than 5 years, but we have yet to see a 3rd-party verified track record.
Investors are looking for statements and real-time day trading results, but Marcello could only muster questionable testimonials at best.
Given that Marcello has been exposed to provide fake reviews, I am hesitant to believe what other people say about the program.
#3 – The Program Is Expensive!
I get that you're going to have some special attention from your mentors, but $2000 for an entire year of learning how to trade just seems a bit too much.
And what are you paying for exactly other than to just get into the program?
There are no proprietary software, no bots, and added features involved.
It's just like paying to attend a class for a year and then learning how to do things manually.
At least with platforms such as Traders Academy Club, you're paying to learn the basics of trading and have access to their trading software.
And they're cheaper than DTA too.
What I Like About Day Trading Academy?
#1 – A Unique Learning Experience
What makes Day Trading Academy good, despite the fact that it's expensive, is that you're getting a streamlined and focused form of training.
Because it's not a class-type but rather more of an "over-the-shoulder" type of training, you're able to get more out of your learning experience.
Think of it this way. It's like having a teacher look over your shoulder while you're reading the current lesson.
And then you can ask your teacher questions about said lesson and you get his/her undivided attention.
With DTA, you're getting an experience similar to that and I believe it's what makes this somewhat of a decent Forex Trading training platform.
Is Day Trading Academy A Scam?
Day Trading Academy is a very legitimate trading training platform and is developed and maintained by Marcello Arrambide and his team of experienced traders.
However, there are a few reasons why I wouldn't recommend this program to anyone who wants to get into the basics of Forex Trading.
First and foremost, I wouldn't recommend you read their testimonials on how good their platform is because I just mentioned that Arrambide has been known to create fake reviews about his platform.
It may be a marketing ploy, but it has a lot of implications. Because if he's been posting reviews on different forums, how else are we supposed to distinguish what's fake and what's an actual honest review?
Second reason here is that it's a very expensive trading training platform. The quality of the platform is now in question because of the fake reviews posted by Arrambide.
Can you get what you're paying for, or will you be stuck with an overpriced training course?
How I Make A Living Online?
I've personally created a 4-Figure Monthly Passive Income Stream and become financially independent at just 21 years old without any College degree or working experience!
Through my own hard work, I went from a broke restaurant waiter to living my dream laptop lifestyle in less than a year's time...
If you want to discover the secrets of how I did it at such a young age, click here!