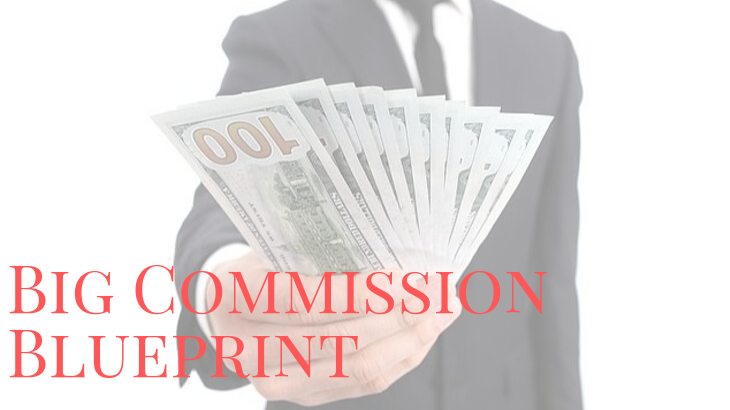 Is Big Commission Blueprint a Scam? – It's a Decent Program But…
Welcome to my Big Commission Blueprint review!
There are a handful of decent training programs out there that show you how to make passive income through affiliate marketing.
One of them is Big Commission Blueprint. Will it actually help you make money online? Or are they all fluff and filler?
First of all, I must Congratulate you for taking your time to do your own research before buying into any "seemingly good" product.
That's the way to avoid scams and find the legitimate way to make money online!
Let me be completely transparent with you, I'm not associated with Big Commission Blueprint in any form.
So, rest assured that I'm not here to pitch or sell anything to you.
Instead, I'm here to reveal what this program offers and why I think it's just a decent program...
Big Commission Blueprint Review Summary
Product Name:  Big Commission Blueprint
Founder:  Dean Holland
Product Type:  Affiliate Marketing Platform
Price:  $19.95 plus upsells
Best For:  People who want to learn about affiliate marketing and get into a high-ticket opportunity. 
Summary:  Big Commission Blueprint is a decent affiliate marketing training program developed by business coach and expert marketer Dean Holland. However, I find this program to be sub-par compared to other training programs out there because of the way it's built. The expensive upsells can be a big turnoff for anyone who want to establish a solid foundation, and you have to pay for these if you want access to the other modules. In this article, I'll go over the other reasons why I think this is just not worth any time and money at all. 
Rating: 50/100
Recommended:  No!
More...
What is Big Commission Blueprint?
Big Commission Blueprint or BCB is an affiliate marketing platform that teaches you how to earn money via big ticket commissions (meaning thousands of dollars in commissions) as opposed to earning a few bucks.
The affiliate marketing platform consists of training modules and more to help you get started.
The Owner
BCB is owned by Dean Holland, from Great Britain. He's the current managing director of Internet Profit Ltd.
Dean Holland has created a lot of other digital coaching programs online and is also a very prominent business coach and motivational speaker.
Inside Big Commission Blueprint
Dean Holland provides you with his own business model on how to earn a 6-figure income, that's why he won't stop talking about it on the sales video.
Otherwise, I don't think he offers any other incentive other than a 6-figure income.
Another pitch they throw at you is giving you the opportunity to learn Holland's favorite traffic methods, which is going to give you a similar result (or closer) to what Dean achieves in his affiliate marketing journey.
The program costs you $19.95 to get through the 11 training modules, which will be explained below. However, there are several upsells that might be a little bit of a turnoff.
I'm Jerry!
I Created My Own 4-Figure Monthly Passive Income at just 21 Years Old!​
How BCB Really Works
You'll find 11 modules inside their training course. These are all in video format so they're easy to follow. They also provide a good analysis of affiliate marketing, so it's really intended for beginners.
BUT…
You can't access all of the 11 modules without buying the upsells, which are not cheap.
Module 1: The System Explained
This is the introduction of the program, handled by Dean. He shows you his results and explains why his system works.
The concept is simple. You offer freebies to collect leads, then some of the leads will buy low-priced products and their upsells.
He shows you how you can make a thousand dollars from just one buyer.
Module 2: Creating Your Number
This is a mindset training that is completed by the end of module 3. He teaches you how to develop an affiliate marketing mindset.
Module 3: Your Personal Income Blueprint
This is the continuation of the mindset training that focuses on goal settings for your business and life in general.
Module 4: Create Your Free Account
This module shows you how to promote BCB and how you can earn $10 per sale. The problem here is that you don't get any commissions for the upsells if they do buy it.
You would have to purchase the next modules to get the rights to earn from the upsells.
Module 5: The Affiliate Club - $47 per month
This is the first upsells and costs $47 per month. You create an account on their Affiliate Club and you get commissions for your leads that purchase this upsell.
Module 6: How To Make $1000 Commissions Without Any Extra Work - $1997 (one-time fee)
The second upsell costs $1997 (one-time fee) and earns you $1000 in commissions when referrals buy the 6th module.
By purchasing this module, you get better training and coaching from Dean Holland himself.
Module 7: How To Make $2500 Commissions Without Any Extra Work
The last of the upsells costs $4,997 and earns you $2,500 in commissions. And just like the 6th module, you get better training and coaching.
Module 8: Getting Traffic
This module shows you how to generate traffic via free and paid methods. Dean Holland uses Warrior Forum, a legitimate affiliate marketing forum, as an example and as a good source of leads and traffic.
He also teaches you how to navigate your way through paid traffic, which is what he also encourages.
Module 9: Making Your First Sale
This module just shows you how to set up your Warrior Forum account (amongst other things) and keep making posts to generate more leads.
Module 10: Scaling Your Income
This module focuses on reinvesting your profits in order to grow your income.
Module 11: The Next Steps And Your Completion Bonus
These are merely bonus training videos and content that support all the other 10 modules.
Who's Big Commission Blueprint For?
Big Commission Blueprint might be a decent training program that might help people with getting started with affiliate marketing.
But it's not the end-all, be-all of affiliate marketing training programs either. In the next section, I'll explain why I'm hesitant to recommend this program to anyone.
Big Commission Blueprint Ugly Truths Revealed!
#1 - Expensive Upsells
The first reason why I don't think I can recommend this to anyone is the expensive upsells. You're going to spend about thousands of dollars to get the opportunity to earn thousands of dollars back.
Unfortunately, this is just how some of the high-ticket business opportunities work.
I also don't like how you're going to pay your way through getting better training and coaching, which is merely a supplement to the high-ticket opportunity.
#2– Paid Traffic Is Encouraged!
For a beginner-oriented training program, the use of paid traffic is encouraged.
Unfortunately, this may not be as effective as Dean promises. Here's why.
You're still establishing your business at this point and you may not even be decided on your niche just yet.
Having to invest in hundreds of dollars of paid traffic for something you're just starting is unreasonable at this point.
And while Dean Holland may guide you towards the right way to doing paid traffic, there might be nuances that he may not be able to discuss.
With that said, unless you've already established your business and have earned a decent amount of income along the way, then stay away from doing paid traffic until then.
#3 -  There's No Other Niche!
Another disappointing thing about Big Commission Blueprint is that the training provided is intended to promote Big Commission Blueprint only, and nothing else.
The modules may be applied in verbatim if you want to go for other niche's but it's going to take some time to re-apply the processes involved.
What I Like About Big Commission Blueprint?
There are a lot of training programs that are far better than BCB, and I say this without any bias.
My biggest issue here is that the program could've been better in terms of how it was structured and how it's designed to let people into.
Is Big Commission Blueprint a Scam?
Far from being a scam, Big Commission Blueprint is a legitimate training program for affiliate marketers who want to make money online.
However, this high-ticket affiliate marketing platform proves to be very restrictive towards novices because of the expensive upsells.
And you can't proceed with the training unless you purchase some modules. So, think of it as getting something now on trial and to access the full version, you have to pay for them.
Then as for its income opportunity, you have to buy into the program you want to sell first before you can take advantage of the program's referral system. The upside here is that once you buy into the program, you get more access to the coaching and training part.
How I Make a Living Online?
I've personally created a 4-Figure Monthly Passive Income Stream and become financially independent at just 21 years old without any College degree or working experience!
Through my own hard work, I went from a broke restaurant waiter to living my dream laptop lifestyle in less than a year's time...
If you want to discover the secrets of how I did it at such a young age, click here!