13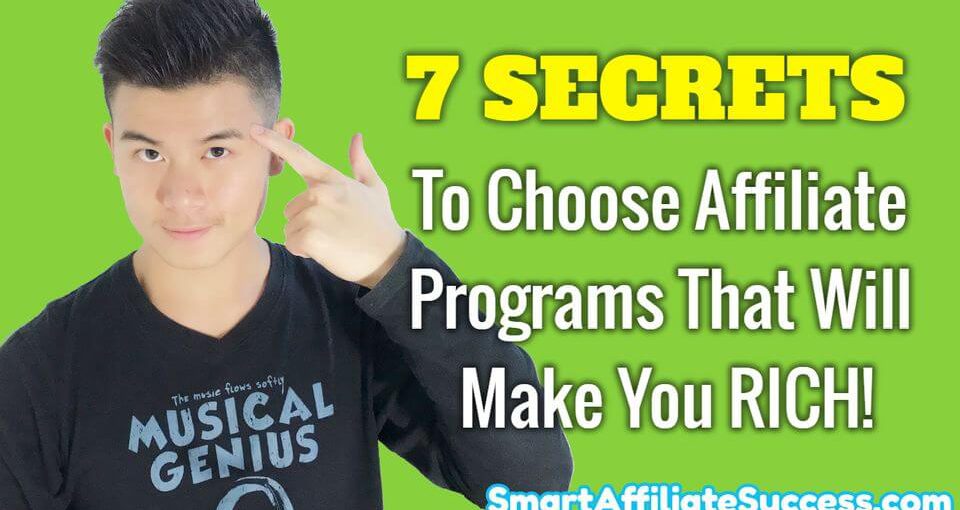 How to Choose Affiliate Programs That Will Make You Rich? (7 Secrets)
Why many bloggers and affiliate marketers out there are making thousands or even millions in affiliate marketing but mine just doesn't seem to work?
Are you not getting the results you want from your affiliate marketing business?
I can totally feel you and this post is definitely useful for you.
Usually, there are 2 types of problem when you're facing this issue:
Your website/content is not up to standard or you don't know how to sell
The affiliate program you choose sucks!
In this post, I'm going to reveal to you 7 secrets to choose the right affiliate program that will make you rich.
You know what, with the right affiliate program that is proven to sell, you already won half the battle. I'm going to show you how you can do that...
More...
Having a strong foundation allows you to win half the battle...
Grab My Personal Proven Affiliate Marketing Blueprint to Start Your Business Right.
7 Secrets to Choose a Profitable Affiliate Program
1. It Must be Appealing to the Mass
To ensure an affiliate program that can make you money and make you rich, it must be appealing to the mass. In other words, it must have a large target audience.
Some people may argue otherwise in terms of lower competition.
However, products appealing to the mass are proven to sell and convert. Whilst, products in the less competitive niche may not be popular because it's not what the majority wants.
2. Promote High Ticket Products
This is another controversial point. Some people view all high ticket products are scams but in reality it is not.
There are indeed a number of scammers promoting low quality products charging at a premium price. However, there are still many high ticket products that are valuable.
In order to achieve the result you want and be rich, promoting high ticket product is the way to go.
Why? Let me explain...
Let say you want to make 10K in affiliate revenue.
Is it easier for you to generate 1,000 sales on a $10 product?
Or is it easier to generate 10 sales on a $1,000 product?
It's a no-brainer that generating 10 sales on a $1,000 product is much easier right? You have to acknowledge that there are a lot of people out there willing to spend $1,000 to improve their lives or businesses.
So, you shouldn't be looking at products that are just a few bucks because you won't be rich by selling those stuffs.
You may argue that it is still possible if you have a large audience and traffic. However, it is still very difficult to be honest.
3. Does the Vendor Know How to Sell?
There are tons of people offering affiliate programs out there. To be honest, not even most of them know how to sell. So don't assume that as long as they have an affiliate program in place, then the vendor should know how to sell.
In fact, in order for your affiliate marketing business to be profitable, both you and the vendor you choose play a very important role.
You have to convert your visitors to potential customers who will then click on your affiliate links. On the other hand, the vendor must be able to convert your potential customers into buyers.
So, what you need to do is to look at your vendor's sales page and analyze if the vendor really knows how to sale. This takes some practice and experience definitely.
You should also check out the vendor's statistics if possible. Some stats are available for vendors on platforms like Clickbank.
The above screenshot is an affiliate product on Clickbank. Look at their earning potential (average commission per sale, average percentage per sale, average rebill total) and whether there are existing marketers promoting the product (gravity score).
So, in order to determine whether the vendor knows how to sell, you need to look at 2 things:
Sales page
Affiliate statistics
4. Is it an Easy Sell for You?
Next, the product must be relevant to your target audience. If it's not highly relevant to your TA, it won't convert no matter how profitable the affiliate program is.
So, this point is very straight forward. Do your necessary research and find products that your target audience want which can help them solve their problems.
5. Is There a Back-end or Recurring Subscription?
Do you want to do something once and get paid again and again? I'm sure everyone does.
A good way to do it with affiliate marketing is to promote products or programs that has a back-end sale or recurring subscription.
A common example will be a membership site that has a recurring subscription. You only need to refer the customer once and you'll get paid commission every month or every year when he or she pays for the membership fee.
6. Are They Sharing Sales of the Other Products in the Sales Funnel with You?
Usually, there won't be just one product in the funnel. Almost every company has funnels that include a number of upsells or other related products.
If their affiliate program only pays you the front end low level commission, then stay away from them. Because they are just making use of you to get cheap traffic and make a lot more money at the back-end.
You need to do your necessary research to see if the affiliate program you are promoting has a back-end sale and whether the company is sharing the sale commission with you as well.
Because usually it is the back-end high ticket sales that make most of the money!
7. Make Sure the Product is Good!
Finally, no matter how tempting the affiliate program seems to be, you need to make sure the product is GOOD!
Don't just promote for the sake of promoting because your customers are real human beings. The only way to achieve long term success and really becomes rich is to make your customers happy and keep a good reputation.
This is a no-brainer, right?
Now, you've got all the tips to choose an affiliate program that sells.
But remember I said at the beginning of this post that there are 2 types of problem when your affiliate marketing doesn't work?
Yes, the next you need to work on is your marketing strategy.
If what you're doing is to insert as much affiliate links into your content and promote the content as much as possible, you have to change. Also, if you're just sending promotional email with affiliate links to your list, it won't work either.
In order to make affiliate marketing work, you need to have a good funnel in place and understand the Customer Purchasing Lifecycle (psychology). Putting the right information in front of the right audience at the right time is extremely crucial.
If you want to boost your affiliate conversions and sells, check out my FREE Blueprint below:
Having a strong foundation allows you to win half the battle...
Grab My Personal Proven Affiliate Marketing Blueprint to Start Your Business Right.