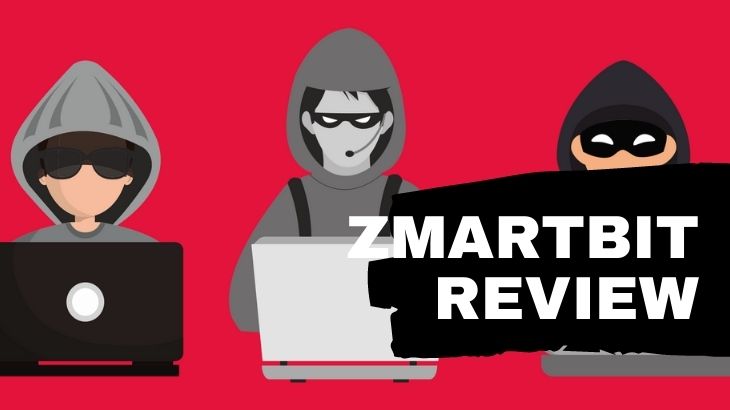 ZmartBit Review – Here's What This Ponzi Scheme Is All About!
Welcome to my ZmartBit review!
Ponzi schemes and pyramid schemes are prevalent in the MLM industry for the sole reason that people still fall for these programs.
I mean let's be honest. These schemes are getting smarter with each iteration, and they have the makings of a legitimate investment program.
However, if you know what you're looking for, you'll find that these same smart programs are not so great at hiding the most obvious signs of a pyramid scheme.
A good example here is ZmartBit, which is one of the Ponzi schemes that we'll review today.
First of all, I must Congratulate you for taking your time to do your own research before buying into any "seemingly good" product.
That's the way to avoid scams and find the legitimate way to make money online!
Let me be completely transparent with you, I'm not associated with ZmartBit in any form.
So, rest assured that I'm not here to pitch or sell anything to you.
Instead, I'm here to reveal what this scheme is going to do to you...
ZmartBit Review Summary
Product Name: ZmartBit
Founder: Not disclosed
Product Type: Cryptocurrency Investment (Ponzi Scheme)
Price: $260 minimum investment
Best For: NO ONE!
Summary: ZmartBit doesn't try hard enough to not look like a pyramid scheme. The red flags are there if you know what to look for. The focus on recruitment incentives not to mention the absence of any proof that income is generated outside of signups are just few of the red flags we found.
Rating: 1/100
Recommended: No!
More...
ZmartBit is a MLM or multi-level marketing company that promises a cryptocurrency investment and education program.
In reality, it's a matrix-based Ponzi scheme that builds its income on recruiting people. Money will be earned at the top of the tier and trickle down the pyramid of members (hence the name, pyramid scheme).
Who's the owner of the company?
Well, much to no one's surprise, there's no information as to who owns or runs the company. And no, they're not being mysterious for the sake of being mysterious. Rather, they're hiding their identities so they won't be legally liable for anything.
Based on their WhoIs info, their domain name was registered on Sept 2019 and was registered privately. This means that there's no way to identify who actually made the site.
ZmartBit Product Line
ZmartBit has no retail products or service to offer. The only thing that they have to offer is membership into their income opportunity.
They do have what they call a Cryptocurrency University, which is kind of like a training or educational resource for trading. But this is completely useless.
This resource has nothing to offer for the members that are about to sign up.
I'm Jerry!
I Created My Own 4-Figure Monthly Passive Income at just 21 Years Old!​
Does The Product Work?
ZmartBit is a pyramid scheme, right off the bat. Members sign up, pay the fee, and get paid for recruiting people into the program.
There's nothing being sold to customers that would allow the company to generate profits outside of getting recruitment fees.
As for their Cryptocurrency University, it's just a form of pseudo-compliance that makes them avoid the FTC's and SEC's radars. You see, the FTC and SEC keep an eye out for the lack of products or services when it comes to MLM companies.
How To Make Money with ZmartBit?
The only way to make money with ZmartBit is through recruiting people. There's no other way to make money here.
How To Get Started with ZmartBit?
ZmartBit's membership costs $260, but participating in their income opportunity to the fullest (a.k.a. buying positions) will cost you $42,210.
Payments are done through Bitcoin (both paying and receiving it).
ZmartBit Compensation Plan
ZmartBit's compensation plan follows a 4x10 matrix compensation plan where members are placed below you.
From these positions, their recruits are placed under them and are known as your 2nd levels. And this goes on and on.
Your commissions are paid out as these matrices are filled. How much commission you get is determined by which level of matrix position is filled:
White – sign up and pay $260, earn $125 per position filled on level 1 (4 positions)
Green (recruit two affiliates who each recruit two affiliates) – pay another $260, recruit two affiliates who each recruit two affiliates, and earn ~$156 per position filled on level 2 (16 positions)
Yellow – pay another $530 and earn ~$156 per position filled on level 3 (32 positions)
Orange – pay another $1060 and earn ~$156 per position filled on level 4 (64 positions)
Blue – pay another $2100 and earn ~$156 per position filled on level 5 (128 positions)
Pink – pay another $4200 and earn ~$78 per position filled on level 6 (256 positions)
Bronze – pay another $8300 and earn ~$46 per position filled on level 7 (512 positions)
Silver – pay another $8400 and earn ~$23 per position filled on level 8 (1024 positions)
Gold – pay another $8500 and earn ~$11 per position filled on level 9 (2048 positions)
Platinum – pay another $8600 and earn ~$6 per position filled on level 10 (4096 positions)
ZmartBit Ugly Truths Revealed!
#1 Pyramid Scheme!
As you can tell, this is a straightforward recruitment income opportunity where you have to pay a fee to join, recruit people to do the same thing, and then repeat the process over and over.
This allows you to get commissions when people join and they get other people to join in.
There are no trades or investments being done here, and there's no proof that those are being done either.
#2 Useless Education Program
They have a useless educational resource that makes them comply with the bare minimum for what a MLM company should be all about in the eyes of the FTC and SEC.
But this resource doesn't really do anything for you, and they'll just try to lure you in with promises of passive income.
#3 Part Of
An Old Network Of Scams!

Now based on reading some reviews about ZmartBit, there's mention that this was part of an old network of scams and is believed to be formerly known as CloudToken and Bitconnect.

As for people involved, two names have come up: Mack Mills and Greg Perdiel. These people are involved in ZmartBit's previous iterations.
Now there's no way to confirm these allegations, but it doesn't mean that it's not true either. The fact that people brought these facts up means that there's some sort of truth behind it.
What I Like About ZmartBit?
There's nothing to like about ZmartBit because it's an obvious pyramid scheme. It's just here to take your money away from you.
ZmartBit tries not so hard to not look like a pyramid scheme, but all the red flags are there if you know what you're looking for:
There's just no other way to make money here other than to recruit people into the program. That itself is a guideline called out by the FTC and SEC for spotting pyramid schemes.
There's no source of income coming into the company other than people's investments. There's no proof that trades and investments are being done here.
There's a chance that they might be part of a huge network of scams that involve this same MO (modus operandi).
Stay away from this program!
Related Links
How I Make a Living Online?
I'm not a fan of MLM, not because it's illegal or not profitable, but because of all the restrictions and the expensive costs involved.
Instead, Affiliate Marketing is my top recommended business model for anyone to make money online.
The reason is simple...
You don't have to recruit anyone to make money
You have the freedom to promote any products you want and not being restricted to only promote the products from one MLM company
It's Free to get started
In fact, with affiliate marketing...
I've personally created a 4-Figure Monthly Passive Income Stream and become financially independent at just 21 years old without any College degree or working experience!
Through my own hard work, I went from a broke restaurant waiter to living my dream laptop lifestyle in less than a year's time...
If you want to discover the secrets of how I did it at such a young age, click here!