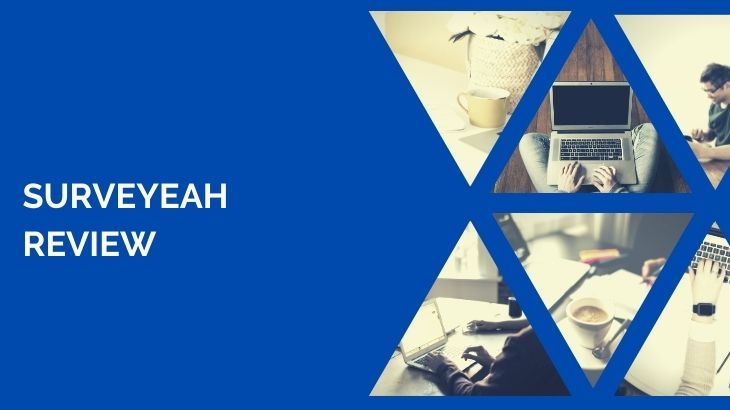 What Is Surveyeah? It's An Online Market Research Panel!
Welcome to my Surveyeah review!
Survey sites are dime-a-dozen, and you'll find that majority of them are equal in terms of their income opportunity. You'll only be earning a few cents for every task completed. It takes a while before you can even make some decent income.
This company we're going to review has been around for quite some time, and has been on our radar for the past few weeks.
This is Surveyeah.
First of all, I must Congratulate you for taking your time to do your own research before buying into any "seemingly good" product.
That's the way to avoid scams and find the legitimate way to make money online!
Let me be completely transparent with you, I'm not associated with Surveyeah in any form.
So, rest assured that I'm not here to pitch or sell anything to you.
Instead, I'm here to reveal what this program is all about...
Surveyeah Review Summary
Product Name: Surveyeah
Founder: Nicolo Fosigni
Product Type: Paid Survey Panel
Price: Free to join
Best For: No one
Summary: Surveyeah is a paid survey panel that's been around for more than 6 years. It's actually a market research company that runs the panel. However, the income potential can be disappointing so don't expect to earn thousands of dollars in a month.
Rating: 50/100
Recommended: No!
More...
Surveyeah is a paid survey program run by an online consumer panel that does market research tasks.
The company is run from Milan in Italy, and has been operating since 2014. The CEO and Founder of Surveyeah is Nicolo Fosigni.
This is the reason why their social media profiles will contain Italian posts, but they'll post in different languages as well.
Surveyeah is available to residents from more than 60 different countries.
The bare minimum age to sign up is 18 years old, and if you join as a minor, you'll be sent a parental consent form that you'll need to submit with your signup.
The process is straightforward just like all survey sites. You'll be asked for your information such as age, gender, and education.
Then you'll be asked about your hobbies, interests, and other profile-based questions to help them determine what surveys will best fit you.
How To Make Money with Surveyeah?
Paid Surveys
The main source of income for Surveyeah is their paid surveys. This is where bulk of your tasks will be coming from.
You'll be presented with a handful of surveys once you complete your signup, but here's the twist: you can't access them all.
Some of the surveys will ask prequalifying questions that will determine whether or not you fit the demographics they are looking for.
If you qualify, you'll be taken to the survey itself and you'll be paid once you're done.
If you don't qualify, you'll be taken to another survey that matched your answers from their prequalifying questions.
I'm Jerry!
I Created My Own 4-Figure Monthly Passive Income at just 21 Years Old!​
Surveys take anywhere between 7 and 20 minutes.
Paid Offers
The second way to make money from Surveyeah is through their paid offers. These are tasks that you'll complete in varying durations. Some will take a few seconds while others last for a week.
Take this example: you'll be asked to download a game and play it for 2 weeks. Your objective here is to meet certain requirements before you get credited for completing the tasks.
These offers pay more than surveys, but are very time-consuming. Paid offers don't have any demographic requirement nor do they require a specific number of participants. As long as the paid offers are still listed, you'll be able to take advantage of the opportunity.
Surveyeah Social Media
Promo codes allow you to earn points that you can use to convert to currency. These aren't available that often, so you'll have to check in on their Facebook and other social media profiles.
The posts are going to be in Italian most of the time but the codes are discernible from the text.
Understanding The Point System
Just like some of the surveys we reviewed, Surveyeah uses a point system that tracks your earnings. These points can be converted into cash or Amazon cards, as seen below:
Points can be earned by doing surveys and the other tasks.
The minimum payout threshold is $40 for PayPal and Amazon cards. $40 is equivalent to 320 points.
Surveyeah is meant for people who love to complete surveys and do menial tasks online.
Surveyeah Ugly Truths Revealed!
#1 Low Income Potential
You're not going to make a lot of money here with Surveyeah. The good news is that they don't make any hyped-up claims of income.
You're earning up to a dollar for an hour of work, and that's way below any country's minimum wage rate.
#2 Limited Number of Surveys
You're not going to get more than 20 surveys at any given time. You may be lucky enough to get a few per week, but that's a given if you belong to a demographic that's the target consistently for these surveys.
This is also one of the reasons why the income potential is so low. At best, you're looking at a few cents per week before you can get to that $40 cashout.
#3 High Withdrawal Threshold
The withdrawal threshold is too high, even for industry standards. Capped at $40 minimum, you're going to be doing this for close to a month of consistently doing surveys to make this limit.
And $40 for a month of work doesn't seem very enticing for some.
What I Like About Surveyeah?
#1 Free To Join
You may not be making much, but the program's free to join. If you do meet the withdrawal requirements, you just scored yourself $40.
There's no membership program or premium model being run here, so everyone is earning here equally.
Surveyeah is a legitimate program as far as we're concerned. There's nothing illegal or suspicious about their income opportunity either.
But that's the thing. Their income opportunity isn't that great in terms of how much it can offer you.
The income potential is low because you're only earning a few cents per day or a few dollars per week. You'd be lucky to cash out within a month of doing surveys.
There's a limited number of surveys available, so this greatly affects their income potential. You'd be lucky to do one or two in a day.
But if you don't mind the earnings and are patient enough to do the tasks, feel free to give this program a try.
Check Out These Survey Sites
How I Make a Living Online?
I've personally created a 4-Figure Monthly Passive Income Stream and become financially independent at just 21 years old without any College degree or working experience!
Through my own hard work, I went from a broke restaurant waiter to living my dream laptop lifestyle in less than a year's time...
If you want to discover the secrets of how I did it at such a young age, click here!