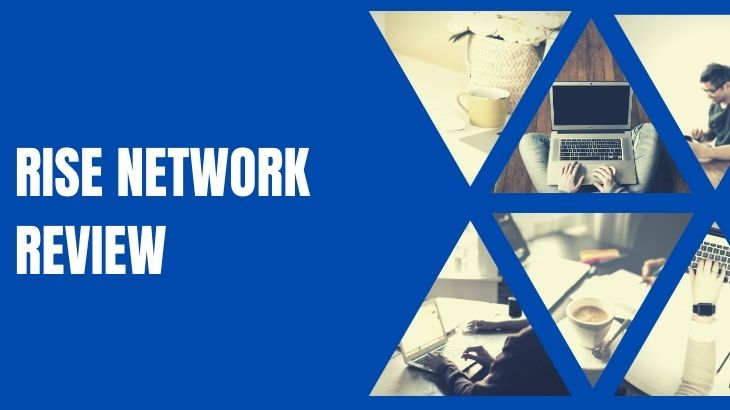 What Is Rise Network – A Scheme On Top Of Another Scheme?!
Welcome to my Rise Network review!
Whenever we find questionable MLM schemes, it's not too often when there are a few names that pop into our heads. The reason being is that the schemes that we review are very similar to their previous schemes' MO's that they ran.
Let me paint you a pretty picture by presenting you this Rise Network Review.
First of all, I must Congratulate you for taking your time to do your own research before buying into any "seemingly good" product.
That's the way to avoid scams and find the legitimate way to make money online!
Let me be completely transparent with you, I'm not associated with Rise Network in any form.
So, rest assured that I'm not here to pitch or sell anything to you.
Instead, I'm here to reveal what this scheme has on top of another scheme...
Rise Network Review Summary
Product Name: Rise Network
Founder: Hitesh Juneja, Kevin Hokoana, and Jason Rose
Product Type: Marketing Tools MLM
Price: $99 a month plus various fees
Best For: NO ONE!
Summary: Rise Network is a MLM company that operates on the marketing tool niche. It has you selling an "independent" provider of business services that they'll teach you how to setup. But there are several issues that plague this company, one of which is their lack of transparency on who owns who. They also have this habit of lying to their members, so those are huge red flags.
Rating: 1/100
Recommended: No!
More...
Rise Network is a MLM or multi-level marketing company that operates in the marketing tools niche. On their website, they listed Texas as their address and Hitesh Juneja, Kevin Hokoana, and Jason Rose as their founders.
If these names are familiar to you, then that's because you've probably heard of their other program named DS Domination. DS Domination was a dropshipping training course with a pyramid recruitment incentive. It was founded in 2013 but slowed down 2 years later. They later transitioned into Options Domination, which we assume has something to do with options with a pyramid recruitment incentive plan.
A few months later during that time period, their dropshipping guru named Roger Langille cashed out and left the group. This forced Options Domination to pivot into securities fraud up until they launched Infinii in late 2015. Months after Infinii went public, they also announced that they were dropping its securities fraud offering.
It went on well up until 2016 when Infinii struggled, forcing them to reboot Options Domination as Infinii Digital Signal Forge. However, Infinii and its associated companies went bankrupt that same year.
That was the last time Juneja, Hokoana, and Rose were involved in any MLM business. We have no idea if they were involved in anything MLM-related between 2016 and 2020. It appears they only resurfaced for the launching of Rise Network.
Rise Network Product Line
Rise Network has no retail products or services offered by itself alone. You're signing up for membership into their compensation plan and Unbox.
Unbox is an independent third-party merchant e-commerce platform that provides business centers for niches such as Metabolic Design, Essential Oils, Payment Processing and Management, Tort and Legal Relief, digital commerce, and more.
Unbox affiliate membership costs an additional $99 on top of your membership in Rise Network, followed by $39 to $299 a month. You can opt for a non-affiliate membership by paying $99 a month.
Does The Product Work?
Let's try to get something out of the way here by talking about Unbox since it looks like it's the odd one out.
At the surface level, you'd think that there's nothing wrong with what they have to offer. But a closer look revealed something fishy. In one of their marketing videos, Rise Network referenced Unbox as one of the gift cards on Juneja's marketing presentations.
You see, your typical gift card is registered as an individual product in any store, paid out in cash or credit. This gift card is then used as a form of payment in the store's POS or payment processor. Digital gift cards operate in the same manner, except they have a unique code that cashiers will input into the system to activate it.
Simply put, legitimate gift cards need to have a cash out of sorts before they can be cashed in. This allows money to be put back into circulation and prevents the business from losing money.
But with Unbox, members are able to generate gift cards without making any payment. This is odd because it resembled more of a voucher than a gift card.
In the same presentation, Juneja talked about waiting the $99 fee to join Unbox, citing that you can set up your Unbox business which you'll build and they'll teach you all about how to do that. They also say that Unbox is a third-party provider and is not their company.
We checked Unbox since they have their own website called joinunbox.com. In their About Us section, the company states that they're a product of Knowledge Technologies LLC, which was established in 2009 thanks to a partnership between J & H Business Institute and Pramana Capital. J & H Business Institute is a 12-year old firm that stands behind multiple e-commerce and digital content platforms. Pramana Capital is a multi-billion dollar fund that's focused on acquiring and partnering with innovative projects.
Unbox is owned by Knowledge Technologies and partly owned by J & H Business Institute and Pramana Capital.
Here's the plot twist. Hitesh Juneja's LinkedIn profile shows him as the co-founder of J & H Business Institute Corp. This is no surprise since the J in J & H stands for Juneja. The H stands for Hokoana, who's none other than Kevin Hokoana. This means that both Hokana and Juneja are part owners of Unbox.
The big issue here is the lack of transparency in disclosing any of the information listed above to their members, particularly about Juneja lying about him owning only Rise Network.
Between the three founders, Juneja, Rose, and Hokoana looks like they quadruple dip every time a member sells or purchases something through Unbox.
Quadruple dip refers to them taking money from members in 4 different ways.
First, there are the white label merchants populating their Unbox's e-commerce platform. To be fair, we don't know if any money is passed between Unbox and these merchants.
Second and third, you have the Rise Network and Unbox membership fees.
Lastly, you have Unbox selling white-label merchant products to retail customers and affiliates. From one member signup, the founders make money from you in 4 different ways.
While it's not exactly illegal in the eyes of the FTC, they might have issue with the lack of disclosure (for example, Hitesh's false representations).
With all that being said, there's nothing remarkable about Rise Network's and Unbox's business models so we'll move on to their compensation plan.
How To Make Money with Rise Network?
There are two ways to make money from Rise Network:
Selling the Unbox package and earning a commission

Recruiting a member and having them do step 1, so you earn a team-based commission.
How To Get Started with Rise Network?
There are a few costs associated with joining Rise Network.
First, there's the membership cost worth $47 a month.
Then there's the separate membership fee from Unbox, which has you initially paying $99 on your first month.
Then you have three options for the monthly costs:
$39 per month

$99 per month

or $299 per month
The difference between the three options is the income potential. You spend more, you earn more.
Rise Network Compensation Plan
Rise Network's compensation plan follows a hybrid affiliate marketing compensation plan and MLM compensation plan, leaning more towards an affiliate marketing compensation structure.
Affiliate Commissions
Rise Network follows a unilevel structure for the first level commissions. You earn $47 per month as long as your members continue to sign up, and then $25 for the members that your members have recruited.
Unbox Commissions
This is the second level of commissions that you can earn from Rise Network. This follows a multi-level compensation structure similar to that of your typical MLM comp plan.
You earn at 4 levels deep, compared to the 2 levels deep that affiliate commissions have to offer.
You earn 100% of the first sale of your personally recruitment member, minus the fees. Then 40% of their monthly renewal costs.
Matching Commissions
Rise Network pays matching commissions based on your downline members and customers. This goes down 4 levels deep.
There's not enough information to go around with their matching bonus and how much Rise Network pays out to match it.
Rise Network Ugly Truths Revealed!
#1 Founders' Shady Reputation
Rise Network's founders have been involved in some shady MLM's before, which makes us suspect of the current company they have now. We're not saying this is a scam, but following their usual trend, we'd like to err on the safe side of things.
We just don't have any reason at all to trust them at this point unless they manage to turn things around.
#2 Pyramid Recruitment
Their incentives on their compensation plan rewards recruitment more than sales. Selling the Unbox membership is a disguise because you're still recruiting people into the program. This makes the FTC or any regulatory agency think that they have something to offer when they really don't.
#3 Lack of Transparency
The owners lied about a few things, particularly about their involvement with Unbox. They mentioned they are not the owners but there's enough evidence to prove otherwise. Rise Network just funnels members into Unbox and that's it.
What I Like About Rise Network?
There's nothing positive that we can think of here in Rise Network.
Rise Network is a suspicious program, but at the same time, we don't have enough proof that this one's a pyramid scheme either.
The founders were involved in shady MLM companies in the past, primarily with pyramid recruitment incentives. Rise Network's MO is closely similar to how their previous companies operated.
Rise Network's compensation plan is focused solely on recruitment more than selling, so that's a red flag.
Then there's the issue of the owners lying through their teeth about who owns what. This makes us think about the other things that they've not told people.
All in all, I am 100% confident there's nothing of value here.
How I Make a Living Online?
I'm not a fan of MLM, not because it's illegal or not profitable, but because of all the restrictions and the expensive costs involved.
Instead, Affiliate Marketing is my top recommended business model for anyone to make money online.
The reason is simple...
You don't have to recruit anyone to make money
You have the freedom to promote any products you want and not being restricted to only promote the products from one MLM company
It's Free to get started
In fact, with affiliate marketing...
I've personally created a 4-Figure Monthly Passive Income Stream and become financially independent at just 21 years old without any College degree or working experience!
Through my own hard work, I went from a broke restaurant waiter to living my dream laptop lifestyle in less than a year's time...
If you want to discover the secrets of how I did it at such a young age, click here!