18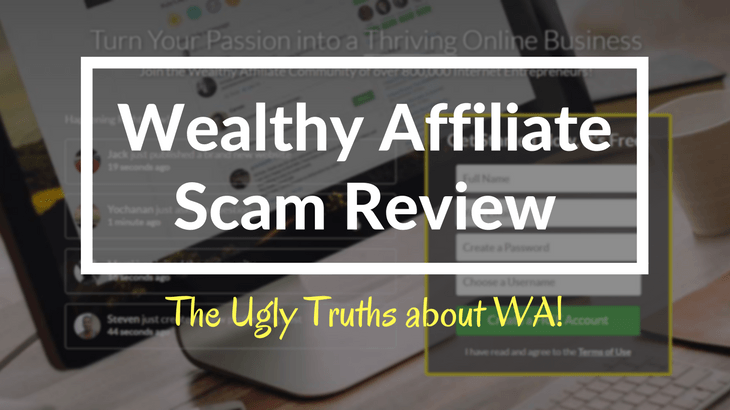 Wealthy Affiliate Scam Review – 5 Ugly Truths About WA
Let me tell you upfront, I'm a member of Wealthy Affiliate. This Wealthy Affiliate scam review is a post that I want to compile all the complaints and negative sides about WA.
There are so many positive reviews around the Internet ​praising and promoting Wealthy Affiliate. Some are fine because they have balanced review but some are just too one-sided and neglect the fact that everything has two sides, the good and the bad.
Don't get me wrong!
I love Wealthy Affiliate and I highly recommend it to beginners who want to learn how to make money online​, not because I'm an affiliate and a member of WA, but because its training, guidance and support have helped many people to quit their jobs and live the life they want.
Grab Your FREE Proven 4-Step Affiliate Marketing Blueprint if you want to learn how to utilize Wealthy Affiliate as the leverage to make real money online!
Don't waste anymore time. Let me tell you what are the things Wealthy Affiliate can improve on!
More...
Wealthy Affiliate Scam Review -
5 Ugly Truths

About WA
#1 WA Never Teach How To Build a "Conversion Focused Website"
​Wealthy Affiliate has one of the best courses to teach people how to build websites, write contents and start making money online. There's no doubt on this.
​But there's one very important aspect of making money with a website which Wealthy Affiliate didn't really talked about, and that is the design and planning of the website!
Let me explain...
​I love using the themes and plugins from a company called Thrive Themes. Thrive Themes focus a lot on building a conversion focused WordPress site so they have lots of tutorial videos and guides on this.
After learning a lot from them and applying those knowledge to my own website, I then​ looked at some of the websites that WA members built.
You know what?!
There are many websites which have a lot of potential but their website design and planning just pull them down. If they can make a few tweaks here and there, I'm sure their websites will convert better and thus earn more money for them.​
Since I study a lot on the consumers' psychology, websites' user-friendliness and conversion on my own, I can see a lot of opportunities for many websites that are being ignored by many.
My Suggestions to Wealthy Affiliate
​Kyle and Carson should include some lessons on how to design and plan better websites for conversion optimization purpose within the current courses.
It doesn't have to be a ton of detailed guide, although it can be, at least there must be some guidance on this important aspect of website development to help members build better websites and earn more money.
---
#2 Many WA Members Trash All Other Programs​
​This is a very serious problem for Wealthy Affiliate.
The Affiliate Bootcamp course in WA teaches people how to build websites in the "make money online" niche and promote Wealthy Affiliate membership.
They also teach you how to write product reviews on Wealthy Affiliate and other online marketing programs.
However, many beginners have the wrong mindset and they simply want to make money fast. They tend to write unbalanced, one-sided or very extreme reviews just to promote Wealthy Affiliate.
They often give some brief explanation on the product or program then call it a scam due to some vague and weak reasons. Then they spend a lot of time boasting the benefits of Wealthy Affiliate. This kind of act should be condemned.
I'm sure you can see what's the problem here. We, as online marketers, should provide information that is honest and balanced as much as possible. After all, that is the key to succeed online.
I'm not saying all or most WA members are doing this​, but there are many "beginners" doing it. This generally won't happen for the more experienced ones.
My Suggestions to Wealthy Affiliate
Kyle and Carson should put more emphasis on how to really write an honest and ethical review. They should clearly state in the course that members should not trash all other programs just to promote Wealthy Affiliate.
Members need to reminded that they should do their own diligent research for each of the products they review and it's even better to try the product themselves before writing the review.
In the courses, Kyle did mention about the benefits of writing a balanced review and giving both pros and cons about a product. But judging from the fact that this issue is still so prevalent, they should put more emphasis on this.
---
#3 Live Video Classes Are Too Basic Sometimes​
​If you're a Premium member of Wealthy Affiliate, you can get access to the weekly Live Video Classes or "WAbinar" as they call it, hosted by Jay, the live training coach in WA.
This is a really great resource for beginners but as one gets more experienced, some of the Live training seem too basic.
At first, I was very excited for every week's Live training. But after a while when I became more experienced and knowledgeable in this online marketing industry, I felt that some of the training are very boring simply because Jay is going at a rather slow pace and teaching stuffs that are more for the beginners.
I don't mean that the training has no value to me at all now. Jay is awesome and I can still learn valuable things here and there​ but sometimes I just feel it's not really worth my time.
I have the habit of reading marketing/business related books, reading articles online by successful marketers or listening to Podcast, etc. I feel I can learn a lot more from these kind of activities.
My Suggestions to Wealthy Affiliate
The Live Video Classes can be categorized into 2 or 3 expertise levels.
Let's simplify things and categorize into 2 levels for now. Jay can host training on level 1, the more basic training in week 1. In week 2, he can then host training that is classified as more advanced or level 2 and continue this in alternate weeks.
In the Live training replay page, members should be able to easily find training that are more basic or more advanced. This kind of categorization is more user-friendly for both beginners and more experienced marketers.
---
#4 Live Chat Is Hard To Use​
​Live Chat is a good feature for members to stay connected 24/7 because there are members from all time zones around the world. People can chat or ask questions in the Live Chat and there will always be people there to answer.
It has been quite beneficial for newbies to get immediate help.​
However, I never use Live Chat at all because it's really hard to use.
Let me explain why...
​There are no categories within the Live Chat to separate chats for different purposes. So the chat will just be keep on updating. All the messages will just be pushed downward as new messages come in.
If you've asked a question, it's really hard to keep track on who has answered your question, especially when there are many answers or there are many different topics being discussed at the same time.
Can you see the problem here?
That's why there are feedback from other members saying that Live Chat can really waste a lot of your time.
Although the concept of this feature seems great, the way it works should be improved to make it more beneficial. ​
My Suggestions to Wealthy Affiliate
I suggest to have different "chat rooms" or categories for different purposes and topics. This can make the Live Chat feature more organized and effective.
---
#5 There's Always a Confusion Between "Comments & Feedback"​
The meaning of the words "comment" and "feedback" are quite close and many people use them interchangeably.
However, Wealthy Affiliate makes a distinct difference between "comment" and "feedback".
In WA, comments are things that readers say ​at the end of a post or an article to add more value or ask questions for the content. They are the "comments" that the readers have for the content of the post itself.
Whilst, ​feedback are things that people can give about each others' websites or posts. It's the personal opinion from a subjective point of view talking about how well the website is or how it can be improved. It can be praise or criticism or anything that helps people to improve their site.
Comments should be left directly on other people's websites while feedback should not. Feedback should be given within the community to help others improve.
(Check out this post if you need further information on the difference between comment and feedback.​)
The Problem
Although there are many experienced members emphasizing on the difference between comment and feedback in the community, there are still many newbies committing to this annoying mistake almost every day.
People are annoyed when they are requesting comment but they get a feedback instead. This just shows that this concept is still very confusing more many beginners.​
My Suggestions to Wealthy Affiliate
The problem is not about WA introducing this distinct difference between comments and feedback. The problem is about educating people about it. After understanding it, I do feel the need to have this difference.
Again, this concept should be emphasized within the courses itself by Kyle and Carson to make sure beginners are aware of the difference.
On top of emphasizing, I think it's a lot clearer if Kyle can demonstrate it in his training video. I'm sure it'll be more understandable for more people.
---
Conclusion
These are the 5 things that I honestly don't really like about Wealthy Affiliate. Most of them are more towards the training side.
Fortunately, Kyle and Carson may have predicted this way ahead and they know their training will never be perfect.
That's why they allow members to create their own training or tutorial inside the community.​ This has allowed WA to have a ton more value.
There are good training created by experienced members which complement to the existing training in the community because they cover some of the things that Kyle didn't cover.
(Check out this post to learn more about creating training inside Wealthy Affiliate and get paid!)​
These are just my personal opinion. But I hope Wealthy Affiliate can improve on these if possible.
---
UPDATE: Kyle's Reply!
I posted this post inside Wealthy Affiliate for people to discuss how we can all make WA a better place.
To my surprise, Kyle left a really long comment under my post answering me all the 5 things I brought up in this post.​
It's a really really long comment so let me summarize the main points for you.
​1. Conversion Focused Websites
Kyle said that currently they have lessons teaching people about "testing" and "refining" things on the website to make it convert better.
I agree with that but there are more aspects to conversion optimization which can be taught and not just A/B testing things like that.​
He also mentioned a good point that the understanding of your niche and target audience is even more important than conversion optimization because understanding these can help you increase conversion dramatically.
Finally, he said there will be more training and lessons coming up soon in this area, so let's look forward to it.
2. WA Members Trash Other Programs​
Kyle referred to this as a "fake news" scenario. He said that they have no control on the contents members create but they will continue to educate and emphasize the importance of creating honest and accurate information in their training as always.
3. Live Video Classes Are Too Simple Sometimes
Kyle said that they need to have both basic and advanced classes beginners and advanced marketers. I agree with what he said but what I'm saying is that they need to put them into different categories so people can find the Training which are more suitable for them.
He also said that there are more and more selection of lessons that are coming out.​
4. Live Chat is Hard to Use
Kyle said they purposely didn't give Live Chat different categories so that people will not form their own cliques and destroy the purpose of Live Chat offering 24/7 instant help.
5. Confusion Between SiteComments & SiteFeedback
Kyle agree with the issue and they have been working on the solutions for this.
They are working on some training before guiding people to use the two platforms and also educating people by sending Emails to those who get disapproved comments.
Again, this just shows that Kyle and Carson are constantly making Wealthy Affiliate better and better every single day!
---
But, take note!
Despite having these flaws, the value that Wealthy Affiliate offers has far outweigh its price. That's why I recommend it to beginners who want to make money online.
Remember, everything has both good and bad. What you need to focus on is "How are you going to benefit from the program and is the​ price justifiable compared to its usefulness?"
For you information, Wealthy Affiliate is FREE to join and has no limited "trial period". It's Premium membership costs $49 per month.
You can check out my Wealthy Affiliate Review page for more information!
Do you agree with my take? Let me know what's your opinion on these in the comments below! This post is supposed to be controversial. I would love to discuss with you :)​