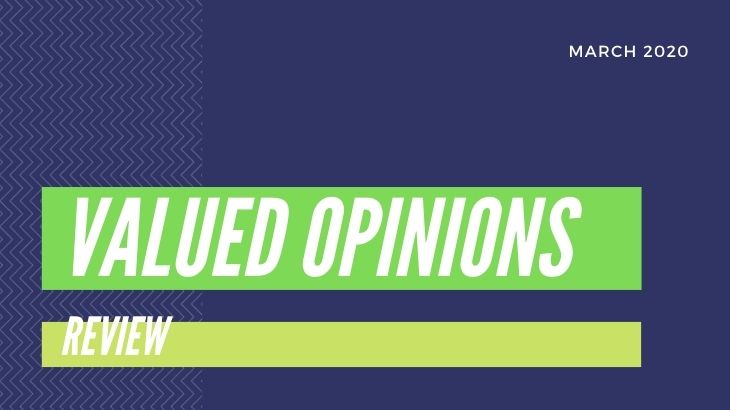 Valued Opinions Review – An Old Survey Panel With Gift Cards!
Welcome to my Valued Opinions review!
Paid survey sites are very common online. We reviewed a handful of them that turned out to be quite decent in terms of providing a solid income. Sure, it may not be something you can full-time, but it's good to do for earning a few bucks on your online downtime.
However not all survey sites are made equal. Majority of the sites we reviewed on Smart Affiliate Success aren't even worth doing at all.
Today, we're going to find out if Valued Opinions can help you earn a few bucks, or if it's just one of those not-so-rewarding sites.
First of all, I must Congratulate you for taking your time to do your own research before buying into any "seemingly good" product.
That's the way to avoid scams and find the legitimate way to make money online!
Let me be completely transparent with you, I'm not associated with XXX in any form.
So, rest assured that I'm not here to pitch or sell anything to you.
Instead, I'm here to reveal
Valued Opinions Review Summary
Product Name: Valued Opinions
Founder: Research Now!
Product Type: Paid Survey Panel
Price: Free to Join
Best For: People who want to do tedious surveys
Summary: Valued Opinions is a paid survey panel that's been around for 20 years and counting. They're powered by a well-established and affiliated market research company. It has a lot of potential, except for income potential. The downside here is that you're only earning cash for gift cards to be used for popular sites such as Amazon.
Rating: 50/100
Recommended: No!
More...
Valued Opinions is a paid survey program owned by a market research company called Research Now. The survey site was founded in 1999, and is one of the most reputable panels out there.
Research Now is also a member of several market research bodies such as The Marketing Research Association or MRA.
Just by these credentials alone, Valued Opinions is without a doubt as legitimate as it can get.
But how does it fare in terms of income potential?
Valued Opinions is free to join. Sign up is available to international users, but access to some surveys and features might be geographically restricted.
Here's how you can make money from Valued Opinions:
Paid Surveys
The bread and butter of the panel is its surveys. After you sign up and verify your email address, you can start answering surveys when they're available.
During your sign up process, you will be asked for key information such as gender, interests, preferences, and more.
These are all required to put you in a set demographic for particular surveys that require people like you to answer.
There's a decent number of surveys on Valued Opinions when we logged in, but some surveys aren't accessible to people outside the USA.
Aside from your Member Dashboard, you can also get access to your surveys through email invites. Valued Opinions will be emailing you that a survey is available.
I'm Jerry!
I Created My Own 4-Figure Monthly Passive Income at just 21 Years Old!​
Focus Groups and Diary Studies
Higher paying opportunities come from diary studies and focus group discussions.
Diary studies involve filling out information about the topic of a study for a specific number of days. For example, a diary study can last for 5 days and will have you inputting information for the duration.
Focus group interviews and discussions involve two or more people discussing a certain topic.
These tasks pay out more than surveys and may take even longer.
Membership Levels and Badges
Valued Opinions also increases your income opportunity by providing you with incentives through membership levels.
Starting from Bronze for beginners and Diamond for the highest level, each level will have its own requirements for promotion.
One of the biggest factors is how many surveys you've done and how your profile is looking. Your duration as a member also plays a role in determining your level.
The higher your level is as a member, the more you have access to higher paying surveys and getting exclusive invites to these surveys.
How Do You Get Paid?
Sadly, there's' no cash reward or incentive provided by Valued Opinions. You earn in the currency you're signed up for.
Surveys are priced using your local currency, and shows on your balance. There's no point conversion done here.
Then you can withdraw your cash as gift cards, which you can use for sites such as Amazon, Zalora, KFC, FlipKart, and even donations to charity.
There's no mention of rewards being paid out via PayPal as of this writing.
Payout thresholds also vary per country, but they average anywhere between $10 and $20.
Who Can Join Valued Opinions?
Valued Opinions is available to countries such as UK, Australia, USA, and 16 other countries. You'll find the participating countries on their landing page.
Who's Valued Opinions For?
Valued Opinions is for people who want to earn money through gift cards. Again, there are no cash rewards here.
Valued Opinions Ugly Truths Revealed!
#1 Technical Difficulties
Valued Opinions and its website suffer from technical performance issues. For example, survey users report not getting their money credited into their account after filling up a survey.
These users try to contact customer service but they don't get any solution to their problem. It's not that these users are getting stiffed out of their money. Rather, the system could just be problematic sometimes.
#2 Sudden Disqualification
Part and parcel of any survey site is that you may get suddenly disqualified. Don't take it personally. Some sites are designed to disqualify you from the get-go by not letting the survey show up on your dashboard.
But with Valued Opinions, you get disqualified while you're in the middle of taking one. This means that the survey does not match your demographic and your answers are invalid.
This forces you to waste time and effort on something that won't even pay you and you won't even know till then.
#3 No Cash Rewards
What sucks about the program is that there's no cash reward. You can't withdraw real money from your account, so this is a deal breaker.
But if you are fond of shopping online and don't want to use your own money, you can work your way towards these gift cards instead.
What I Like About Valued Opinions?
#1 It's Well-Established
Valued Opinions is one of the few reputable sites that we've reviewed on here. We give credit where credit is due, and the fact that they've been around for 20 years means that they're doing something right.
On top of that, their parent company's credentials are also impressive and add to their credibility.
Is Valued Opinions a Scam?
Valued Opinions is far from being a scam. It's one of the oldest and most well-established sites that we've had the privilege of reviewing. However, it doesn't really provide you with any form of cash income.
You get rewarded in currency that you can convert for gift cards of the same value. There's no cash reward offered here, so no real money can be withdrawn from the site.
The site suffers from technical problems here and there, but nothing too serious that should hinder you from using the site.
Sudden disqualification is an issue, but is normal for these survey panels coming from market research companies.
If you do like to shop online through one of their partner sites, you might be able to earn gift cards for them. This would make their site at least rewarding enough for you to join.
Related Links:
How I Make a Living Online?
I've personally created a 4-Figure Monthly Passive Income Stream and become financially independent at just 21 years old without any College degree or working experience!
Through my own hard work, I went from a broke restaurant waiter to living my dream laptop lifestyle in less than a year's time...
If you want to discover the secrets of how I did it at such a young age, click here!