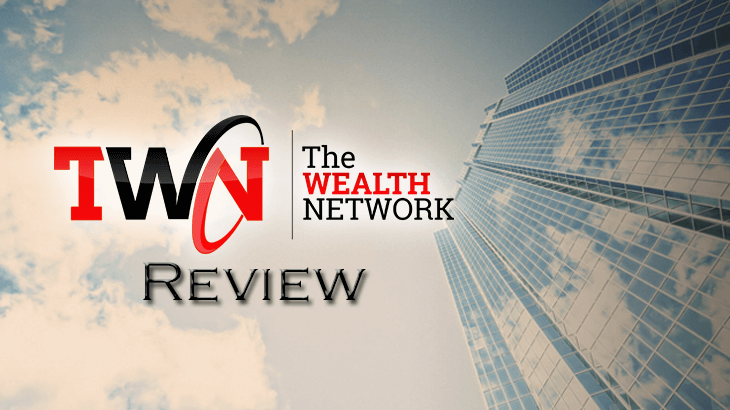 The Wealth Network Review – Not The Best Amazon FBA Training
Welcome to The Wealth Network review!
First of all, I must Congratulate you for taking your time to do your own research before buying into any "seemingly good" product.
That's the way to avoid scams and find the legitimate way to make money online!
I know I only have a few seconds to capture your attention. So very quickly why listen to me?
Very simple...
Because I'm NOT an affiliate of The Wealth Network despite it's free to join their affiliate program without buying any product from them.
So I'm not trying to make money from you or whatsoever. As usual, I'm just trying to review this program objectively and guide my readers in the right direction.
Is The Wealth Network a scam? Let's find out...
The Wealth Review Summary
Product Name: The Wealth Network (TWN)
Founder: Founded by Jesse Singh, Sean Agnew, Josh Jacobs and David Arnett in July 2017
Product Type: Amazon FBA course
Price: $3 (front-end), $67/month + upsells up to $9,997!!
Best For: Newbies who want to get started with e-commerce
Summary: The Wealth Network is a decent platform teaching people about making money online specifically through Amazon FBA. They have legit training and there will be coach guiding you 1-on-1. But the problem is the price, their refund policy and the teaching of some bad techniques. (I'll definitely explain more in the full review below)
Rating: 55/100
Recommended: Not really
More...
What is The Wealth Network?
According to themselves...
"The Wealth Network provides entrepreneurs with a world class educational platform and tool suite. From a beginner step by step training process to advanced software and services. The Wealth Network has it all. Powerful cutting edge software and services are provided along with training from industry experts who are using the exact strategies they teach. The Wealth Network exists to equip you with the right people, the right training, and the right tools to help skyrocket your business."
My question to you is...
So, can you tell me what The Wealth Network is all about and what business will you be building?
I doubt so.
This so-called "Mission Statement" is what you see once you land on their website.
But to be honest, it's all hyped-up claims. If you really think about it, they're just using some nice descriptive vocabulary to make their company sounds powerful.
In essence, you really won't understand anything about their "business". Is it Affiliate Marketing? Multi-Level Marketing (MLM)? E-commerce?
You really don't know anything.
So, let me explain to you what's the "business" they're talking about...
As the title of this post suggests, The Wealth Network is a program which currently focuses on Amazon FBA (Fulfillment by Amazon).
I said "currently" because when this program was first launched in 2017, there were a lot of information on all kinds of e-commerce stuff in the member's area, such as dropshipping, selling on eBay, blogging, etc...
There were are also quite a lot of different pricing plans back then. But they have since updated the platform and it's now focusing on Amazon FBA.
I'm Jerry!
I Created My Own 4-Figure Monthly Passive Income at just 21 Years Old!​
In order to fully understand The Wealth Network, we have to first understand what exactly is Fulfillment by Amazon for those newbies.
Below is a short animation video explaining the concept behind Amazon FBA:
In e-commerce, there are a lot of tasks you need to do, such as:
Finding the right product to sell
Sourcing for suppliers
Marketing the product
Shipping & handling
Manage customer service, returns & refunds
If you do e-commerce the traditional way, it's very demanding.
But Amazon provides sellers around the world a much easier and more convenient way to sell physical products on Amazon.
They named it Fulfillment by Amazon because Amazon has fulfillment centers around the world and they're literally helping sellers to handle, manage and fulfill their products.
All you need to do is the source for supplier and ship your stocks to Amazon Fulfillment Center. You pay them a fee and they'll help you handle your products from their onward until your customer is satisfied with it.
They'll even help you handle returns and refunds if your customers request for it.
Although Amazon has made it a lot easier to do business with them, there are still A LOT of things you need to learn and master before making a profit.
That's why there are so many people trying to sell their courses on the internet teaching you how to succeed with Amazon FBA. The Wealth Network is one of them.
Inside The Wealth Network
In The Wealth Network, there are 2 product lines:
The Ecommerce Wealth Center
The Marketing Wealth Center
The Ecommerce Wealth Center is the training product that focuses on teaching Amazon FBA.
The front-end product of The Ecommerce Wealth Center is called "3 Day Pay System" which costs only $3. It's called "3 Day Pay System" because it claimed to help you start selling and making money from Amazon in just 3 days with 3 dollars. (Highly doubtful!)
Things included are:
Amazon Training (Obviously!)
Profit Spy - A great tool to find potential products to sell on Amazon
Biweekly Webinar (Amazon training as well)
Facebook Mastermind Group
And some other resources
Whilst, The Marketing Wealth Center is a tool suite providing you with the resources you need to build your own websites, landing pages and sales funnels, which costs $67/month.
Things included in the tool suite are:
TWN Blogging System - Subdomain WordPress website with recommended themes & plugins installed
Smart Funnels - Landing page builder
Facebook Mastermind Group
Search Engine Optimization (SEO) training by Jesse Singh
There are a number of other high ticket upsells as you can see from the screenshot below.
As you would have expected, the $3 course really won't teach you anything much. It's just a very basic and generic information which you can found online for Free.
But it's understandable and expected since it's only $3.
Their main focus is promoting their high ticket products like The Wealth Network Journey which costs $1,997 or even the Legacy that costs $9,997.
So please take note of this if you ever consider joining. You're going to be spending thousands of dollars.
Also, if you ever see other people or reviews talking about their Platinum and Gold membership, just keep in mind that those are outdated.
They've changed the pricing plans. The ones I've just talked about are the most updated information as of this writing.
What I Like About The Wealth Network...
1. Real Founders & Legit Business Model
I've personally reviewed hundreds of digital products online. There are a few common problems, such as:
Unknown or Fake Founder
Weird business model that doesn't work in reality at all
Fake testimonials and Fake social/income proof
All of that do not apply to The Wealth Network.
Amazon FBA is a real legitimate business model that works and has made many millionaires around the world.
Not only that, the founders are real and each of them has achieve huge success in their own expertise.
For those of you who are familiar with the blogging and affiliate marketing industry, you would have heard of this person called Jesse Singh.
He is experienced in SEO and has a number of high ranking blogs on the internet.
Let's put the product/training aside first, The Wealth Network is created by a group of experienced and professional marketers.
2. Step-by-Step Training
On top of the experienced owners, the video training are also organized in a detailed step-by-step format which is extremely easy for beginners to follow.
I've no doubt beginners can learn valuable things regards to Amazon FBA and get started with their business.
But to really scale up the business and reap huge profits from Amazon, it's a totally different story.
You're not going to achieve that by just investing $3. Thousands of dollars are involved in this business before you even make your first sale.
3. 1-on-1 Coach
Last but not least, every new member will be assigned with a coach who will guide you 1-on-1 to set up your business.
This is helpful for complete beginners.
I'm not trying to belittle the value of these "coaches" but I just want you to be aware of the inherent purpose & intention of these "coaches".
Just like Digital Altitude and MOBE, one of the inherent purposes of having these coaches is not just to help you get started, but to persuade you to purchase their high-ticket upsells.
Keep this in mind if you're considering The Wealth Network. Make your purchasing decision based on yourself and trust your own intuition.
What I DON'T Like About The Wealth Network...
1. Problematic Refund Policy
The Wealth Network offers a 7-Day refund period where you can get your money-back within 7 days even if it's for the $3.
I don't have first-hand experience with this but I've heard there are members who can't get their money-back simply because TWN doesn't honor their refund policy.
Simply put, they have a poor support team and they're not responsive to your refund request.
This can be just a case-by-case issue and they may improve over time. But this is also something you should keep in mind for sure.
2. Startup Cost (Attention Please!)
Now, this is the most important part you need to pay attention if you're considering this program.
Like I've said earlier on, the $3 "3 Day Pay System" is just a front-end low quality product and their goal is to persuade its customers to purchase their back-end high-ticket offers.
As you've seen just now, their high-ticket product costs up to $9,997.
You would probably think that it is not necessary. But you need to consider the cost of starting an Amazon FBA business.
It's actually not cheap to start an Amazon FBA business because you have to source for suppliers and pay for the stocks first. This can cost up to hundreds or thousands of up-front investment.
This hasn't include all the shipping and Amazon Fulfillment fees.
This is another reason why my top recommended business model for anyone to make money online is still Affiliate Marketing.
P.S. This program that has enabled me to generate a 4-Figure Monthly Passive Income at just 21 years old is FREE to get started and only cost $49/month fee to go full-time!
3. Grey Hat SEO Techniques
I'm an experienced affiliate marketer & blogger who knows how to use SEO to rank my content and drive traffic to my website.
That's probably how you landed on my site as well - My post ranks well in Google and you found my site through Google search.
Grey Hat SEO technique means that using some methods to "game the Google algorithm" so that your content can be found easily.
Personally, I'm using completely White Hat SEO, meaning that I don't play with the Google algorithm. All I do is to write quality content and provide values for my readers.
The reason is because Google is always trying to improve their algorithm so that fewer and fewer people can "game their system". They want their algorithm to rank posts based on the true quality of the content itself.
It's hard but they're constantly improving.
However, in the case of The Wealth Network, its blogging trainer, Jesse Singh, is a guy who uses and teaches grey hat SEO techniques, which I don't really recommend.
In particular, he teaches people about a technique called Private Blog Network (PBN).
It's not entirely a Black Hat technique but what they're doing is simply building a network of authority sites used to build links to your main website that you want to make money.
I know this sounds quite vague so let's take a look at a direct example of what Jesse Singh is doing himself...
Below are screenshots of 3 different reviews on 3 different websites talking about The Wealth Network. But the interesting thing is that all these 3 websites are owned by Jesse Singh himself and these 3 TWN reviews are very similar:
Jesse is not providing extra value by writing the same review over and over again. All he is doing is to build backlinks to his main website so that it can rank higher.
Yes, it may work but it's not recommended in my opinion like what I've explained earlier on.
Is The Wealth Network a Scam?
No, The Wealth Network is NOT a scam because it is offering real training, tools and resources for people who wants to learn about how to sell on Amazon.
However, the cost is not really beginner-friendly. Amazon FBA itself requires a certain amount of startup cost. The Wealth Network will be selling to you upsells that cost thousands of dollars.
You really need to think twice about it.
Nevertheless, it's still too early to give a proper conclusion for The Wealth Network. They've been updating their program for the last couple of months.
Unlike many others, I'll give you two options...
1. Amazon FBA
For those of you interested to build your own Amazon FBA business, I recommend you to check out another much better program called the Amazing Selling Machine.
2. Affiliate Marketing
As mentioned earlier, Affiliate Marketing is my top recommended business model because of its low startup cost and the ability to earn full-time passive income.
Once you build up your website foundation, it can be working for you 24/7 even while you sleep and travel.
In fact, with affiliate marketing...
I've personally created a 4-Figure Monthly Passive Income Stream and become financially independent at just 21 years old without any College degree or working experience!
Through my own hard work, I went from a broke restaurant waiter to living my dream laptop lifestyle in less than a year's time...
If you want to discover the secrets of how I did it at such a young age, click here!