13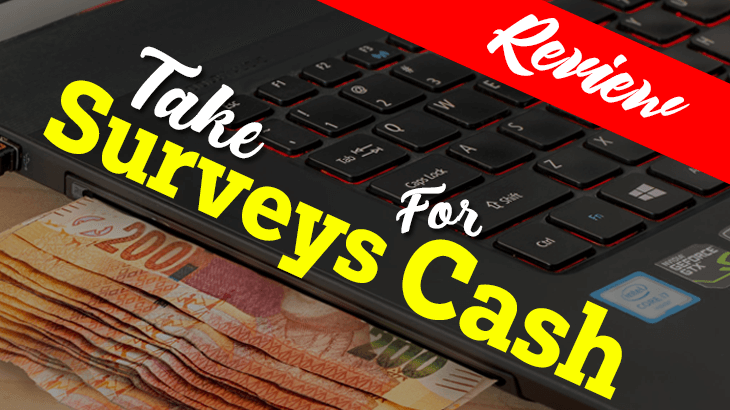 Take Surveys For Cash Scam Review: $3,500/Month, Is it Possible?
Welcome to my Take Surveys For Cash scam review!
I'm really glad that you're here because it means you're doing your own research before buying into any "seemingly good" products.
The owner of Take Surveys For Cash claims that he has found a "weird trick" to make over $3,500 per month just by taking online surveys.
Is that really possible? Or is Take Surveys For Cash a scam?
Sit back, relax and grab a coffee. Let me expose to you what's really behind the curtains...
Take Surveys For Cash Scam Review Summary
Product Name: Take Surveys For Cash
Founder: Jason White (Could be a fake person)
Product Type: Paid Survey Intermediary
Price: $39 + downsells & upsells
Best For: The owner and affiliates promoting this product
Summary: Take Surveys For Cash is NOT a legit online survey platform. It's just a survey intermediary, which means you're paying money to do surveys. But there's no guarantee that you'll get paid for joining them. Beware! It's just another ClickBank product trying to make money from you.
Rating: 5/100
Recommended: No
Wanna Make Legit Money Online but Tired of SCAMS?
More...
What is Take Surveys For Cash?
Take Surveys For Cash is allegedly founded by the person called Jason White, who named himself as the "King of Paid Surveys".
And according to him, his product is meant to help you make a really good income online by taking surveys AND achieve financial freedom!!
I've been online for quite some time now and I've reviewed lots of products so I've definitely tried paid surveys before.
To be honest, after reviewing so many products, I found that MOST of the "paid surveys" are scams. And for those that are legit like Survey Junkie and Swagbucks, the earning potential is not very huge.
Yes, you can make real money by taking surveys online. But it's impossible for you to earn a full-time income or even achieve financial freedom from it, unless you're like Jason, selling such scam products online.
Honestly speaking, I believe Jason's main income stream comes from selling products like Take Surveys For Cash to you, instead of really taking online surveys.
Do you know why I know this? I'll reveal to you in just a moment...
Wait, so who is Jason?
First of all, there's no way to find out if Jason is a real person because there's no information about him at all.
He never show his face or introduce anything about himself. All he did was keep repeating that he knows the secret to making big bucks from survey which all of us don't know.
If he is really the "King" of Paid Surveys, he must be very popular and famous. But you can't find anything online about him.
So from my own experience, I highly suspect that "Jason White" is just a fictitious character.
I'm Jerry!
I Created My Own 4-Figure Monthly Passive Income at just 21 Years Old!​
How Does Take Surveys For Cash Work?
Now we all know this product is to help you make money online by taking surveys. But how does it work exactly?
Let me explain to you from the basics of online paid surveys for the benefit of those who are new...
How Does Paid Surveys Work?
Basically, big companies around the world are keen to know more about their customers' habits, preferences and opinions because this is directly related to their businesses.
By knowing more about their customers, they're able to create more successful products and marketing campaigns which are more relevant and targeted to their audience.
That's why they're constantly working with market research companies to get these valuable information. That's also why companies have market research funds or budget and they'll pay these market research companies.
On the other hand, market research companies will reach out to people like you who want to make money online. So they'll reward you with some credits or cash in return for your opinions.
That's the overall concept of online paid surveys.
Below is a video explanation:
It may sound like a good way to make some easy money since you don't need to do any hard work. But you're just making cents, sometimes dollars.
In my opinion, taking up a local part-time job is even more lucrative than taking online surveys.
Take Surveys For Cash Ugly Truth Revealed!!
If you've read my summary earlier, you'll know that I mentioned about Take Surveys For Cash NOT being a legit paid surveys site, right?
Let me explain why...
Take Surveys For Cash requires you to pay a fee in order for you to receive survey opportunities. To be honest, that's not the right way paid surveys work.
It requires you to pay a fee because it's just a intermediary. You're not taking surveys directly on Take Surveys For Cash. Instead, you'll be provided with a list of 3rd party survey sites for you to sign up with.
You need to sign up with all the 3rd party survey sites again and again in order to take their surveys.
That's why Take Surveys For Cash is called an intermediary. You're basically paying for survey opportunities which can be easily found online for FREE.
That's not the end. The ugliest part of this process is that whenever you sign up with any 3rd party survey sites Jason recommends, he actually gets paid because all the links he provides you are his affiliate links.
That's why I said he is not making most of his money from directly taking surveys. Instead, he is making most of his money from Affiliate Marketing, the business model I personally recommend.
In fact, I doubt he takes any surveys himself because as experienced online marketers, we all know the earning potential of taking online surveys is too small. It's not even worth your time.
Just to prove to you that most online surveys are scam, take a look at products like Survey Money Machine and Click 4 Surveys, they are all very similar to Take Surveys For Cash.
They are just survey intermediary and the owners of these products are making much more money by selling these products to you and by promoting affiliate offers.
Take Surveys For Cash Sales Funnel Revealed
As you would have known by now, Take Surveys For Cash is actually just a sales funnel for Jason to make money from you.
So let me reveal to you his entire sales funnel...
As you can see, the initial price of this product is $39. But if you try to leave the page, a pop up will show and you'll be given a "special discount" of $27, which I'm sure it's not special at all.
After that, if you try again, they will downsell you another discount for $12.
Even at $12, it may seem very cheap. But I won't recommend it either. The reasons are very simple:
You're not supposed to pay any money in order to take surveys
Participating in paid surveys is wasting your time seriously
Apart from the downsells, they also have 3 upsells in place to take more money from you.
The first upsell is $37. The second and third on is $24. Despite these upsells are all very cheap, they are not worth your time to even check them out.
If you really want to make money, check out my top recommended program here.
Making money online is not about trying your luck. It's about following the right system and training. So don't waste your time and money anymore and let me help you!
Anyway, all 3 upsells here are known as "one-click upsell", which means you'll directly be charged just by clicking the accept offer button. You don't have to enter your payment info again.
This can actually cause people to lose more money like what I did last time. I didn't know about one-click upsell so I thought there will be another page for me to enter my payment info.
Whenever you're purchasing anything via ClickBank, be careful of such one-click upsell.
The Good
1. 60-Day Money-Back Guarantee
For those of you who have been following my website and my reviews for quite some time, you know I'm an honest and unbiased person with no BS review. And I'll always do my best to make the review as balanced as possible.
But sometimes, there are certain scam products like Take Survey For Cash which really doesn't have anything good to say.
The only good thing about this product is that at least it has a 60-Day Money-Back Guarantee since it's a digital product sold through ClickBank.
The problem with ClickBank though, is that it may be hard for you to get a refund unless you have very compelling reasons.
---
The Bad
1. 'Pay-to-Play'
Like I've mentioned multiple times, I really can't stress this enough: Please don't fall into such 'pay-to-play' products!
You don't need to pay a person just to get surveys to do. This is the same for certain affiliate programs. Some companies market have some training to help you but eventually, all you'll be doing is to promote their own products. This is another form of 'pat-to-play' scheme.
Anyway, this is the reason Jason gave to justify the price of Take Surveys For Cash:
He said that because you're getting a "membership" to their system so they require a "processing fee". I laughed when I saw this, LOL!
There are so many software and tools to help anyone build any type of membership platform. This "processing fee" is just a scam. It's an unethical reason for them to charge you.
Also, he said that it's also to cover the cost of their advertising fee and employee's wage. I laughed again...
Jason listed his product on ClickBank and there are tons of affiliates helping him to product this product. I really don't understand what advertising cost does he need. And this lousy product really don't require any employee.
Lastly, he said that it takes time for him to find the best and high-paying surveys EVERY day for you. I couldn't take it man!
Do you really believe he is on his computer everyday looking for good surveys for you? NO!
He's enjoying his life with all the money innocent victims of his product pay him.
And he talked about the FREE $50 which I'll expose that once again in my next point...
2. Misleading BONUS Reward
In his sales pitch, Jason said that you'll be given $50 for FREE when you get paid for your first survey. This is a really clever way to cheat people's money.
Let me explain to you why...
To be eligible for the $50, you need to get paid by doing survey first and show them the proof.
But for most survey sites, they'll have a payout threshold of $10 (for more legit sites) and $100 (for more scammy sites). You're not allowed to withdraw before you reach these thresholds. And don't forget that you're only earning a few cents to probably a few dollars for every survey.
It will take some time before you reach the threshold. Sometimes a month, sometimes a few months.
What's even worse is that I've heard people saying the $50 is not even real cash. It's just a voucher or an Amazon Gift Card.
3. Fake Online Surveys Site
Like I've explained earlier, Take Surveys For Cash is just a survey intermediary for Jason to earn affiliate commissions for himself. You're not taking surveys directly in his platform.
And as you can see from my paid survey guide, survey intermediary site is actually a huge red flag to avoid!
4. Extremely Hyped Up
Jason kept emphasizing how his life has been changed just by taking online surveys and how he managed to help so many people to change their lives.
Seriously, let me repeat myself...
You can't get rich by doing online paid surveys. You can consider yourself fortunate if you're able to pay off some of your bills with the income from taking surveys.
$3,500 per month?! Forget it. It's impossible with online surveys.
If you want to earn $3,500 per month or more, you should learn about Affiliate Marketing!
5. Fake Income Proof
Simply put, everything in Take Surveys For Cash is fake. Look at the screenshot below:
This is the income proof Jason used on his sales page showing how he managed to get from earning $3 per survey to earning $500 per survey.
But if you're observant enough, you'll realize these are fake photos. They photoshop the number $3.00 and $500.00 onto the fake check.
The numbers don't look natural. It's too bold, too big and the position is just not right.
Another thing is that, if you try to read the sentence at the bottom of the check, it says that this is not a real check. It's just for demonstration purpose something like that.
I think they forgot to photoshop that part away, LOL.
This is another fake income proof. I have no evidence to prove this is not real. All I can say is that by just showing his PayPal account balance it doesn't mean anything.
The money could be deposited by Jason himself, right?
6. Fake Promotion in Your Country
Last but not least, Take Surveys For Cash is clever in the way that they keep using the country exclusiveness technique to hook innocent people.
Basically, their sales page can detect which country you're in and they'll show the country and flag accordingly to make their offer seems exclusive to your country.
Just take a look at the screenshots below:
I'm currently based in Singapore, that's why they keep mentioning the offer is only for Singapore. But if you've searched for other reviews online, you'll see that this country will change according to your IP Address.
However, one thing that caught my attention was that they even include the picture of Singapore dollar.
I'm actually quite surprised. But this just shows that they're relying on this technique heavily.
Is Take Surveys For Cash a Scam?
Some of you might not think this is a scam because this product is cheap and you're at least getting something for your money.
But to be honest, I'll consider this as a scam product because all the sales pitch and information are very misleading and mostly fake.
Promising people to make $3,500 per month through paid survey is already a big big red flag. So the only right thing for me to do is to label this product as a scam and warn people about it.
Buying into this product is not just wasting your money, but most importantly wasting your more precious time.
My advice to you is this...
If you really want to make money, don't look for shortcuts because there are no shortcuts to success. There are no overnight success as well. It's all about hard work and following the right system!
If you're still reading my review until this point, I hope you can see that I'm not just doing a normal product review. Instead, I also want to educate my readers at the same time so that they won't fall into anymore scams in the future.
Who is Really Making Money with Take Surveys For Cash?
Before we end off this review, I just want to mention one more thing. There are people making good money with Take Surveys For Cash, but it's definitely not the innocent ones who unfortunately bought into this scam.
Other than Jason himself, the affiliates who are promoting this product are making good money...
As you can see, according to Take Surveys For Scam, their top affiliate earns $100,000 a month. That's even more than the $3,500 a month Jason promised his customers. Pretty ironical right?
I can't confirm if this claim is legit or not. But I can guarantee you that the affiliates are definitely earning a lot more than survey takers.
So if you are serious about making money online in the long run, I would recommend you to become an affiliate marketer instead of survey taker.
As a survey taker, you're still trading your time for money and it's even worse than many of the local part-time jobs you can find.
As for affiliate marketer, you're building your own online business which can bring you months after months of passive income once you build up the foundation.
In fact, with affiliate marketing...
I've personally created a 4-Figure Monthly Passive Income Stream and become financially independent at just 21 years old without any College degree or working experience!
Through my own hard work, I went from a broke restaurant waiter to living my dream laptop lifestyle in less than a year's time...
If you want to discover the secrets of how I did it at such a young age, click here!