8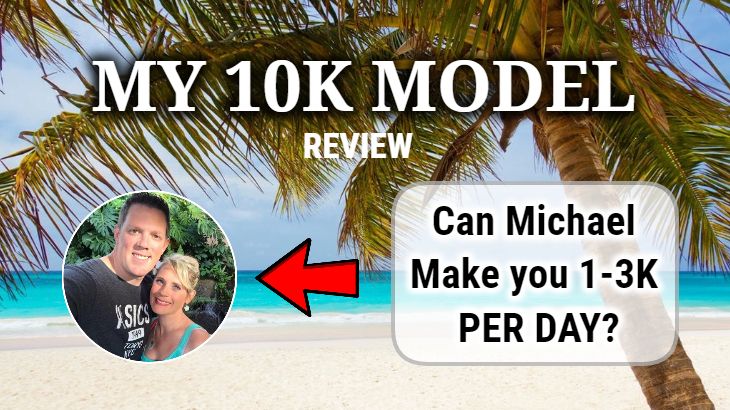 My 10K Model Review: Is it possible to earn $3K PER DAY?
Michael Mansell claims that if you join My 10K Model, you can be making $1,000 to $3,000 PER DAY on a fully automated passive income.
Whilst generating 1K to 3K per day is not impossible in today's digital world, let's dive into My 10K Model review to see if it's really possible to make that money with Michael...
My 10K Model Review Summary
Product Name: My 10K Model
Founder: Michael Mansell
Product Type: Training/Sales Funnel for a Ponzi Scheme
Price: $25 - $1,000
Best For: The owner
Summary: My 10K Model is not a program itself. It's just a sales funnel trying to promote a Ponzi scheme called Easy 1 Up. However, My 10K Model does offer some legit training and tools to help you make money with Easy 1 Up. The reason I don't recommend My 10K Model is because Easy 1 Up is not a legitimate and sustainable business.
Rating: 40/100
Recommended: No
More...
​My 10K Model is just a sales funnel Michael Mansell has put in place to promote another program called Easy 1 Up. Yes, Michael is an affiliate for Easy 1 Up.
We'll talk about Easy 1 Up later. Let's first take a look at what My 10K Model has to offer...
So, here's what you'll get with My 10K Model:
Traffic Rotator - Sends FREE Traffic to your sales page (Only for $500 and $1,000 level)
Team Mansell's Private Mentoring
Michael's FREE Traffic Generation Method
Custom Sales Funnel, Lead Capture Page and Sales Tools
YouTube Marketing guide
Social Messenger Sales Funnel System
As you can see, what Michael is doing is to help anyone who joins Easy 1 Up under him to get more traffic to their sales page.
These are some really useful tools to help you make money with Easy 1 Up. And Michael is not charging any fees for this because he is making his money through the affiliate commission once you join Easy 1 Up.
Now, let's take a look at the actual business you're going to be working on if you decides to join My 10K Model...
I'm Jerry!
I Created My Own 4-Figure Monthly Passive Income at just 21 Years Old!​
In fact, I've written a review on Easy 1 Up a while ago. You can check out my review if you want more detailed information. I'm just going to give you a brief summary to help you understand the whole system.
Easy 1 Up claims itself to be an affiliate marketing program that allows you to make high-ticket commissions by promoting their 5 different membership levels:
Elevation ($25)
Elevation Elite ($100)
Vertex ($250)
Vertex Elite ($500)
Vertex Pro ($1,000)
Different membership level has different training resources included. The price stated above is the cost required to join at each level.
The problem with Easy 1 Up is that they do not offer any real products or services. What you'll be doing to make money is to keep promoting Easy 1 Up and recruit more people into the system.
The more people you can recruit, the more money you can make. Simple as that! That's why Michael's training is all focusing on getting more traffic to your sales page of Easy 1 Up.
I'm sure some of you will start to realize that this is a Ponzi or a pyramid scheme because the nature of a Ponzi scheme is to make money by recruiting people without any real product.
Can I tell you a secret?
Easy 1 Up has a very similar business model as Digital Altitude. Both of them has various membership levels that charge high-ticket price. You can read my Digital Altitude review here and you'll see how similar they are.
The only difference is that Digital Altitude has even more membership level with upsells up to $27,997!!
And the secret I want to tell you is that Digital Altitude has recently been shut down by FTC because they found out it is a pyramid scheme.
If that's the case, it's just a matter of time before they found out Easy 1 Up is also a pyramid scheme.
That's why I highly recommend you to stay away from it.
The Good
1. Legit Training & Resources
The only good thing about My 10K Model is that it is a legit training from Michael.
Michael is an experienced internet marketer. That's why he is able to build up such a team to just promote Easy 1 Up. I'm sure he has other business going on for him at the same time as well.
Because of that, the mentoring and coaching he provides if you join My 10K Model is actually quite valuable, especially the traffic generation and YouTube Video marketing.
You can apply those skills into other online business as well, not just to promote Easy 1 Up.
---
The Bad
1. Unsustainable Business Model
Like I've explained earlier, despite My 10K Model is a good training, Easy 1 Up is a pyramid scheme.
There's no real products or services being sold. All you do is to recruit more members.
There are 2 possible results that could happen to such systems:
They got caught and shut down by authorities like FTC
The whole system breakdown because not enough people are joining to support it
If fewer and fewer people join the system, there will not be enough funds to support the members at the top of the system. Eventually, the owners will just close down the system and run away with the money.
2. Pay-to-Play
In order to promote Easy 1 Up and make money, you have to pay to become their members.
The worse part is that you can only earn commission from the membership level you have personally paid for.
For example, if you only purchase the $25 Elevation membership, you won't earn any commission for those join at higher membership levels under you. The commission will go straight to the person who recruits you into the system.
This is just another clear sign of a scam by the way.
3. No Free Trial
You cannot test out the system for FREE, unlike my favorite program. The least amount you need to pay is $25, the Elevation level.
In that level, you get minimum training and support. Not only that, you can only earn commission when others join Elevation under you, like I've explained previously.
Can I Really Make Money with My 10K Model?
Since My 10K Model is not an actual program, maybe you should rephrase your question to: "Can I really make money with Easy 1 Up?"
The answer is YES, you can make money with Easy 1 Up. However, where it is a sustainable way to make money is another story.
Just take a look at Michael, he is an affiliate of Easy 1 Up himself but he managed to build a strong team to promote this program and make tons of money.
Another example will be the founder of ScamXposer, David Harris. Wealthy Affiliate used to be his Top Recommended Program on his website but now he puts My 10K Model as his top recommendation and WA becomes the second.
I believe the reason for that is because he is making more money by promoting My 10K Model than promoting Wealthy Affiliate.
That's why there are many positive and also negative reviews about My 10K Model. Many of the positive reviews are "positive" because the person behind it is currently making money with Easy 1 Up.
However, you should take note that any Ponzi scheme is going to shut down one day, just like what had happened to Digital Altitude recently. Because firstly it is not a sustainable business model and secondly it is illegal after all.
While My 10K Model is not a scam, I would say Easy 1 Up is a scam because of its business model.
Like I've said, it's still possible to make some good money if you know how to drive traffic and convert your leads. But that's not going to be a long term business.
The choice is on you. If you want to join Easy 1 Up, I would recommend you to join via My 10K Model.
If not, check this out...
How I Make a Living Online...
Affiliate Marketing is my top recommended business model for anyone to make money online.
The reason is simple...
You don't have to recruit anyone to make money like what people usually do in MLM
You're building your own passive income stream for your financial freedom
It's Free to get started
In fact, with affiliate marketing...
I've personally created a 4-Figure Monthly Passive Income Stream and become financially independent at just 21 years old without any College degree or working experience!
Through my own hard work, I went from a broke restaurant waiter to living my dream laptop lifestyle in less than a year's time...
If you want to discover the secrets of how I did it at such a young age, click here!