15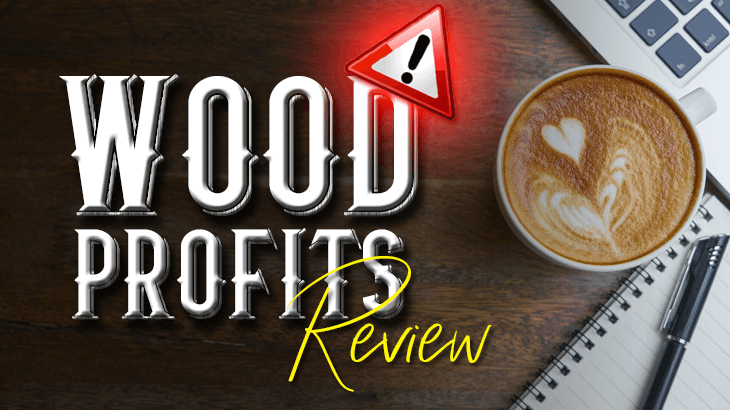 Is Wood Profits a Scam? Woodworkers Be Careful! [Scam Exposed]
Hey, fellow woodworkers. Welcome to my Wood Profits review!
Regardless if you're already a woodworker or you're just getting started, one of the most important aspects of this work is how to monetize it, right?
I know some of you may be doing it just as a pastime or a hobby, but majority of you still need to rely on the skill to survive and put food on the table for your family.
I totally understand that and that's why you're looking for ways to make money from home.
Give yourself a pat on your shoulder because the fact that you're here reading my review shows that you're doing your research before buying into any "seemingly good" product.
Wood Profits promoted themselves as the "turnkey business" which you can start tomorrow and profit within 2 weeks...
Is that really possible? Or is Wood Profits a scam?
Stay with me and let me expose to you all the ugly truths about this product...
Wood Profits Review Summary
Product Name: Wood Profits
Founder: Founded by Jim Morgan (could be a fake person) in 2012
Product Type: Home business eBook with audio recording
Price: $37 + various downsells & upsells
Best For: The owner & affiliates promoting this product
Summary: Wood Profits is just a 53-page eBook with audio recording. Do you really think you can start making lots of money by just reading a 53-page ebook? That's not possible. And the worst part is that the owner of this product is fabricated. Let me prove to you in my review below!
Rating: 15/100
Recommended: No
Wanna Make Money Online but Tired of Scams?
More...
Wood Profits is marketed as the turnkey product to help you make $90,000 to $150,000 per year by running your own woodworking business from home.
What's more "exciting" is that you don't need to have any prior experience and you can start the business under $1,000...
For those of you who are really struggling with money and you're new to this, this can be really attractive. But let me tell you that this is already a BIG RED FLAG!
Legitimate programs won't give you such attractive income promises because we all know making money is not that easy and the results vary for different people.
What Wood Profits offer you is a 53-page Digital Guidebook (eBook) to help you start your profitable woodworking business by selling wooden furniture and other wood projects.
Also, there's an audio recording of the content for you to listen while you're on the go or while you're driving.
That's all! (I'll cover the cost of this product in just a moment)
What is Woodworking?
For the benefit of those who are not familiar with woodworking. Woodworking is basically a skill of making products from wood.
These products can include wooden furniture, crafts or even pen. As long as you have the skill and there's a demand for such products, you can make money.
Now, if you're really interested to make money via woodworking, you may want to watch the following video in which Chad, a professional woodworker, will explain to you how exactly you can make money from this skill.
If not, check out my top recommended program to work online from home!
As you can see, in order to become a full-time woodworker working from home, you need quite a lot of different woodworking tools and of course the skills needed to create your products.
But most importantly, you need to spend time building up your client base.
So let me ask you again...
Do you really think you can start profiting within 2 weeks like what Wood Profits promised you?
That's why I told you this product is just a scam. It's very misleading.
I'm Jerry!
I Created My Own 4-Figure Monthly Passive Income at just 21 Years Old!​
Wood Profits Ugly Truths Revealed (Must read!)
Now comes to the most exciting part where we're going to peal off the skin of Wood Profits and uncover the ugliest truths of it.
You ready?
1. FAKE Testimonial
On the sales page, there are quite a lot of testimonials where people are just complimenting how amazing Wood Profits is.
But take a look at what I've found...
I did a simple Google Image Search and I found out that the testimonials are fake. The photo of the guy is actually a stock photo from ShutterStock and it has been used on other websites as well.
2. FAKE Authority Proof
As you can see, this is a screenshot from Wood Profits' sales page. They claimed that they have been featured on authority platforms like Entrepreneur Magazine, CNN, USA Today...
But when I did my research, I couldn't find any evidence for this. If they're really that popular and famous, it will be very easy to find those proofs, right?
3. FAKE Founder!
This is a huge one...
Wood Profits is allegedly founded by a guy called Jim Morgan. But upon further research, they're also using stock photos to represent Jim.
As you can see, this photo can actually by found on iStockPhoto:
That's not the end. Throughout the sales page, there are a few photos of Jim doing some work. However, if you're observant enough, you'll find that all these are actually not the same person....
Again, they're using stock photos to hide their actual founder:
My question is...
If Wood Profits is such a great product which can help you make $150,000/year, why do they have to use fake testimonials and even hide the actual owner? It doesn't make sense right?
That's why I'm very confident this is a scam product. No questions asked!
In fact, using fake testimonials and fictitious character is not uncommon. I've reviewed a lot of other scam products that are using the exact same technique, such as 30 Minute Money Methods, Paid Social Media Jobs, 60 Minute Profit Plan, and the list goes on and on...
So please don't depend on any of the testimonials and any income proofs to make your purchasing decisions. All these can be easily fabricated today!
Wood Profits Sales Funnel Revealed
Wood Profits is just a 53-page eBook which costs $37 upfront. I said upfront because there are multiple downsells and upsells waiting for you in their sales funnel.
When you try to exit their sales page, they will offer you a $10 discount to purchase Wood Profits at $27. That's their first downsell.
Let's take a look at their entire sales funnel:
After the front-end sale, there are 3 one-click upsells waiting for you. They cost $29.97, $39 and $49.97 respectively.
If you reject their second and third upsell, they'll downsell you at $29 and $39.97 respectively.
So what are all these upsells about?
Basically, they're just additional guide to teach you more advanced skills such as outsourcing your work or leverage internet marketing to scale your business.
Yes, these are legit information. But you won't be able to execute them successfully just by following a guidebook.
The Good
1. Training Available in Different Format
I think the only good thing about this product is that they offer you legit information in both written and audio format.
These are good information to learn if you want to start your own woodworking business. But those are not enough to train you on the actual physical skills to create your products.
2. 60-Day Money-Back Guarantee
Since this is a ClickBank product, you're given a 60-day refund period. At least you know you can get your money back when you realize this product won't help you much.
---
The Bad
1. Hyped-up Sales Page
After reviewing so many products, I've seen too many scam products that are all using the same sales technique. Wood Profits is no different.
It is promising you to make big bucks with little money and little effort. All you need is his guide.
Seriously, these scam artists are just taking advantage of people's greed. If you're too eager to make money online, you'll very likely to lose your logical thinking.
There's no shortcut to success. You really can't make money without putting in much effort.
Stop chasing the "shiny objects". Follow a legit system and stick to it. There's no turnkey website or secret method to make you rich. It doesn't exist in this world.
The only way to succeed and be rich is to hustle. Stay consistent and be patient!
2. Everything is FAKE!
Like I've exposed to your earlier on, almost everything about this product is fake. This include their testimonials, the authority proofs and even the owner of the product.
Honestly speaking, this point alone is enough to label this product as a scam.
3. Not BBB Accredited
I know there are also a lot of legit products not being accredited by Better Business Bureau (BBB).
However, if Wood Profits is really being featured on platforms like CNN and Entrepreneur Magazine, why is it not accredited by BBB? What's worse is that there's even no rating given for this product:
The only review on BBB is also a negative one telling people that Wood Profits is just a scam. This person even had problem requesting a refund:
I believe my opinion on this product is very clear. Wood Profits is a scam. No questions asked!
Some people may say it's not a scam because at least you're getting something for your money. The cost of the product is not too expensive and you can get a refund.
However, there are simply too many red flags for this product. Using deceptive techniques to make money is just unethical. I feel the only right thing for me to do is to label this product as a scam and warn other people.
Yes you can get a refund if you want. But how are they going to "refund" you the time you've wasted?
Who is Really Making Money with Wood Profits?
Apart from the mysterious owner of this product, there's one group of people who is making good money from Wood Profits...
Yes, the Affiliate Marketers who are promoting this product are actually making much more money than victims of this scam.
As you can see, Wood Profits offers 75% commission and you can earn up to $80 per sale.
That's why Affiliate Marketing is my top recommended business model to make money online. In fact, my current main income source is also from affiliate marketing.
But I'm not asking you to promote such scam products.
You can promote any products you like to make a consistent passive income. That's the beauty of affiliate marketing.
In fact, with affiliate marketing...
I've personally created a 4-Figure Monthly Passive Income Stream and become financially independent at just 21 years old without any College degree or working experience!
Through my own hard work, I went from a broke restaurant waiter to living my dream laptop lifestyle in less than a year's time...
If you want to discover the secrets of how I did it at such a young age, click here!