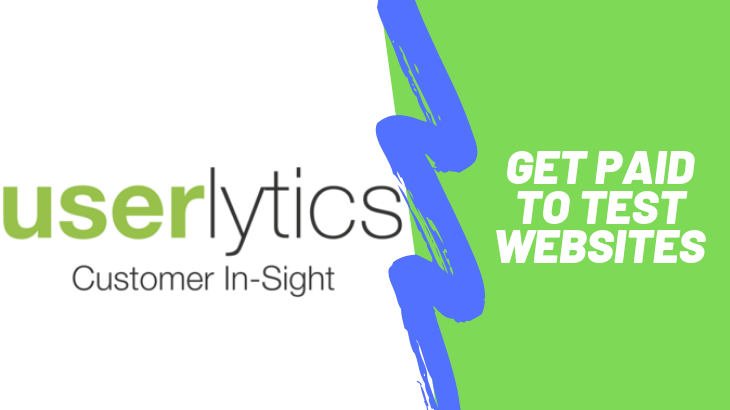 Is Userlytics a Scam? Get Paid To Test Websites Now!
Welcome to my Userlytics review!
Sites like these are pretty uncommon, considering that they're still GPT or Get Paid To programs.
But these programs aren't categorized as such, and for good reason.
They're very detail-oriented when it comes to the tasks at hand, and they actually need user experience to deliver feedback to clients.
This is Userlytics.
First of all, I must Congratulate you for taking your time to do your own research before buying into any "seemingly good" product.
That's the way to avoid scams and find the legitimate way to make money online!
Let me be completely transparent with you, I'm not associated with Userlytics in any form.
So, rest assured that I'm not here to pitch or sell anything to you.
Instead, I'm here to reveal how you can earn money from their program, and if it's worth your time.
Userlytics Review Summary
Product Name: Userlytics
Founder: Alejandro Rivas-Micoud
Product Type: Get Paid To Test Websites
Price: Free
Best For: People who can deliver quality feedback for testing programs.
Summary: Userlytics is a usability testing site that gives their clients access to quality feedback by paying testers (that's you) to test their websites, programs, apps, etc. The pay rate is good enough for a quick buck or two online, but it doesn't make for a good source of full-time income. If you don't mind doing a couple of tests a month, this program might be worth checking out.
Rating: 70/100
Recommended: Yes and No!
More...
Userlytics is a user-testing platform that delivers insight, feedback, and customer experience to clients.
In simpler terms, businesses need someone to test their websites, apps, search engines, games and so on. They pay Userlytics to find people to do the testing for them.
And then Userlytics pays you for testing.
Userlytics has been around since 2009, and according to founder and CEO Alejandro Rivas-Micoud, they provide the advantage of home-based user testing over traditional focus groups.
If you're not familiar with the concept of website testing, it's basically having you visit a company's website and a to-do list of tasks to complete whilst in the site.
You complete these tasks and give your feedback, and as long as the feedback makes sense, you get paid.
Majority of these tests will require you to use your face, screen, and voice, so if you're camera shy, this might be a big deal. But there are tests that will require only the screen and voice as well.
A typical test lasts for about 10 to 20 minutes, and after you've done submitting your feedback, you'll be paid shortly after it's approved.
I'm Jerry!
I Created My Own 4-Figure Monthly Passive Income at just 21 Years Old!​
Userlytics Requirements & Application
To apply for Userlytics, you need a working computer, a fast Internet connection, and a decent microphone and webcam to complete these tests.
If you don't have a webcam, you can invest for as little as $30 for a high-quality webcam from Amazon.
You'll also need a verified PayPal account to receive payments. As long as your country has PayPal, you should be able to sign up for an account with Userlytics.
No prior experience is required and you don't need to complete a qualification test to get accepted into the program unlike its namesake programs UserFeel and UserTesting.
How Much Does Userlytics Pay?
Userlytics pays a fixed amount of $10 per test completed, which is basically the standard rate for all user testing sites.
There are also special instances where tests pay out more, but I'm assuming that you need to do something extra to get this.
Some user feedback also stated that they got paid at least $40 for some tests, but they were required to use a webcam for the tests.
Userlytics is for anyone who has the ability to deliver logical feedback as well as being able to follow instructions quite well.
If you're looking for a way to earn a full-time income online, come check out my FREE 1-HOUR training that shows you all of my TOP AFFILIATE MARKETING SECRETS!
What I Like About Userlytics?
#1 – No Qualification Test Required!
There's no need to do a qualification test when you're signing up for Userlytics.
This is a huge advantage because it gives you the opportunity to earn the moment you complete your account registration.
#2 – No Minimum Cash Out Requirement!
This is a big deal because you can immediately cash out your earnings from approved tests.
Note that payments to be credited to your PayPal account takes 15 days and is done automatically.
So you don't need to worry about making a request to cash out as well.
#3 – Pay Is Really Good!
The pay rate is decent enough for 10 minutes of your time. If you have access to at least 3 tests that take 20 minutes, you're basically earning $30 for that hour. That's 4x the US Federal minimum wage.
Userlytics Ugly Truths Revealed!
#1 – Low Income Potential
So the lack of tests available means that the income potential is quite low. So, you'd be lucky to do at least 1 test a week.
On average, the site generates about 4 to 5 tests per month, and sometimes you may not be even qualified to do them because of your demographics.
Userlytics is probably one of the best user testing sites out there that could easily earn you a few bucks a month online.
Their pay rate is good for the tests, and they don't require applicants to take qualification tests so people can start earning after signing up.
If you don't mind earning a lot of money online, then this program is worth checking out.
However, it's not a decent source for full-time income, so if you're looking for that, this program might not be for you.
How I Make a Living Online?
I've personally created a 4-Figure Monthly Passive Income Stream and become financially independent at just 21 years old without any College degree or working experience!
Through my own hard work, I went from a broke restaurant waiter to living my dream laptop lifestyle in less than a year's time...
If you want to discover the secrets of how I did it at such a young age, click here!