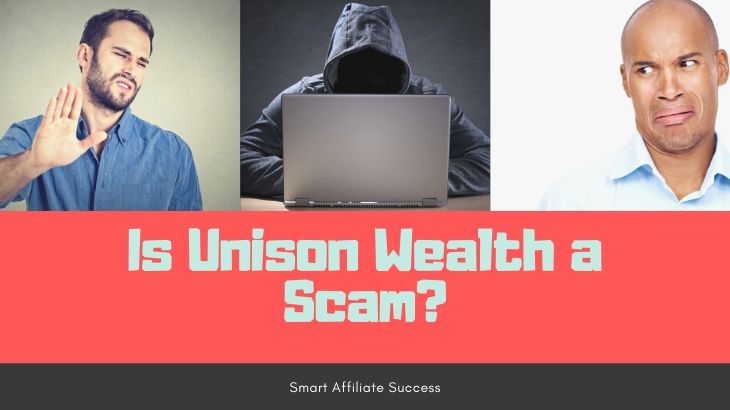 Is Unison Wealth a Scam? A Subscription Cycle SCAM EXPOSED!
Welcome to my Unison Wealth review!
This MLM company has you doing what they call "subscription cycling" to make money. As good as it may sound, there's just something wrong about this program.
Today, we're taking a look at Unison Wealth…
First of all, I must Congratulate you for taking your time to do your own research before buying into any "seemingly good" product.
That's the way to avoid scams and find the legitimate way to make money online!
Let me be completely transparent with you, I'm not associated with Unison Wealth in any form.
So, rest assured that I'm not here to pitch or sell anything to you.
Instead, I'm here to reveal what this scam is all about...
Unison Wealth Review Summary
Product Name: Unison Wealth
Founder: Jason Hall
Product Type: Subscription Cycle MLM
Price: $5 one-time fee + $50 every 15 days
Best For: NO ONE!
Summary: Unison Wealth is a subscription cycle MLM that has you renewing your subscription to keep you qualified for their compensation plan. But the program is too good to be true because it's not a legit program. It's a scam and mainly because it has all the makings of a pyramid scheme. We're going to explore the many red flags that we uncovered during this review.
Rating: 1/100
Recommended: No!
More...
Nothing much is known about what Unison Wealth is all about. We do know that it's a MLM or multi-level marketing company that markets an advertising platformer service for their members to share their businesses or affiliate links.
Simply put, it's a business opportunity that has you selling a monthly subscription to use the platform and to access their other bonuses.
There's no information about who owns or runs the website, and all I found out was when their website launched. The site launched in 2014, but the domain registration was set to private.
Some marketing videos on their website features someone named Jason Hall, who talks about the features and comp plans of the Unison Wealth program. This is attached to his own YouTube channel as well.
However, there's no information anywhere about who Jason Hall is and what his MLM accomplishments are. I am inclined to believe that Jason Hall is nothing more than a pseudonym.
Unison Wealth Product Line
There are no products for retail or services to avail of with Unison Wealth's program. The members are only selling the membership to the company itself.
This includes membership into the compensation plan, which allows you to make money from selling the memberships.
Then you get the following bonuses if you're qualified for their compensation plan:
List Building Profits PLR
Email Marketing Mastery PLR
Online Income Kickstart PLR
Tube Rank Rocket PLR
Facebook Fast Ads PLR
List Building Excellence PLR
Google Plus for Business PLR
Google Plus Exposed PLR
I'm Jerry!
I Created My Own 4-Figure Monthly Passive Income at just 21 Years Old!​
How To Make Money with Unison Wealth?
Unison Wealth provides you with the following means to make money:
Commissions from recruiting people
Commissions from selling subscriptions
Other bonuses and commissions
How To Get Started with Unison Wealth?
There's a $5 registration fee with a $50 payment to participate in their compensation plan. This brings you to a total of $55 to get into the plan.
This will also allow you to start selling subscription plans, which costs $50 and lasts for $15 days. You'll need to pump another $50 to refresh the subscription. That puts you at $100 monthly subscription.
Members can purchase up to 20 subscriptions at one-time. The more subscriptions you buy, the higher chance to make more money.
Unison Wealth Compensation Plan
The compensation plan revolves around having new members sign up and purchasing different matrix positions. At any given time, you're restricted to having 25 positions. These matrix positions, or subscriptions, are only good for 15 days.
Matrix Earnings
After buying or renewing subscriptions, you will be paid out $3 as the sponsor or the upfront referral commission. Another $2 is added to the Accelerator pool. The remaining subscription is added to the pool.
There are 5 levels in the compensation plan and ach sub entitles you to earn from 5 levels. As illustrated in this image below, you're placed at the top of the tier once you purchase a sub. The next two recruits are placed one level under you.
Referral Commission
You also earn referral commissions as a sponsor. You earn commission when your referrals get recruits into the system and when they get these recruits to buy subscriptions.
Accelerator Pool
This is used to help with timing the subscription cycles. The Accelerator takes from the following funds:
$5 Upgrade admin fee
$2 On Purchase of each Sub
As per the Payouts on New Levels' cycling
On Cycling of All OLD Levels
The Accelerator Pool is designed to help keep the company afloat without burning a lot of their own cash to pay off members.
Matrix Rotator
This is based on a percentage that has been allocated from the Accelerator pool, which will be used to pay off different bonuses.
Unison Wealth Ugly Truths Revealed!
#1 PLR Products
You might be getting PLR or Private Label Rights once you sign up for the product, but you're not getting something good.
This means that you're getting content or articles from creators that have sold the rights of their articles to anyone who wants to use them for redistribution.
These PLR products are poor in quality and have outdated content. Because these are available to other people, posting them will put you at risk for duplicate content (unless you rewrite the entire article).
You just think that you're getting some good marketing supplements, but you're getting the short end of the stick with Unison Wealth.
#2 Similar To Another Scam!
Unison Wealth is built the same way as another scam called Unicorn Adz, which is another subscription cycling program made by a marketer from India.
They have the same compensation plan as well. This leads me to believe that Unison Wealth might be the older version of Unicorn Adz, and that they might be rebranding soon to this platform once the cash is gone.
#3 No Products, All Recruitment
Legitimate MLM companies, whether we recommend them as a source of full-time income or not, will always have products available for retail or services that members can take advantage of.
The fact that Unison Wealth doesn't have anything to sell is alarming because it's a huge red flag.
This brings me to my next point…
#4 All The Red Flags of a Pyramid Scheme
The guidelines of identifying pyramid schemes according to the FTC stipulates the following:
No products for selling
Income is based on recruitment
No feasible way for business to sustain income
These are all met by Unison Wealth and their compensation plan. Now, they're not yet flagged by the FTC as a pyramid scheme. I am also not claiming that they're a pyramid scheme.
All I am stating is that they have all the red flags of one.
#5 Confusing Compensation Plan
Let me also mention that their compensation plan is confusing. There's just no concrete way for you to explain this to someone if you're trying to sell this.
I watched their videos as well and even then the presenter looked as confused as I was.
What I Like About Unison Wealth?
Unison Wealth looks like a big pyramid scheme, which is something that we don't really support here on this site. There's just nothing about their program that we like.
Unison Wealth has all the makings of a pyramid scheme, which is more than enough for us to let you know this program isn't worth your time and money.
Let me just summarize what we found out about the program:
There are no products for sale, or services that you can avail of.
You're only buying and selling subscriptions, which basically means you need to recruit people into the program.
There's no feasible way for the business to sustain itself once the subscriptions stop coming in.
Stay away from this program at all costs.
How I Make a Living Online?
I'm not a fan of MLM, not because it's illegal or not profitable, but because of all the restrictions and the expensive costs involved.
Instead, Affiliate Marketing is my top recommended business model for anyone to make money online.
The reason is simple...
You don't have to recruit anyone to make money
You have the freedom to promote any products you want and not being restricted to only promote the products from one MLM company
It's Free to get started
In fact, with affiliate marketing...