1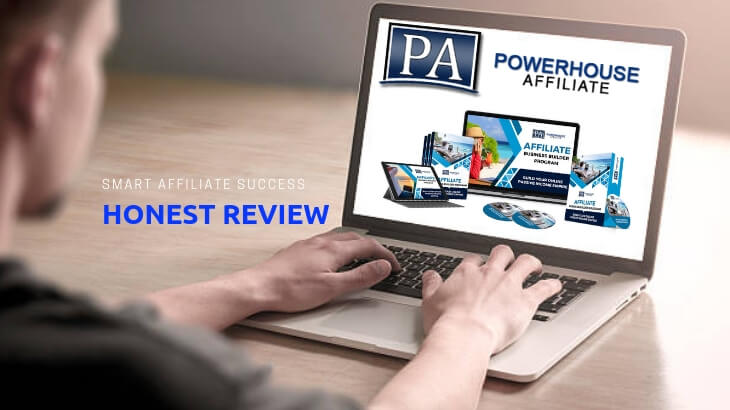 Is Powerhouse Affiliate A Scam? Read This Review Before Signing Up!
Welcome to my Powerhouse Affiliate review!
Would you believe that there's more to this affiliate marketing training course than meets the eye?
Of course you do. You wouldn't be reading this review if you didn't.
The name itself has the word POWER in it, so it must be good, right?
I am talking about Powerhouse Affiliate.
First of all, I must Congratulate you for taking your time to do your own research before buying into any "seemingly good" product.
That's the way to avoid scams and find the legitimate way to make money online!
Let me be completely transparent with you, I'm not associated with Powerhouse Affiliate in any form.
So, rest assured that I'm not here to pitch or sell anything to you.
Instead, I'm here to reveal what makes this affiliate marketing training course worth looking into, and what makes this one of the few legitimate programs out there.
Find out once and for all the answer to the question:
Is Powerhouse Affiliate a scam?
Powerhouse Affiliate Review Summary
Product Name: Powerhouse Affiliate
Founder: Joey Babineau
Product Type: Affiliate Marketing Training Platform
Price: Free for one course. $47 a month to access all courses.
Best For: People who're already experienced with affiliate marketing and want to develop their skills in paid advertising.
Summary: Powerhouse Affiliate is an affiliate marketing training program that focuses on CPA (Cost-Per-Action) Marketing. Despite its amazing content, I wouldn't recommend this program to beginners simply because it only focuses on one aspect of affiliate marketing, which is paid advertising. It doesn't explain or introduce to you the other components of affiliate marketing like content creation, lead generation, and so on. But on the other hand, if you're an experienced marketer who wants to hone their skills, this program is definitely worth looking into.
Rating: 50/100
Recommended: Yes and No
More...
What is Powerhouse Affiliate?
Before anything else, I would like to tell you guys that I have not purchased the monthly membership.
I did, however, sign up for the free membership so I could take a peek at what's inside this affiliate marketing program.
Please know that even though that I am satisfied with my current platform, this review will be as honest and as unbiased as possible to help you make an informed decision.
Now, on to the review.
Powerhouse Affiliate is an affiliate marketing training platform developed by Joey Babineau in February of 2013.
Being an affiliate marketer himself for more than a decade, he quit his 9-to-5 job and began to provide training for others on how to get started in the industry.
However, the platform does not provide you with a holistic education on affiliate marketing. Rather, it's more focused on just one aspect of it, which is paid advertising or more commonly known as CPA (Cost Per Action) Marketing.
Inside Powerhouse Affiliate
Now, Powerhouse Affiliate is an affiliate marketing training platform that helps you develop your skills on affiliate marketing, specifically paid advertising.
Why only the focus on CPA Marketing though?
Because it's what the founder and the team of Powerhouse Affiliate are good at.
How Much Is the Membership?
There are two membership options that you can choose from:
Free Membership – This membership will give you access to the Affiliate Marketing Certification Course, which I'll explain later on, and access to free templates for landing pages, website pages, and so on.
Premium Membership ($47 a month) – Premium Membership gives you access to the Affiliate Marketing Certification Course and six other courses. You'll also have access to their Facebook Group, where you can address your concerns and questions.
What Are The Training Courses?
As I mentioned earlier, there are 7 courses that you can choose from once you're logged in the members area.
There's one course that you can access via Free Membership, but the remaining six courses will need a Premium Membership.
1. Affiliate Marketing Certification – Free
This is a course that aims to give you generalized information on what affiliate marketing is all about. At the end of the course, you'll have a basic understanding of:
How to choose niches and products via affiliate networks
How to choose your domain name and where to host your website
How to create blogs and landing pages
How to track your pages
How to get free traffic from Facebook.
2. Powerhouse Affiliate Marketing Bootcamp
You won't have access to this course and the others if you're just subscribed to the Free Membership.
This course covers 10 modules, which include what the free course covers, but it's more in-depth.
3. Affiliate Business Builder
This is a two-in-one course delivered in video format, and is great for all you visual learners.
This is an over-the-shoulder video on how to grow your knowledge in affiliate marketing and covers everything that's taught in the platform.
4. CPA Display Academy
This course covers examples of live campaigns using native ads such as Facebook.
They will also show you the types of landing pages they use and what they do to profit from these pages.
You can choose to read 10 modules of text or watch their 2.5 hour-long webinar. It's all up to you.
5. CPA Cash Vault 3.0
This is an 8-lesson course that shows you how to generate and build your email list and set up your marketing funnel.
However, you'll need to further this course by signing up for third-party platforms like autoresponders and affiliate networks.
I would recommend looking at autoresponders such as Market Hero to get you started.
6. Website Traffic Certification
This is another text-based 8-lesson course that talks about how to get traffic to your website through different traffic sources.
It also shows you how you can purchase advertising from Bing Ads, Solo Ads, and so on.
Because the platform is solely focused on CPA, expect to pay for the advertising as they recommend.
They do touch on free traffic but it takes a lot more time to see results.
7. 5-Phase Email List building
As the title itself says, this course shows you the basics of email marketing and divides it into 5 phases. Again, this is a text-based course so don't expect videos.
I'm Jerry!
I Created My Own 4-Figure Monthly Passive Income at just 21 Years Old!​
Earn Money By Promoting Powerhouse Affiliate
You can earn money by promoting Powerhouse Affiliate if you're subscribed to Premium Membership.
Judging by their rates, I would say that this is a very lucrative opportunity.
It also follows a MLM or multi-level marketing tiered commission plan, minus the products and fancy presentations.
So, here's how it works.
Tier 1 Commission Payout – Pays out at 50% when a person you referred upgrades as a Premium Member. As long as the person stays a Premium Member, you'll get paid.
Tier 2 Commission Payout – Pays out at 10% when the person you referred refers someone to the program and upgrades to Premium Membership.
Tier 3 Commission Payout – Pays out at 5% when your Tier 2 Member refers a person and upgrades to Premium Membership.
This image should sum up how your commissions and referrals would look like:
Who's Powerhouse Affiliate For?
Powerhouse Affiliate is a great program for you if:
You are interested to know more about Affiliate Marketing and Paid Advertising
You don't mind reading texts from these courses
You can commit a few hours of your time to go through this training course
What I Don't Like About Powerhouse Affiliate?
#1 – No Module On Content Creation
The program doesn't provide you with a solid foundation on content creation, and content just so happens to be one of the core principles of Affiliate Marketing.
I mean, when you look at these courses, the founders are expecting you to already know how to create content.
But I go back to the beginners. What if they don't know how to yet?
If you want an affiliate marketing platform that provides you with training and all the resources that you need to get started, I would invite you to look at Wealthy Affiliate.
#2 – Not Enough Execution
If you've noticed, the course modules only show you the "why's" and the "what's" behind each concept, but it doesn't explain on the "how's" of these concepts.
If you're a total beginner who just got his or her feet wet in affiliate marketing, then this may not be the best training course for you.
#3 – 75% Of All Lessons Are Text-Based
In this day and age where different media can be used for content, I don't get why Powerhouse Affiliate resorted only to using text to deliver more than half of their course modules.
I mean I am talking about roughly 75% of all their course modules are text-based. There's no video or audio files that you can check out for these lessons.
I would consider this a disadvantage for the following reasons:
I can't listen or watch their lessons on the go. This means I have to be at my computer and glued to the screen.
Honestly, who reads books or lessons nowadays? According to this LA Times article, only a handful are reading books or anything over the last few years.
It's just too monotonous to be reading all of the lessons without any other alternative.
P.S. This program that has enabled me to generate a 4-Figure Monthly Passive Income at just 21 years old is FREE to get started and only cost $49/month fee to go full-time!
What I Like About Powerhouse Affiliate?
#1 – Free Certifications And Other Stuff
Okay, I really appreciate their Free Membership because it just gets you into what you can expect from the course.
This goes way beyond what a free demo is all about, and I believe that they are on the right path to providing free stuff to members.
I also appreciate their certifications, which despite being heavily text-based, is really detailed and gives you a good look at the CPA and affiliate marketing industry.
You also have access to free landing pages and premium images to get you started on your affiliate marketing journey, which is a big bonus in itself.
You can never say NO to free stuff, especially when they're this good.
Is Powerhouse Affiliate A Scam?
Powerhouse Affiliate is one of the few legitimate affiliate marketing training programs out there.
It's developed by an affiliate marketer with more than a decade's worth of experience and knowledge to share.
Despite its amazing in-depth content, I would not recommend this training platform to beginners.
The reason why I don't recommend this training platform to beginners is that it doesn't build you a solid foundation on how affiliate marketing works in its entirety.
Because it only focuses on CPA or paid advertising, it doesn't give you enough leverage to set up your affiliate marketing business.
However, if you already have a solid understanding on how affiliate marketing works and its different components, then this program is worth looking into.
How I Make A Living Online?
I've personally created a 4-Figure Monthly Passive Income Stream and become financially independent at just 21 years old without any College degree or working experience!
Through my own hard work, I went from a broke restaurant waiter to living my dream laptop lifestyle in less than a year's time...
If you want to discover the secrets of how I did it at such a young age, click here!