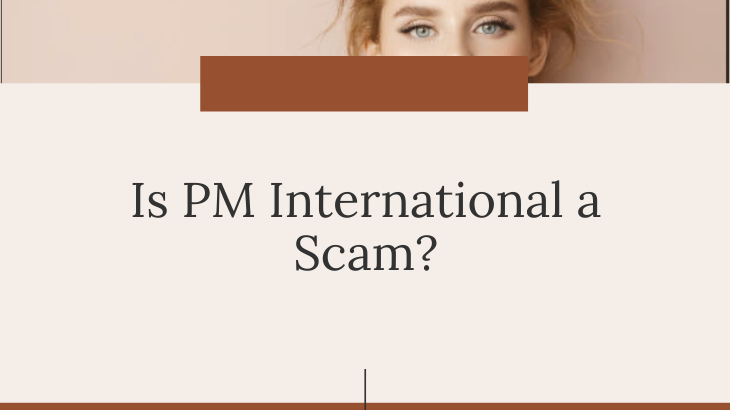 Is PM International a Scam? It's a 2-in-1 MLM Company EXPOSED!
Welcome to my PM International review!
It seems that when it comes to MLM companies, there are only 2 major niches; health and wellness, and cosmetics.
You have a lot of the best MLM companies that provide a decent income opportunity under these niches.
This company that we're about to review functions under those 2 niches, so does that mean it's going to be twice as successful for you once you join?
This is PM International.
First of all, I must Congratulate you for taking your time to do your own research before buying into any "seemingly good" product.
That's the way to avoid scams and find the legitimate way to make money online!
Let me be completely transparent with you, I'm not associated with PM International in any form.
So, rest assured that I'm not here to pitch or sell anything to you.
Instead, I'm here to reveal why this is a 2-in-1 company and why it won't still make you money...
PM International Review Summary
Product Name: PM International
Founder: Rolf Sorg
Product Type: Health and wellness/Beauty and Cosmetics MLM
Price: $99 for starter kit with option to purchase additional products
Best For: No one!
Summary: PM International is a MLM company that markets under two niches; health and wellness, and beauty and cosmetic products. But despite being under two biggest niches in the MLM industry, I don't think there's money to be made here. There's no income disclosure statement to prove that anyone's making money. And there's focus on recruitment that it brings the attention away from the products themselves.
Rating: 50/100
Recommended: No!
More...
What is PM International?
PM International is a MLM or multi-level marketing company that markets two niches – beauty and cosmetics, and health and wellness. They offer various products such as supplements, skin care, and other essential products for your skin and overall health.
The brand also provides a business opportunity for those who're interested to make money from their program by selling their products.
Before they rebranded as PM International, the company started out as P.M. Cosmetics by Rolf Sorg back in 1993 and they only distributed makeup and other beauty essentials.
Rolf Sorg was a car mechanic before he got into MLM. When he got into his first MLM company, he was able to recruit 10 people every month.
There's no way to verify if this claim is true or not, so we'll just leave it at that.
PM International Product Line
The product line under PM International's belt is divided into 2 categories: BeautyLIne for their cosmetics, and Fitline for their health and wellness products.
BeautyLine
Their BeautyLine products are made from natural ingredients and provide you with the usual skin care benefits such as reducing signs of aging, removing dirt and oil, and cleansing the skin.
Their products include the following:
Clean Tonic
Ultimate Young
4ever
Cleansing Milk
FitLine
This line is geared towards essential vitamins and minerals and other supplements that boost energy, soothe muscle fatigue, improved heart health, and more.
This includes the following:
Fitness Drink
D-Drink
Herbalism Tea
Omega 3
Heart Duo
Q10
Restorate
CC-Cel Capsules
ProShape Amino
Basics
Power Cocktail
ProShape All-In-1
Activize Oxyplus
CC-Cel Lotion
I'm Jerry!
I Created My Own 4-Figure Monthly Passive Income at just 21 Years Old!​
Does The Product Work?
Based on their product reviews from their official Facebook page, a lot of people are saying positive things about their health and wellness product line.
Here's a snippet of the most recent reviews left behind by their satisfied customers.
Now, this isn't indicating that they have anything outstanding to unique because they probably just have the ingredients just right and how to create their products.
How To Make Money with PM International?
PM International's business opportunity has you earning through the following:
Retail commissions from sales
Commissions from team sales and recruitment
How To Get Started with PM International?
To become a member for PM International, you'll have to buy a Demo Starter Pack that costs $99. The kit includes:
Sports bottle
Demo bag
Spoon
2 of their best-selling PM products
You also have to purchase additional products, which includes Pool Packs. This would be your ideal purchase if you want to add on to your kit.
The Pool Packs will include additional products and include 2 to choose from:
Optimal Combo Pack for $481
6 FitLine Optimal Set Pack for $500
The nest section of this review will answer what many of you are here to learn which is…
PM International Compensation Plan
Here's a glimpse of their compensation plan:
Retail Income
TOP Retail Bonus
Wholesale Income
Pool Bonus
6 Royalty Generations
Management Bonus/TOP Management Bonus
To learn more about PM International's Compensation Plan, you can watch the video below:
We're not going into detail for their program, but instead, we're just highlighting the important and usual means for earning.
Retail Commission Bonus
Retail commissions are when you sell products for retail to customers. This is basically just termed this way, but you're actually making money through your profits.
You get a wholesale cost for products and then sell the products for retail pricing. The difference between retail and wholesale cost is the amount of money you earn.
If you buy a product for $20 and retail pricing is $40, you earn $20 as profit.
Top Retailer Bonus Commissions
Group volume determines if you qualify for this bonus. When you achieve 2500 in GV, you'll earn what's called as Top Trailer Bonus, which earns you 3% of all retail sales earned on your team each month.
If you reach 5000 in GV, you earn 5%.
Recruiting Commission Bonus
When you refer someone into their business opportunity and purchases a Pool Pack worth $481 or $500, you'll earn a $60 commission.
Once you qualify as a manager or higher, you'll earn $120 from future Pool Packs from future referrals.
PM International Ugly Truths Revealed!
#1 Unfair Ranking
A quick glimpse at their compensation plan video made me realize that they put too much rewards for higher ranks as opposed to the lower ranks. You have to recruit a lot of people to get promoted and to make it worth your while.
Then there's also the possibility of other members who can buy their way into outranking you, which is kind of a big no-no.
#2 Too Much Focus On Recruitment
Speaking of recruitment incentives, the program puts too much emphasis on rewarding you for recruiting people as opposed to selling products.
Now they're not a pyramid scheme because they're a legitimate MLM company and that they have a product to sell.
What I am getting at with their focus on recruitment and their unfair ranking system is that people who devote the normal time and money into their opportunity might not be getting any real money back for the foreseeable future.
#3 Overpriced Products
PM International doesn't really sell any revolutionary product, so I don't understand their expensive pricing. I get that their retail pricing is higher than commercial brands because they want to get their margins as well as guarantee their members' margins.
And trust me, a lot of your customers will almost always go for commercial brands over MLM brands just because the former is more popular and the results are always guaranteed.
What I Like About PM International?
PM International doesn't really stand out for me mostly because they're the same as any other MLM company out there belonging to their niche. With that said, there's nothing positive worth mentioning about their program.
Is PM International a Scam?
PM International is a legitimate MLM company that markets health and wellness products and beauty products.
Despite marketing two of the most profitable niches in the MLM industry, I don't think there's any proof at all that people are making money from the program (except from leadership positions).
There's just too much focus on recruitment that it provides a certain disadvantage to newer members just because they can't get new people in and that people might be able to pay to outrank these members.
How I Make a Living Online?
I'm not a fan of MLM, not because it's illegal or not profitable, but because of all the restrictions and the expensive costs involved.
Instead, Affiliate Marketing is my top recommended business model for anyone to make money online.
The reason is simple...
You don't have to recruit anyone to make money
You have the freedom to promote any products you want and not being restricted to only promote the products from one MLM company
It's Free to get started
In fact, with affiliate marketing...
I've personally created a 4-Figure Monthly Passive Income Stream and become financially independent at just 21 years old without any College degree or working experience!
Through my own hard work, I went from a broke restaurant waiter to living my dream laptop lifestyle in less than a year's time...
If you want to discover the secrets of how I did it at such a young age, click here!