25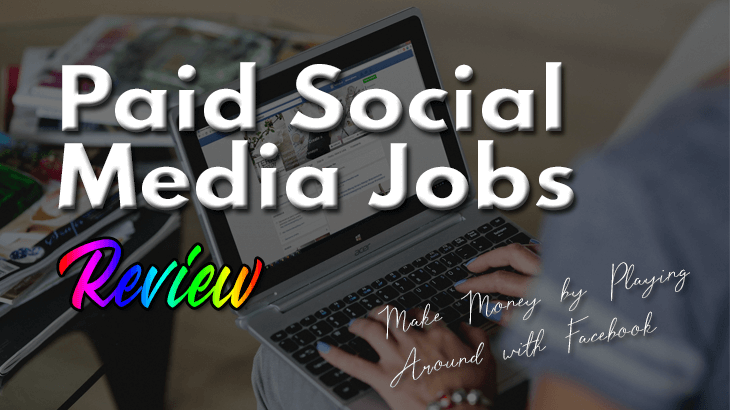 Is Paid Social Media Jobs a scam? – My Shocking Discovery [Review]
Welcome to my Paid Social Media Jobs review!
I totally understand that you need more cash, more income, more time and a much better lifestyle. That's why you're here looking for make money online opportunities.
I'm really happy for you because at least you're doing your research before buying into any products online, given that there are so many scams out there today.
So, is Paid Social Media Jobs a scam? Or is it a good opportunity for you to make money by just playing around with Facebook & Twitter, like this product has claimed?
We'll find out very soon...
I'll be revealing to you a shocking truth about this product that none of the other reviews out there have found. Stay tuned!
Paid Social Media Jobs Review Summary
Product Name: Paid Social Media Jobs (PSMJ)
Founder: Founded by Annie Jones (could be a fake person) in mid 2012
Product Type: Social Media Freelance Job Database + Training
Price: $27 + Downsell ($17) & Upsell ($37)
Best For: The owner & social media marketing experts
Summary: Paid Social Media Jobs has an average training but a lousy job marketplace. In my opinion, being a social media manager or freelancer isn't the best way to make money. But if you're interested, you can easily become a social media freelancer on platforms like Fiverr and Upwork for FREE. You don't have to pay anything like you do for PSMJ.
Rating: 45/100
Recommended: No
More...
This is going to be a long and in-depth review so I hope this Quick Navigation Menu can help you find the information you need 🙂
What is Paid Social Media Jobs?
Paid Social Media Jobs (PSMJ) is a platform to help you become a "social media manager" for companies and get paid.
In other words, you're a freelancer helping companies manage their social media accounts and perform various tasks to help them grow their businesses on social media.
Below is a screenshot on some of the job descriptions listed as an example on PSMJ sales page:
As you can see, some of the jobs include:
Posting on Facebook
Setting up social media accounts (FB, Twitter, LinkedIn, YouTube, etc.)
Replying to commenters & customers on FB page
Getting more Likes/Followers/Subscribers...
For PSMJ, they provide you with a set of training to help you get started and a job marketplace for you to find clients. (I'll talk about the details for their training and this marketplace in just a moment.)
Why Social Media Manager?
If you've been looking for make money online opportunities for a while, you know that online surveys is a very common method but it's very ineffective.
And today, there's a growing trend for companies to leverage social media to scale their businesses.
Just take a look at this statistics...
"There are now more than 50 million small businesses using Facebook Pages to connect with their customers (Source: Facebook). 4 million of those businesses pay for social media advertising on Facebook (Source: Forbes)."
That's why PSMJ focus on social media jobs and they market themselves as the "Survey Site Killer" and the market leader in this industry.
They even claimed that as long as you know how to use Facebook, Twitter and YouTube, you can do the jobs.
To be honest, this is just a part of their shady sales pitch. Just take getting Facebook Likes as an example, not everyone who knows how to use Facebook knows how to get more Likes on Facebook, right?
In addition, the main focus of PSMJ training is on helping you to create your "resume" and get more clients.
If you're not familiar with growing a social media brand and engaging with customers, you're going to struggle. Most likely you're not going to even get a job because there are more qualified people than you.
Who will hire you to manage their social media accounts when all you know is how to use them?
So the claim is definitely not true!
I'm just exposing one of the many downsides of this product here. There are more to come later in the Pros & Cons section.
I'm Jerry!
I Created My Own 4-Figure Monthly Passive Income at just 21 Years Old!​
Inside Paid Social Media Jobs
There are 4 main modules inside Paid Social Media Jobs. Let's take a look at what each of them is about...
Module 1: Understanding Social Media Manager
Module 1 is just a very brief introduction on:
What is social media manager?
Why do you need to become a social media manager?
And how to position yourself so that clients can trust you and hire you?
So, I would say this module doesn't have any solid content as it's just talking about the "What" and the "Why".
Module 2: How Get Started as a Social Media Manager
In this module, there are even more emphasis on how important social media managers are to the business/corporate world.
This is to further strengthen the students' belief on why being a social media manager is great and why you need to leverage Paid Social Media Jobs.
Other than that, there are some introductions on what types of jobs there are and where to get it.
And it offers a brief explanation on how to get starter as a social media manager, how to set up your social media accounts, etc.
As a beginner, the only job you're eligible should be helping people to set up social media accounts. That's why I really doubt the profitability.
There isn't much training on the various social media marketing skills being taught in the course.
Module 3: Finding Clients
This module discusses more on what kind of clients are in need of social media managers, how to find them and how much you can expect to earn.
Once again, they keep on offering "information", instead of training. What this means is that they're still telling you the "What" and "Why" without telling you the "How".
In short, there are no actionable training to help you get started.
Module 4: Advanced Training
In the beginning of Module 4, they're just repeating the importance of social media manager which has already been mentioned in Module 1.
But afterwards, they finally have some "training" to teach people about some Facebook marketing strategies which can be applied to helping clients.
The problem with that is they're simply putting up a bunch of eBooks and blueprints which seem like Private Label Rights (PLR) type of content!
PSMJ Marketplace
Finally, the marketplace is a database where members can use to find social media jobs.
But it's really disappointing as it's just a very average platform like the ones you can find on Fiverr and Upwork.
The downside of PSMJ Marketplace is the lack of activity. You can't find any comments, reviews or ratings on PSMJ.
That's why it's better to just search for social media jobs on Freelancing website like Fiverr and Upwork. They're even FREE to use, unlike PSMJ where you have to pay. 
How Much Does Paid Social Media Jobs Cost?
Currently, PSMJ's membership costs a one-time fee of $27.
But if you try to exit the sales page by moving your cursor to the top of your screen, a pop-up will show up telling you that there's a special offer in your area at $17.
This is a typical downsell and the exclusiveness to your country is definitely fake.
When you've purchased their product, you'll get an upsell called Social Media Arbitrage, a $37 course teaching you how to earn more by doing less in social media jobs.
The Good
1. Step-by-Step Training
Yes, there are quite a lot of "information" within their platform which is arranged in a step-by-step manner.
So the good thing is that at least you're getting something for your money.
But like I've mentioned earlier on, the training is not really a "training". It's just full of information which can be found online for FREE.
Also, you're only learning the "What" and "Why" instead of the most important "How".
2. A Legit Business Model
Another good thing about Paid Social Media Jobs is that at least they are promoting a legitimate business model. This is unlike many scam products which only talk about business models that don't work at all.
It's true that social media marketing is getting more and more important for companies and brands. So the demand of social media managers is also rising.
If you have the skills and knowledge, being a social media manager can be a well-paid career.
But the most important thing here is that you need to have the skills companies need. So, it's definitely not for everyone like PSMJ has claimed.
3. 60-Day Money-Back Guarantee
PSMJ is a ClickBank product so there's a 60-day refund period. You can get your money back if you don't like it. No further explanation needed.
---
The Bad
1. Poor Quality Sales Video
Although this is not directly related to the quality and legitimacy of the product, I really must condemn on their effort to come up with this sales video:
Normally, this kind of sales presentation has a narrator to tell the story and sell the product.
But this is the first time I see a sales video that asks you to read the words yourself. Apart from the presentation slides, all they have is a background music.
Like I've said, the product itself doesn't depend on the sale video. But at least it shows the amount of effort they are willing to put into this project.
This can be an indication for a low-quality product.
2. FAKE NEWS!
This is the part I really need you to pay attention!
I've done my research, this piece of information has not been exposed before by any other reviews out there...
Basically, on PSMJ's sales page, there's a section where it says "Social Media Management in the News".
And following that, there's a "Breaking News" talking about how companies are willing to pay handsomely to social media managers.
Not only that, it introduced PaidSocialMediaJobs.com as the forefront leader in this industry.
To be honest, I must say this can be really convincing to innocent people because this is a really well-made News Report.
But unfortunately, the entire "Breaking News" is fake!
The host of the News Report is actually an actor offering freelance services on Fiverr.
So this "Breaking News" is entirely fabricated. It's not real at all.
This sales technique is not unique or unfamiliar today. After reviewing so many different scam products, I've seen way to many which hired actors to do fake testimonials or success stories.
Be careful! Don't fall into such traps.
3. FAKE Discounts
Another fake stuff for PSMJ...
As you can seen in the screenshots above, they keep saying that they have a special offer in your country, for my case Singapore.
The reality is that this discount or special offer is available anywhere in the world and the country they show will just changed according to your location.
And you need to be aware that this is just a downsell technique.
4. FAKE Income Proofs
Even the income proof they show you is fake in my opinion.
The screenshot below shows the PayPal account balance for the alleged owner of PSMJ, Annie Jones. But the name it showed was "Kate Jones".
Not only that, this is just a PayPal account balance. It doesn't show any transactions. The owner of this can just deposit this amount into her account and claim that this is her profit, right?
After so many fabricated stuffs, it's really not surprising to have another fake income proof!
5. 'Pay-to-Play'
Like I've mentioned earlier, if you have the skills, you can easily become a freelance social media manager leveraging platforms like Fiverr and Upwork for FREE. You don't have to pay PSMJ in order to find clients and job opportunities for you.
Just think about this as a normal job application. Do you need to pay someone or some platform in order for you to find employers? NO!
Then why are you paying PSMJ to find freelance work opportunities?
Ok, I get it. Maybe the cost of this product is more about paying for the training.
6. Low Earning Potential
I'm not saying being a social media manager has a low earning potential. Again, if you have the skill, you can earn a pretty good income because companies need you.
However, I believe you're not going to earn a lot of money by following PSMJ's training if you're a beginner. If you're experienced, you don't even need PSMJ to find jobs.
Another thing I want to mention is this thing called "income calculator":
Basically, it allows you to calculate how much money you can potentially make with their product depending on:
How many social media jobs will you do each day?
Average amount of earned for each job and
How many days a week will you be doing jobs?
I've seen a lot of product owners trying to use this income calculator to mislead people into the earning potential of their product.
To be honest, this is not realistic at all. You wouldn't know how many social media jobs you'll have each day and how much you can potentially earn.
The hidden psychological message behind this calculator is that they want beginners to have the impression of the more time and work you put into this product, the more money they can earn.
But that's not true. Because if you don't have the skill, you won't be able to do any of the jobs.
I've heard people saying that they can't find a single job in a week simply because they're not eligible.
So if you ever see this kind of income calculator in the future, please be careful. Just know that it's a strategy the seller is using to mislead people.
Another Shocking Discovery!!
I've reviewed another low quality product called AppCoiner before. It is using the exact same income calculator as PSMJ:
And the design of their websites are very similar. Despite not exactly the same, the design elements on both of their homepages are very similar, such as the top sticky ribbon asking you for your Email address.
In PSMJ, it said "We need more Paid Social Media Workers! Enter your email to join".
In AppCoiner, it said "We need more Paid App Testers! Enter your email to join".
If these are not created by the same person, it's impossible to have such coincidence!
As for AppCoiner, the founder is unknown as well. So I'm quite sure AppCoiner and Paid Social Media Jobs are created by the same person!
I believe this has not been exposed by any other reviews out there as well.
7. Keep Dropping Price
Currently, Paid Social Media Jobs is priced at $27 with a downsell of $17 at the point of this writing. But the price is not always the same.
In fact, if you've checked out some older reviews, you'll see that PSMJ used to cost $77 in the beginning. Afterwards, it dropped to $47 and it's now $27.
So what can this indicate?
I believe it is a sign that this product is not performing well at such a high price. That's why the owner keeps dropping the price.
8. Unknown Founder
The founder of PSMJ is said to be Annie Jones according to the sales video. But I've seen way too many products which simply use a fake fictitious character as the owner of their product.
In the case of PSMJ, this Annie didn't introduce herself properly throughout the sales funnel and there's no where to find out more about her. That's why I'm suspecting Annie Jones is another fictitious character for this product.
I don't have any proof for that but it's just my intuition based on my experience.
Is Paid Social Media Jobs a Scam?
No, I believe Paid Social Media Jobs is not a scam. It is promoting a legit business model and they have some decent training. So in that case, it's definitely not a scam per se.
However, that doesn't mean I recommend this product.
I DO NOT recommend Paid Social Media Jobs because I don't think it's the right product to help you become a profitable social media manager.
Instead, look at the alternatives I've listed below...
Paid Social Media Jobs Alternatives
1. Fiverr & Upwork
Like I've mentioned a few times in this review, Fiverr and Upwork are 2 very popular freelancing platform.
If you have the skill, simply go to their respective websites and create a seller account. You can become a freelance social media manager for FREE.
Don't waste your time and your money on Paid Social Media Jobs.
2. Job Listing Platforms Online
Another alternative is to utilize the online job listing platforms like Indeed.com, JobStreet.com or even LinkedIn.
There are tons of social media manager job opportunities online and you just have to find the most suitable one for yourself.
The advantage of these job listing platforms and Fiverr is that there are more reviews, ratings and job information than the marketplace within Paid Social Media Jobs.
So it's much easier to find the most suitable ones for you.
If you're really interested to become a social media manager and make a living from it, I would suggest you to check out this very in-depth and comprehensive guide called "How to Become a Social Media Manager from Home?"
Social Media Manager is a legit job but I really don't recommend it.
The reason is very simple. It's not a passive income source!
You're here looking for make money opportunities because you not only want more money but more time for your family, for yourself and for the things you want to do.
So, if you want to become a social media manager, you're still trading time for money, which will never allow you to achievement time freedom.
My top recommended way to make passive income online is via Affiliate Marketing.
In Affiliate Marketing, you're building your own "Online Asset", which is your website. Your website can be working for you 24/7/365, right?
Humans need to rest but websites don't. Not only that, you can be running your business all over the world thanks to the Internet.
That's why I really love this business model.
In fact, with affiliate marketing...
I've personally created a 4-Figure Monthly Passive Income Stream and become financially independent at just 21 years old without any College degree or working experience!
Through my own hard work, I went from a broke restaurant waiter to living my dream laptop lifestyle in less than a year's time...
If you want to discover the secrets of how I did it at such a young age, click here!