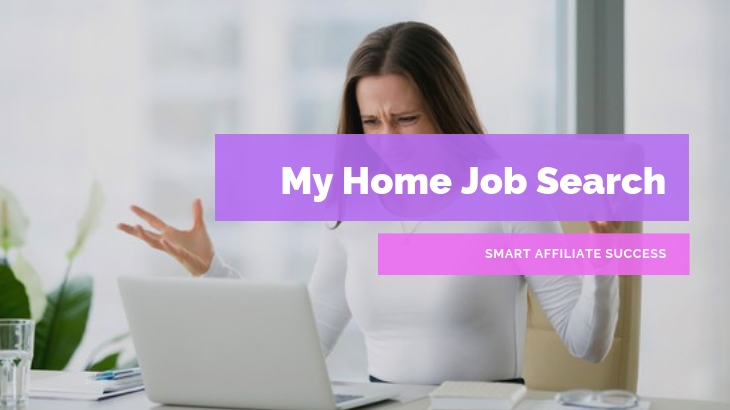 Is My Home Job Search a Scam? Not As Legit As You Think!
Welcome to my My Home Job Search review!
There are plenty of opportunities to make money online, and one of them is by doing remote jobs or tasks for legitimate companies.
And you can easily find these jobs through various platforms.
One of them is My Home Job Search.
But is it as legitimate as advertised, or is there something going on with the program?
First of all, I must Congratulate you for taking your time to do your own research before buying into any "seemingly good" product.
That's the way to avoid scams and find the legitimate way to make money online!
Let me be completely transparent with you, I'm not associated with My Home Job Search in any form.
So, rest assured that I'm not here to pitch or sell anything to you.
Instead, I'm here to reveal what's wrong with this program and why it's not worth your time at all.
My Home Job Search Review Summary
Product Name: My Home Job Search
Founder: Michael Anderson
Product Type: Work-At-Home Jobs Listing Site
Price: $99 one-time fee to access all features.
Best For: NO ONE!
Summary: My Home Job Search presents itself as a jobs listing site that provides you with different work-at-home opportunities from various companies. But it's far from what it promises because there are several things wrong with the program that make it very QUESTIONABLE. They're hiding behind a fake owner and they're using fake testimonials to make themselves look legitimate, which are two red flags that should tell you to stay away from this program. I don't know what they're hiding and I don't know what they try to accomplish, so it's not really a program I'd recommend!
Rating: 10/100
Recommended: No!
More...
What is My Home Job Search?
My Home Job Search is a platform that allows you to locate real work-from-home jobs near your area.
Founded by Michael Anderson in 2016, My Home Job Search acts like a search engine that claims that it's different from other work at home job sites by providing them with "approved" jobs.
The so-called benefit here is that you are guaranteed that the companies you're getting in touch with, and vice versa, are legitimate and actually exist.
My Home Job Search also claims that it only works with employers with proven track records of paying their employees.
From the looks of their website, everything looks professionally made and it seems that there are 498,000 people who like them on Facebook, but I find this quite dubious.
Because when I tried to click the LIKE icon, it turned out to be nothing more than an image.
This is already a red flag for me, and I'm not even past the landing page.
Inside My Home Job Search
Contrary to what the site is claiming, they are pretty much like any other job search engine.
My Home Job Search first allows you to start searching for jobs by asking you to enter your zip code.
Then you are asked different questions about your desired salary and then the number of hours you're able to work.
After you're done answering, you'll then be asked to sign up for their membership to access their job board.
This is where you'll find the prospective jobs and access additional resources to help you land a job, supposedly.
You'll also be asked to watch a sales video where they try to convince you to pay for a Platinum Membership, which costs around $99 (one-time fee).
I'll go over their membership tiers in the next section.
Within the dashboard, you'll also find links to try and get you to join paid survey sites such as Survey Junkie and MySurvey, as well as outsourcing sites like Fiverr
I found these completely out of place because this is a site that's supposed to help you find a job, and I don't think answering surveys is considered a job.
Within your member's area, you'll also find the Jobs Listing Section, which will contain a list of real jobs and will take you to legitimate sites such as ZipRecruiter.
But the jobs listed are not work-from-home jobs, which I found odd because wasn't I supposed to find jobs to allow me to work from home?
Apart from that, the jobs listed are for people who only live within the USA.
I'm Jerry!
I Created My Own 4-Figure Monthly Passive Income at just 21 Years Old!​
How To Get Started With My Home Job Search?
My Home Job Search has two different pricing options that's going to dictate what you're accessing within the site.
Depending on the package you choose, you may not have access to all of the features.
Below is a list of the different membership options.
Basic Membership
The basic membership package is FREE
Allows you to search from certain categories, such as paid surveys and writing jobs.
Gives you access to additional resources for finding jobs.
Premium Membership
One-time payment of $99, or $29 when it is on sale.
Access to all features of the site
Access to all jobs within the Job Listings
Dedicated customer support for premium members.
Who's My Home Job Search For?
At this point, there are already a few things that didn't exactly sit well with me.
As much as it's professionally advertised, there's no one that I'd recommend this program for, and I'll tell you why in the next section below.
My Home Job Search Ugly Truths Revealed!
#1 – The Owner Doesn't Exist!
When you sign up, you'll be taken to a sales video hosted by the owner, Michael Anderson.
As it turns out, Michael Anderson does not really exist.
The photo he uses on the site is nothing more than a stock photo, and he may not actually be the owner of My Home Job Search.
If the platform is legitimate as advertised, why hide who's the owner? Or why hide behind a fake person?
#2 – Available Jobs Are Just Programmed!
Technology can be misleading, and in the case of My Home Job Search, they are manipulating how their results show on their results page.
No matter what zip code you use for the sign-up process, it will always tell you that there are jobs in your area.
But they programmed it in a way that the results are not based on actual jobs, but just enough to keep you interested and make you pay the $99 fee.
#3 – Fake Testimonials?! Really?
As if the other BS wasn't enough, you also have the problem of fake testimonials that are on the page.
These testimonials are supposedly from real people, but in reality, they're nothing more than someone writing something good about the site and hide behind a stock photo.
If that's not enough, you'll find that the same stock photo is used on another testimonial from another site but with a different name.
Again, proof that the testimonials in My Home Job Search are fake.
What I Like About My Home Job Search?
There's just nothing positive worth mentioning about My Home Job Search, and that's because the disadvantages are already convincing enough that it's worth no one's time!
Is My Home Job Search a Scam?
My Home Job Search looks legitimate, but there are just some things about the site that doesn't sit well with me.
I don't really see the reason why they're using fake testimonials and hiding behind a fake owner to make themselves, apart from making them look like a scam.
While it links to other legitimate make money online sites throughout the dashboard, it doesn't mean that My Home Job Search is automatically legitimate.
So, I can't recommend this program to anyone who wants to make money online by doing remote tasks.
How I Make a Living Online?
I've personally created a 4-Figure Monthly Passive Income Stream and become financially independent at just 21 years old without any College degree or working experience!
Through my own hard work, I went from a broke restaurant waiter to living my dream laptop lifestyle in less than a year's time...
If you want to discover the secrets of how I did it at such a young age, click here!