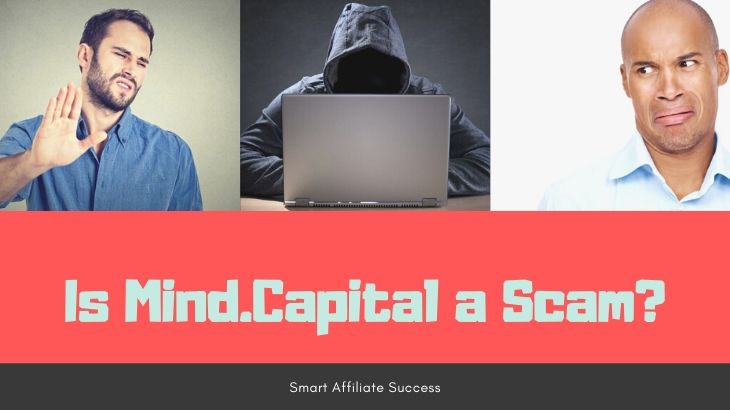 Is Mind.Capital a Scam? You Could Go to Jail Just By Joining!
Welcome to my Mind.Capital review!
Cryptocurrency MLM's are popular these days, not because they're profitable but because some companies want to take advantage of how people don't know about them.
Some MLM companies go to the point of making a mumbo-jumbo compensation plan, a few promises of profits here and there, and voila! You got yourself a "legit" crypto MLM program.
Today, we're reviewing Mind.Capital.
First of all, I must Congratulate you for taking your time to do your own research before buying into any "seemingly good" product.
That's the way to avoid scams and find the legitimate way to make money online!
Let me be completely transparent with you, I'm not associated with Mind.Capital in any form.
So, rest assured that I'm not here to pitch or sell anything to you.
Instead, I'm here to reveal why you could go to jail just by joining this program!
Mind.Capital Review Summary
Product Name: Mind.Capital
Founder: Gonzalo Garcia Pelayo
Product Type: Cryptocurrency MLM
Price: $100 to $100,000 investment
Best For: No one
Summary: Mind.Capital is a cryptocurrency MLM that has you investing in their trading bot that doesn't even exist. They're committing security fraud because they're not regulated with any financial institution. This, on top of their red flags for being a Ponzi scheme, is the reason why I can't recommend this to anyone.
Rating: 1/100
Recommended: No!
More...
Mind.Capital is a MLM or multi-level marketing company that markets a daily ROI when you invest in their cryptocurrency trading bot. They use Bitcoin as their main currency. As of this writing, there's no mention of any other crypto being used for their trades.
The owner of Mind.Capital is Gonzalo Garcia Pelayo. The company is based out in Madrid and claim that they have offices but there's no address listed on their website.
The owner claims to be a gambling expert who made a fortune by beating the roulette table. Other than that, there's no other information about Pelayo outside of Mind.Capital.
Does this mean that this person might not exist? There's that possibility. He could be just hiding behind an alias.
Mind.Capital Product Line
There's no solid product or service that you're buying into when you join Mind.Capital. This is how their program works.
You invest your money into their trading bot. Then you get your daily ROI's based on your investment. The more money you invest, the higher your daily ROI.
At least this is how they market their program.
But you know what I call their program? Check out the answer below.
Does The Product Work?
A PONZI SCHEME!
A Ponzi Scheme is defined as a business scheme that misleads investors as to where the revenue is coming from.
I've reviewed many different crypto MLM's and all of them say that they have secret bots, algorithms, and even top brokers that allow them to get high returns.
This is always never true for two reason:
These companies never prove that their revenues come from trading because they aren't registered with regulatory bodies that require them to do so. This allows them to make unjustified claims without being liable for it.
Their source of income will never come from trading or their advertised method. It will come from people investing into the program. The more people you recruit under you, the more secure your source of income is.
Eventually, Ponzi schemes unravel when there are no more people underneath the pyramid (a.k.a. the lowest tiers are no longer able to bring in new people, so they don't have any source of income anymore). As the lowest tiers start to crumble, it won't be long before the entire thing follows.
How To Make Money with Mind.Capital?
Supposedly, you can make money with their compensation plan:
ROI Commissions
Recruiting Commissions (MLM)
How To Get Started with Mind.Capital?
Your minimum investment to get into the program is $100, with a maximum investment of $10,000. You'll need to use a credit card for your investment, and not a bank account. I don't know why they do this, but let's just play along for now.
Your investment is then converted into BTC and then invested into their trading bot (again, allegedly)
Mind.Capital Compensation Plan
Their compensation plan is about 13 pages long with lots of graphs and charts. But in summary, there's only two ways for you to make money.
ROI or Returns on Investment
You get an ROI of 0.05% to 1.5% for your investments, from $100 to $100,000.
Recruiting Commissions (Unilevel)
This follows a unilevel compensation structure where your recruits are immediately placed under you as the first level.
The second level of your comp plan will only hold 1 team member that your level 1 member recruits, and so on.
This has a total of 10 levels and also allows you to earn a certain percentage of their income based on their level. The higher the level, the higher the percentage income.
So technically, if you have filled all 10 levels, you have a strong source of income (supposedly).
Mind.Capital Ugly Truths Revealed!
#1 Unrealistic & Non-Existent Profits
One tell-tale sign that their investment program is a rip-off is that it guarantees a daily ROI of 1.5%. Now it may not sound a lot of money, but in case you don't know, this is what the monthly ROI of legitimate companies provide you with, but not on a daily basis.
Their investment system is based on trading, so there's always a chance that trades can lose money too. More importantly, there's no way to ever guarantee your returns. Legitimate trading platforms don't even do this. On contrary, they even advertise that trading is a risky venture and that there are chances that you're going to lose money.
As far as I'm concerned, the profits that you're supposedly generating for the business comes from the money of the people you recruit into the business.
#2 Mind Capital Referral Program – More Lies!
Their referral program is also complete BS because they mention that if we convince 10 people to invest their money into the program, we'll get a cut of the action.
Their referral program is actually their compensation plan in action, so it doesn't sound like a MLM business proposal.
We know for a fact that these commissions are never paid out, so there's just no way you're going to make your money back.
#3 Obviously a Pyramid Scheme
The only way to make money from their program is to recruit people, and nothing more. There's no money to be made from trading because their trading system is non-existent. There's no trading algorithm.
All profits come from recruiting. Eventually this company will collapse, rebrand, and then remarket itself.
#4 No Regulations
The founders and owners of Mind.Capital are also committing securities fraud and other criminal activities because they aren't regulated by any financial institution.
Which means that if you promote this program, you also get in trouble and may end up in jail.
What I Like About Mind.Capital?
This is just an obvious pyramid scheme, and I don't like this program at all. It just takes advantage of people who don't know anything about cryptocurrency.
Mind.Capital is another one of those illegally operating cryptocurrency MLM companies that hide behind a legitimate business program.
In reality, they're nothing more than a Ponzi scheme because of their recruitment-based incentives. More importantly, there are other red flags that I discovered about the program:
They're not regulated by any financial institution so they're free to commit anything without being liable.
Because they're not regulated, they're committing securities fraud. If you promote this program, you can also get in trouble and could land some serious jail time.
There's no way to make money from their program. PERIOD.
Stay away from this program at all costs!
How I Make a Living Online?
I'm not a fan of MLM, not because it's illegal or not profitable, but because of all the restrictions and the expensive costs involved.
Instead, Affiliate Marketing is my top recommended business model for anyone to make money online.
The reason is simple...
You don't have to recruit anyone to make money
You have the freedom to promote any products you want and not being restricted to only promote the products from one MLM company
It's Free to get started
In fact, with affiliate marketing...
I've personally created a 4-Figure Monthly Passive Income Stream and become financially independent at just 21 years old without any College degree or working experience!
Through my own hard work, I went from a broke restaurant waiter to living my dream laptop lifestyle in less than a year's time...
If you want to discover the secrets of how I did it at such a young age, click here!