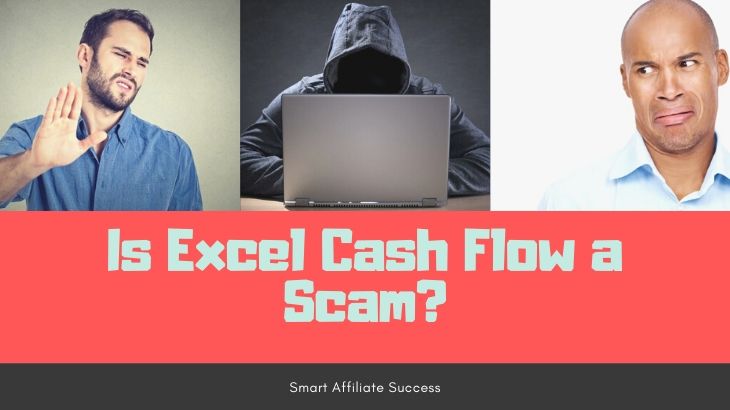 Is Excel Cash Flow a Scam? It's Another Work-At-Home Scam!
Welcome to my Excel Cash Flow review!
One of the biggest scams going on in the Internet right now are these work-at-home scams, aimed at housewives, househusbands, and even college students who just graduated from college.
The scams are similar in more ways than one, like they're built out of a template. It starts off with a sad story of how the owner lost their job, then discovered a loophole/exploit/secret in the Internet that allows them to make tons of money. Now they want to share this to you.
Sounds familiar?
This is Excel Cash Flow.
First of all, I must Congratulate you for taking your time to do your own research before buying into any "seemingly good" product.
That's the way to avoid scams and find the legitimate way to make money online!
Let me be completely transparent with you, I'm not associated with Excel Cash Flow in any form.
So, rest assured that I'm not here to pitch or sell anything to you.
Instead, I'm here to reveal why this scam is awful and why you should avoid it...
Excel Cash Flow Review Summary
Product Name: Excel Cash Flow
Founder: Debbie Jones
Product Type: Work-at-home opportunity
Price: $97 one-time fee
Best For: No one
Summary: Excel Cash Flow is a work-at-home opportunity that scams people, and some of their customers actually came forward. We've uncovered several red flags that prove it's a scam too. One of them is its use of fake owner information, which we all know is a common MO for these scams.
Rating: 1/100
Recommended: No!
More...
Excel Cash Flow is a work-at-home opportunity that allows you to earn up to $370 a day. On their landing page, they tell you that there are limited positions available in your area but they are running out fast.
As you explore their page, you'll find out about how their system works. The job has you posting links on the Internet and BOOM! Instant CASH FLOW!
Sounds easy, right? Well, that's how the program was designed according to its creator, Debbie Jones. She claims that she's behind the industry-wide acclaimed "Wealth Development Certification Program" which allows you to tap into this billion-dollar industry.
The whole concept of their program, like many other scams before it, is that you can earn a lot of money online as long as you purchase what they're promoting.
The sales pitch and story from Debbie makes the entire thing appealing to someone who has no clue on how the industry works.
They even try so hard to look legit that they have their own calculator to figure out how much money you can make, as seen below:
But of course, everything is a lie. Link posting is a dying industry and has been this way for quite a while now. Contrary to what the program states, companies are no longer interesting in getting people to post their links.
Links have lost their value over time because Google no longer rank sites according to the number of links going to them. Because the demand isn't that high, you won't get paid a lot of money for this program.
Sure, you might earn a few cents here and there, but not $20 per link. That's just absurd.
In addition, Excel Cash Flow only credits your earnings if the link you post stays in the page, which it won't most of the time. After all, if you're posting links to sites that are poor in quality, you can expect those sites to take down any other link.
I'm Jerry!
I Created My Own 4-Figure Monthly Passive Income at just 21 Years Old!​
The Same Sad Story
Debbie Jones, the creator of the program, writes about how she's lost her source of income on their landing page and how she's gone through months of not having to earn any money.
She then found out about this link posting gig that's allowed her to earn up to hundreds of dollars a day, and now she's sharing the program to you.
Truth be told, her story is similar to the other stories written in a lot of these scams. Here's the actual template:
Creator loses their job
Creator has difficulty supporting family
Creator stumbles across an exploit/loophole/secret on the Internet
Creator is now earning millions of dollars
Creator wants to share this program to you
If you look at these other scams that we reviewed, you'll see what I mean by "using the same sad story".
Training Tools and Overview
Based on their sales pitch, you're going to through some training where you learn everything you need to know about link posting.
Unfortunately, you're probably getting outdated information and will contain generic and ineffective way of creating an online business.
Customer Support
As expected, their customer support is horrible. Once members are lured into joining their program and they realize they've been scammed, they'll be met with a brick wall as they try to reach out to the owners.
Unfortunately for the customers, they're not getting any response or any form of support from their customer service department.
How Much Does The Program Cost?
As a special sign-up bonus, you also get a free one-on-one consultation with an Internet Wealth Expert. The program costs $97, which is a one-time fee. If you're lucky enough, you get it at a discounted price of $77.
Who's Excel Cash Flow For?
Excel Cash Flow is clearly a scam, and it's not meant for anyone. We'll go over the several red flags that we uncovered in the next section below.
Excel Cash Flow Ugly Truths Revealed!
#1 Fake Media Attention
The video at the top of the sales page is a paid-for-infomercial that ran late nights in NBC many years ago. You may have seen this ad once or twice 7 years ago, like I did on more than one occasion.
This clip has been used and reused by these scams because it talks about how people are making money online.
It's worth noting that the clip doesn't mention any program in particular at all, but only focuses on the fact that a lot of people are making money online and how legit the industry is.
#2 The Testimonials Are Fake!
In the landing page's sidebar, you'll find a list of testimonials, supposedly from their successful members who earned thousands of dollars by posting links.
But they haven't done a good job at editing these testimonials because it's clearly cut-and-pasted from another scam called Home Income System
We're also going to guess that the photo of Sarah and Luke is nothing more than a stock photo too.
#3 The Presumed Creator of Excel Cash Flow is a FAKE!
Debbie Jones is not Debbie Jones. She's actually Camie White, and she's created another business.
Or is Camie White Debbie Jones? Are you confused as I am right now?
The person on that photo is neither Debbie or Camie. That photo is from a stock photo site called Shutterstock.com and you can look at it using stock #51827662.
#4 Owners Were Caught By The FTC!
In February of 2019, two people were caught by the FTC for running various "work-at-home business opportunity" scams.
Gregory Anderson and Garrett Robbins made several millions of dollars running programs such as Online Cash Commission, Excel Cash Flow, and others.
The FTC and the defendants reached a settlement after the latter promised to pay $10.9 million. But unfortunately, the defendants are unable to pay the amount so the money is in limbo right now.
What I Like About Excel Cash Flow?
There's nothing I like about Excel Cash Flow. It's a BS program that's preyed on a lot of novice Internet marketers and it's a scam.
Is Excel Cash Flow a Scam?
Without a doubt, Excel Cash Flow is a scam. I can't recommend this program to anyone because we uncovered the red flags:
Fake testimonials were used to make you believe other people were making money
Fake owner information so they don't have any legal liability
The FTC caught them and their actual owners, so they clearly did something wrong.
Stay away from this program!
How I Make a Living Online?
I've personally created a 4-Figure Monthly Passive Income Stream and become financially independent at just 21 years old without any College degree or working experience!
Through my own hard work, I went from a broke restaurant waiter to living my dream laptop lifestyle in less than a year's time...
If you want to discover the secrets of how I did it at such a young age, click here!