6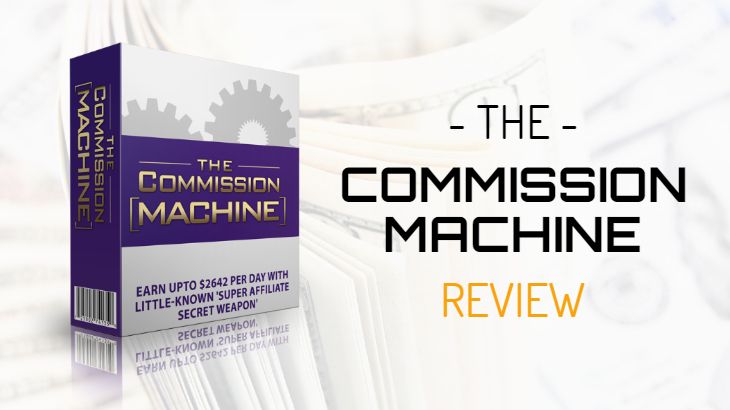 Is Commission Machine a Scam? (Earning $2K Per Day is Impossible)
​Michael Cheney, the creator of The Commission Machine, claimed that if you purchase his Commission Machine course, you can make up to $2642.60 PER DAY, even if you're a complete newbie without any money, experience and Email list.
Well, that's a very bold claim and I can immediately point out one totally unrealistic claim...
How on Earth can a beginner pay for your course when you say they can start making money even if they don't have money?
Pretty contradicting, right?
You may be thinking that I'm just looking for a bone in an egg. But I just hate internet marketers who like to sell this kind of false hopes to innocent people.
I know having lots of hype doesn't mean this program is a scam.
So, is Commission Machine a scam? Let's dive right into our CM review...
Commission Machine Review Summary
Product Name: Commission Machine
Founder: Michael Cheney
Product Type: Affiliate Marketing & Email Marketing Video Course
Price: $47 + Upsells, downsells & recurring fees (I'll explain in the full review below)
Best For: Affiliate Marketers with a little bit more experience
Summary: Commission Machine is just a video course teaching people how to write effective Emails and promote affiliate products from JVZoo. But it doesn't provide any training on traffic generation and tools to help you create your own landing page/funnel. It's really hard for beginners to execute the things taught in the course and actually make money.
Rating: 47/100
Recommended: No
More...
What is Commission Machine & How it Works?
Commission Machine is a 7-module video course teaching effective email marketing and how to monetize your Email list via Affiliate Marketing, more specifically affiliate products from JVZoo.
If you're not familiar with this process, here's a quick flowchart to help you understand how to make money with Commission Machine:
Firstly, you need to create a landing page to collect your visitors' Email address. Michael will teach you briefly on this but he doesn't provide you with the necessary tools you need to create your landing page.
After you have your landing page in place, you'll drive traffic to this landing page.
Again, Michael will briefly touch on driving free traffic from places like Facebook but in my opinion his method won't work (I'll explain later).
And he clearly missed out a huge part about other free & paid traffic generation method.
Next, once your visitors sign up to your Email list, you need to send automated follow-up Emails to build trust and relationship with your prospects.
Michael focuses a lot on how to craft high-converting Email copies so you'll get a lot of useful information on this part about following up with your potential customers.
However, you still have to invest in a 3rd party autoresponder in order for you to send automated Emails.
Lastly, you will send promotional Emails to your subscribers and promote them affiliate products from JVZoo. You'll earn commission once they purchase any products through your affiliate link.
For this part, Michael will teach you on how to find profitable affiliate products to promote and offer you Email templates to sell them to your prospects.
This is basically the whole process of how Commission Machine works.
Now, let's investigate further...
I'm Jerry!
I Created My Own 4-Figure Monthly Passive Income at just 21 Years Old!​
The Commission Machine Sales Funnel
Here's the sales funnel that no other review will show you. Some of them may mention to you the upsells but never really show you how the entire funnel looks like:
If you want to purchase Commission Machine, on the surface it costs $47 (not $19.95 anymore). That's their front end offer, which is the 7-module video course I'll explain in more detail later on.
Immediately after you've purchased the front-end offer, you'll be bombarded with their first One-Time-Offer (OTO) called The Golden Ticket.
OTO 1: The Golden Ticket
This is a membership product which costs $27/month or you can pay $197 for lifetime access.
Basically, with this membership, you'll have access to Michael's monthly LIVE webinar where you can see how Michael creates his commission "machine" LIVE. (The Commission "Machine" actually refers to the sales funnel set up for your Email Marketing and Affiliate Marketing campaign)
On top of that, you can get a monthly Done-for-You sales funnel created by Michael.
Personally, I think this is much better than his 7-module video course where everything is just theory.
Downsell
​If you pass up their first OTO, you'll immediately get this downsell offer for The Golden Ticket.
Now, The Golden Ticket only costs $17/month or $124 for a lifetime access.
The downside for the downsell is that you can only view webinar recording and not the LIVE webinar.
OTO 2: Commissionology
​They will immediately present you their second upsell even when you've passed up the previous upsell and downsell, which is pretty annoying.
Until now, you still can't view the actual membership dashboard and course content.
Their second upsell is a $97 Done-for-You service.
In this upsell, you'll get 7 DFY sales funnels that are ready for you to deploy immediately. Also, you'll be provided with all the messages & Email templates as well as some bonuses.
They say you can directly copy these templates and use it in your own promotion. But I highly doubt you can achieve a decent result by just copying the default templates.
In my opinion, if you really want to get Commission Machine, you should get the downsell offer because having a ready-make sales funnel allows beginners to have a much higher success rate.
What's Inside The Commission Machine?
Now, after understanding what you should be expecting with CM, it's time to know exactly what's provided inside your Commission Machine video course...
The 7-module course is as follows:
Module 1: Introduction (3:11)
Module 2: Research (28:28)
Module 3: Angle (24:10)
Module 4: Providing Incentives (23:24)
Module 5: Messages (46:53)
Module 6: Deploy (28:43)
Module 7: No List Method (13:38)
The number inside each bracket is the length of the video training. If you add everything together, the total length of the training is just 2.8 hours. (less than 3 hrs!).
How much content could you expect to learn in 3 hours? Not very much I'm sure.
My Top Recommended affiliate marketing training has more than 50 core training lessons and it takes weeks or even months to complete the training because there are actual tasks for you to complete in each lesson.
Michael has a name for his method to make money online, which is called the R.A.P.I.D method.
This is an acronym for:
Research
Angle
Provide Incentive
Deploy
Step 1: Research
For research, Michael will teach you how to choose profitable affiliate products from JVZoo to promote.
One thing I don't like here is that he recommends you to promote internet marketing & Make Money Online products because he said they are the most profitable.
I don't really agree with him on this because whether a product is profitable depends on how you promote it.
I don't understand why he stick to only JVZoo when there are so many different affiliate networks and affiliate programs out there.
Step 2: Angle
Angle basically means your positioning. Michael will teach you how to position yourself and your offer so that you can grab your buyers attention and hook them into buying your offer.
For this part, he'll show you case studies and his Email templates since he is the master in this.
Step 3: Provide Incentive
Think about this... There are so many products out there. Your customers can buy from anywhere they want. They can even purchase the product without your affiliate link.
How to make your affiliate offer irresistible then?
This is when you need to provide incentives for your potential customers to buy from YOU instead of other places.
Can you recall all the different BONUSES when you want to purchase something? That's the incentive for you to purchase things from that particular seller.
This is where Michael will teach you how to create your own irresistible affiliate offer.
Personally, I think this is quite useful because not many affiliate marketing training will teach you on this.
Step 4: Deploy
This part is where you need to take actions and start creating your own sales funnel.
This is also when you need to get your own 3rd party tools such as your autoresponder. In his course, Michael recommends you to get the autoresponder from GetResponse.
To be honest, these concepts are very basic for more advanced marketers. If you've some experience in Email marketing and affiliate marketing, you probably won't learn anything much.
What Michael do differently is the way he named his method using some cool acronyms which can capture some people's attention.
But the main concept is still the same.
Who is The Commission Machine For?
I'm quite confused on this myself because it doesn't seem to be suitable for anyone.
Let me explain...
On the surface, it looks like it's more beginners because Michael claimed that even newbies without any experience, money and list can start making money with his method.
This is true when he offers step-by-step training that is suitable for beginners.
However, like I've explained earlier, you need to have some experience in order to effectively implement the concept taught by Michael because he doesn't provide you with any tools and resources to build your own funnel.
He only gives you the theory. Only if you purchase his upsells, you'll then have ready-made funnels to start running your business.
I hope this make sense to you and it's not very complicated.
All in all, Commission Machine is not really suitable for anyone unfortunately.
The Good
1. Step-by-Step Training
I like Michael's step-by-step training because he makes the concepts very clear for beginners to understand.
Surprisingly, the video quality of his course is also not bad and the way Michael presents is just very appealing.
2. Michael Knows His Stuff
If you've taken a look at his Commission Machine sales page, he bragged a lot about how he won all the contests with well-known internet marketers like Anik Singal, Omar Martin, John Thornhill, etc.
And from what he taught, I know this guy knows his stuff. What he taught regarding Email Marketing & Affiliate Marketing works in real life.
But it's just not the kind of 'get rich quick' scheme he has been boasting about.
By the way, if you truly want to learn about Email Marketing, I think Anik Singal's Inbox Blueprint is much better than Michael's Commission Machine.
Go check out my Inbox Blueprint review here.
3. 30-Day Money-Back Guarantee
I think this needs no further explanation. You are backed by a 30-Day Money-Back Guarantee.
Commission Machine is a JVZoo product, not a ClickBank product. So you don't have to worry about the troublesome ClickBank refund process.
---
The Bad
1. Endless Hype & Testimonials
Having lots of hypes and false hopes is the one thing I hate the most about this program.
If you've seen CM's sales page, you'll know what I'm talking about. Throughout the whole sales page, all Michael did was creating hype.
He used a ton of testimonials from his students and bragged a lot about his own successes and how easy his method is.
What more shocking to me was that he never mentioned a single thing about how his method works. He only said he has this R.A.P.I.D income formula that is working like crazy.
Seriously, can you tell me more about your product so that I can make an informed decision about whether to purchase it?
Needless to say, Michael is a proficient marketer and he knows how to use marketing psychology to lure innocent people into purchasing his products just by showing all the hype and testimonials.
But I hate it a lot and I'm sure many of you feel the same way as well.
2. You Still Need a List
Remember Michael mentioned in the beginning that even complete newbie without a list can still benefit from his course?
But the fact is that Commission Machine still focuses on Email Marketing.
Michael did teach a little bit about how to start building your own list but the training is just too little and too basic.
His module 7 is called the "No List Method" but it only consists of a 13+ mins video. All he taught was how you can utilize Facebook to get leads and sales even if you have no list.
3. Hidden Costs
Like I've mentioned, you still need to invest in your own 3rd party autoresponder and whatever tool you need to build your own landing page and funnel.
Commission Machine doesn't provide you with any of that.
Not only that, they have some immediate upsells as well!
P.S. This program that has enabled me to generate a 4-Figure Monthly Passive Income at just 21 years old is FREE to get started and only cost $49/month fee to go full-time!
4. No Traffic = No Business
Michael doesn't teach you anything much about driving traffic to your sales funnel yet traffic is the most important part of any business.
If you don't have traffic, you don't have a business. Simple as that.
5. No Website?
Sometimes, you can make money with just one single landing page. But that's not easy.
I believe having a website of your own (like the one you're looking at right now) is still the most effective way to do Email & Affiliate Marketing.
Your website is your online asset but Commission Machine doesn't teach you anything about building a website.
6. High Refund Rate
As you can see in the screenshot above, the refund rate for Commission Machine's front-end offer is 13% which is considered really high.
This shows that quite a number of people dislike the product and are taking advantage of the refund policy.
7. Michael Teaches The Wrong Thing!
Look at this screenshot! This is one of the slides in Michael's training.
He teaches us to send messages daily and "Always be selling". I was like What The Hell?! What's wrong with this guy?
This is a totally wrong concept. If you're an internet marketer or you're running any business, you'll know that this method of constantly selling doesn't work.
Instead, we need to "Jab, Jab, Jab, Right Hook", like how Gary Vee suggests.
This means that we need to keep offering value to our potential customers and build relationship before we sell them anything.
Sometimes the selling can even come naturally when your customer trust you a lot and they just want to give you money to thank you for helping them so much. This does happen!
If you're always selling, you're most likely going to fail miserably. That's for sure...
---
Update: Commission Machine SPAMs!
One of the reasons I came across Commission Machine is because I received A LOT of spams from them. Even till today, I'm still receiving lots of spam comments from CM.
Let me show you...
I received a lot of comments like these on my website.
These comments may look like organic comments on the surface. But if you look closely, you'll see that all of them are actually from the same IP address. This means that they're sent by the same person.
However, this person is using different names and Emails to submit this comment.
What's the purpose of doing this?
Well, look at the website URL this person is attaching to his/her comment. Those are links to Commission Machine's landing page:
Can you see what they're doing now?
I believe these comments are done by Michael's student. He simply taught them to spam people's website with comments using different names and Email address.
Do you think that's the right way to go?
---
Is Commission Machine a Scam?
Well, Commission Machine is not a scam because it has some quality training and what Michael taught in his videos are strategies that work - List building, Email marketing & Affiliate Marketing.
The problem with CM is that the course is not comprehensive enough and it didn't cover some of the very important aspects, such as traffic generation and how to build your own landing pages & funnels.
Only if you purchase his upsells, then he will provide you with the funnels (Michael called it "Machine") which he has created for you to start running your own business.
In a nutshell, Michael only teaches you the "theory" of how things work but he totally missed out on the practical part of how to actually execute and run your business.
That's why I said beginners will definitely get lost and not sure how to continue even though they've completed the course.
If you're more experienced, you may find that some of the information is helpful and can be applied to your own business. But the course itself may be too basic for you.
Other than that, I don't see any reason for anyone to join this product which is full of hype.
A Much Better Way of Making Money Online...
Yes, I agree that the things Michael taught in his course works because I'm also doing Email Marketing & Affiliate Marketing personally.
But I don't think you can drive a car on the road by just reading through the driver's manual without practical driving lessons, right?
That's the case for Commission Machine. Michael gives you the driver's manual but doesn't teach you how to actually drive.
On the other hand, Wealthy Affiliate is the platform which not only teaches you how to drive, but actually provides you with all the driving kits and even GPS to help you drive smoothly to your destination.
The best part about Wealthy Affiliate?
You can test-drive for FREE before investing any real money.
Wealthy Affiliate is the platform that taught me everything about affiliate marketing and allowed me to have such a professional website like what you're seeing right now.
It's hard for you to even build your own landing page with Commission Machine...