1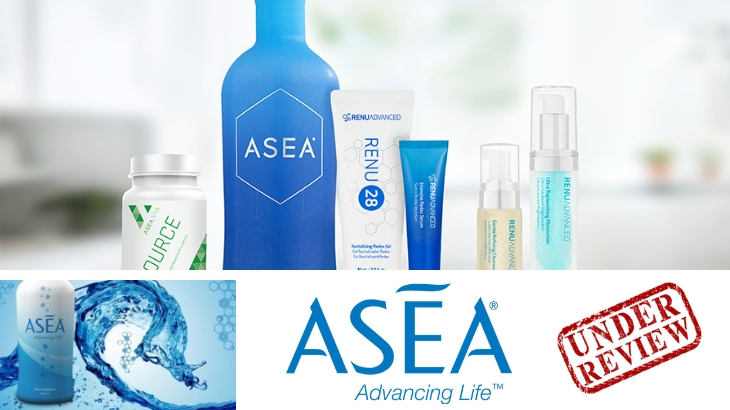 Is ASEA a Scam? It's The Miracle Water That No One's Actually Buying!
Welcome to my ASEA review!
This is an MLM company that sells one of the most basic commodities on Earth: water. But their product also comes with a twist. 
And I am referring to ASEA!
First of all, I must Congratulate you for taking your time to do your own research before buying into any "seemingly good" product.
That's the way to avoid scams and find the legitimate way to make money online!
Let me be completely transparent with you, I'm not associated with ASEA in any form.
So, rest assured that I'm not here to pitch or sell anything to you.
Instead, I'm here to reveal the details behind ASEA's business opportunity and their intriguing product line. 
Is ASEA a scam? 
We'll find out in this article...
ASEA Review Summary
Product Name:  ASEA 
Founder:  Verdis Norton
Product Type:  Proprietary Blend of Salt Water and Skin Care Products
Price:  $120 to $770 for Starter Kits, plus Monthly Autoships
Best For:  People who can sell or market expensive bottles of water
Summary: ASEA is an MLM company that sells bottles of salt water and skin care products. But despite being a company that's marketing a revolutionary product, their business opportunity is anything but decent, which is why I can't recommend it to anyone. First, their website doesn't have enough information about their product or the program for that matter. Second, their product is nothing more than a glorified bottle of regular sports drink. Lastly, there might be possible side effects due to the sodium content (and I'll explain in this article).
Rating: 40/100
Recommended: 
More...
Their main headquarters is located in Salt Lake City, Utah, home of other MLM giants like Nature's Sunshine, DoTerra, and Young Living.
ASEA launched their products in 2009 and right now, they boast of having 30,000 associates globally.
In 2015, ASEA and BioAgilityx formed a partnership, where The Bio Lab is used to bring validity to their product claims.
ASEA Product Line
Unlike most MLM companies, ASEA only has two main products that they are currently marketing. These are ASEA Redox Supplement and Renu 28.
1. ASEA Redox Supplement - $35 per bottle
ASEA Redox Supplement is what they call their miracle water, or water loaded with salt and other minerals for added nutritional benefits.
Its benefits include:
Cell protection
Increased cell rejuvenation
Increased athletic performance
Increase cellular communication
2. Renu 28 - $45 to $50 (on Amazon)
Renu 28 is their skincare product and provides users with the following benefits:
Decreases eye wrinkles
Improves facial skin texture
Increases your skin's smoothness
Increases skin's elasticity
Increases skin's moisture
ASEA also created a plan that their customers can follow to get the most out of their saltwater and skin care products.
This means that you have to continually invest in these products in order to remain in the system, or you have to market this well to your customers so they continue to invest in them.
But the big question here is: are they willing to shell out thousands of dollars on products?
Training Program
When you sign up for ASEA , you're automatically invited to attend their training programs (but at your own dime).
These training programs are mostly focused on professional development and are held in different venues or through an online webinar.  
Here are their 4 training programs:
Envision – An annual 3-day event where you get to meet with experts and the company's executives. The program also covers leadership skills and business plan creations.
Base Camp – Only open to Bronze Executives and above. This is mostly focused on team management, plus access to weekly webinars.
ASEA Ascent – Focused on how to make your business better.
Diamond Summit – Conferences held in luxury resorts in Hawaii. Usually a one-day event, half of it for conferences and half for chilling at the beach.
Does The Product Work?
So, basically you're paying around $30+ for a bottle of sea water.
For that price, I'd expect it to work like it's supposed to. But upon further research, I was very disappointed.
Or in this case, these customers were.
Now, I can assume two reasons why their bottle of sea water doesn't work.
It could be just a bottle of sea water with nice packaging, according to reviewer Faith Pablona.
It could be just Placebo, as pointed out by reviewer Paola.
These reviews may be legit or may be fake, but I can't prove either of them at this time.
If you need to read online reviews about ASEA , take these reviews with a grain of salt (pun intended).
I'm Jerry!
I Created My Own 4-Figure Monthly Passive Income at just 21 Years Old!​
How To Make Money With ASEA ?
ASEA is still a MLM business, and the opportunity they provide its members can have them earning money by:
Selling products and earning commissions
Recruiting people
And like other MLM's, ASEA markets both products and business opportunity via:
Word-of-mouth marketing
Social media marketing
You've probably seen one of their ads or products online or someone close to you may have told you about them.
How To Get Started With ASEA?
To get your business started with ASEA, all you need is to purchase one of 4 product packs.
ASEA Advancing Life – 1 Case of Asea Redox for $120
Basic Plus – 2 Cases of Asea Redox for $240
Builder – 4 Cases of Asea Redox for $370
Express Builder – 8 Asea Redox of Asea for $770
Each case contains 4 pieces of 32 fl oz (947ml) bottles of ASEA Redox, so you're paying around $30 per bottle.
But if you're purchasing the Builder or Express Builder, the bottles average around $23 to $24 per bottle.
You make better margins if you purchase more cases, but it's going to be expensive. 
But if you're looking for better margins online, I would invite you to come check out this step-by-step guide on affiliate marketing. 
Autoship Requirements
To get into their compensation plan, you'll need to maintain a minimum of 100PV every month, which is just one case of their ASEA Redox.
Your earning potential will also be limited if you don't maintain 200 PV each month.
This is why ASEA enrolls you into their Autoship program so their associates never miss a qualification period.
Looks more like a trap to me.
ASEA Compensation Plan
And then a leg's team is built with the same way, and goes on infinite levels.
Here are the highlights of how you can earn via their compensation plan:
Retail Commissions – A retail commission of $30 for every sale of a $150 case of their products.
Preferred Customer Bonus - $25 earned for every case when Preferred Customers sign up for autoship
Fast Start Bonus – Bonus is given out to members who personally sponsor their new recruits during the enrolment process
Recruitment Commissions – A member who recruits a new distributor and purchases a product pack earns $20 per pack purchased by the new member.
AAA or (Affiliate Autoship Commissions) – Members get paid when their new recruits sign up for the autoship order.
Check Match Bonus – This bonus pays out a percentage of commissions earnt by a recruit's unilevel team.
Team Commissions – Build at least 300PV in your organization's left and right leg, and earn 10% of the volume of the lesser leg.
You'll find out more of their compensation plan in great detail by watching this video:
ASEA Ugly Truths Revealed!
#1 – Not Enough Information On Their Website
For a company that's been around for more than 5 years, there seems to be incomplete information on their products and their membership costs posted on their website.
And that's simply unacceptable.
How did I know that?
I simply visited their website and browsed a couple of pages.
If their visitors assumed that Renu 28 was their only product, they wouldn't be wrong to do so.
Because that's what it looks like on their site.
I clicked their Products page, and only Renu 28 was displayed.
There's no information about their flagship water product ANYWHERE on the site.
#2 – Expensive Bottle of Salt Water
For any MLM system, these expensive products aren't just priced that way because of their "proprietary ingredient" or anything.
It's mostly because companies want to earn bigger profits, but without adding value to customers.
Which brings me to my next point, what is the actual value of drinking a $35 bottle of salt water?
Oh it aids in cell rejuvenation and aids in recovery and improves athletic performance, according to their list of benefits.
To me, it looks more and more like a glorified bottle of Gatorade!
And look at the price difference! 
How can a $35 bottle of salt water compete with that?
#3 – Possible Side Effects With Sodium Content
Their Redox Supplement only has two ingredients, water and 123 milligrams of sodium.
That's 7% above the safe limit designated by the FDA.
While the side effects aren't that severe, new users would probably be susceptible to mild digestive upset, and even then these would be rare.
I'm pretty sure people aren't paying that amount of money just to get a possible case of upset stomach. 
#1 – Great Training Provided
I don't say this much, but MLM companies that provide the kind of training that ASEA gives it members is worth looking into.
And by worth looking into, I mean checking their reviews first before signing up for the program.
Based on the curricula, their training program looks to be solid and is aimed to help develop their members.
Again, you're paying for almost $200 a month to sell their products, so I'm pretty sure the company owes you that much in terms of teaching you how to become a better marketer.
ASEA is not a scam or a pyramid scheme. They are focused on recruitment, but the compensation is more on making sales than anything.
But even with direct sales as the major source of income, I cannot recommend their business opportunity to anyone.
First and foremost, they don't have enough information about their products or business opportunity on their own website. This is just absurd because this is a 5-year old company.
For anyone visiting their website for the first time, they'll come up with wrong assumptions about the company and the product. And there would be no one to blame except the company.  
Second, it's just an expensive bottle of salt water. As I explained earlier, what they're selling looks like a glorified bottle of any sports drink that'll cost significantly less than a liter of their salt water.
Lastly, there are possible issues with side effects due to the sodium content, which is about 7% higher than the recommended safe limit from the FDA.
The side effects are not that severe, but customers are not going to like it when an expensive bottle of water gave them an upset stomach.
On the upside of things, they do provide great training for their members, which is rare for any MLM company. This means that they do care about the growth of their members in the program.
This also means that members are adequately supported by both their sponsors and the upper management.
How I Make A Living Online?
I'm not a fan of MLM, not because it's illegal or not profitable, but because of all the restrictions and the expensive costs involved.
Instead, Affiliate Marketing is my top recommended business model for anyone to make money online.
The reason is simple...
You don't have to recruit anyone to make money
You have the freedom to promote any products you want and not being restricted to only promote the products from one MLM company
It's Free to get started
In fact, with affiliate marketing...
I've personally created a 4-Figure Monthly Passive Income Stream and become financially independent at just 21 years old without any College degree or working experience!
Through my own hard work, I went from a broke restaurant waiter to living my dream laptop lifestyle in less than a year's time...
If you want to discover the secrets of how I did it at such a young age, click here!
I'm Jerry!
I Created My Own 4-Figure Monthly Passive Income at just 21 Years Old!​