16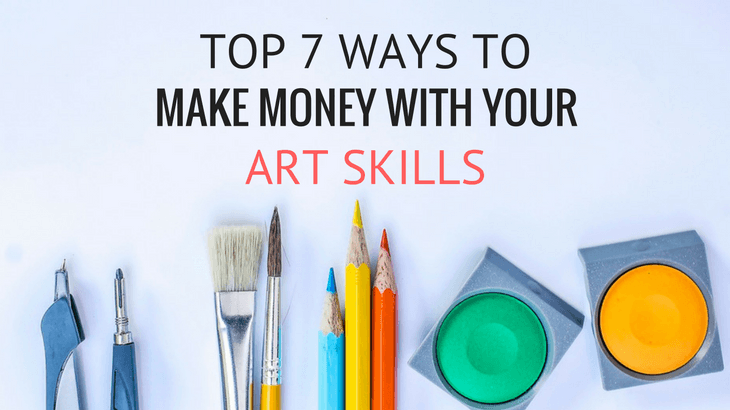 How to Make Money with Art Skills? 7 Ways to Make Full-Time Income
I'm not an artist. I don't have any skills in arts.
But I'm an internet marketer. I can help you turn your art skills into a full-time income online.
Actually, the story goes like this...​
I have a friend who is really good as sketching. I even asked him to help me sketch a photo of me and my girlfriend. (I'll upload the sketching soon.)
Since I'm an internet marketer, I realized that the sketching skills he has can really help him make a huge fortune online in today's world.
That's why I decided to write this post to help all the artists out there to make a good living online. This can also help those who are struggling to pursue their passion and make ends meet at the same time.​
More...
I'm not going to introduce you ways in which you can earn some "extra cash". I want to let you know specifically how you can earn a full-time income so that you can pursue your passion without the need to worry financially.​
Sounds great?​
In this post, I've compiled a number of ways an artist can make money online with their skills. I've categorized them into 7 ways and put them into details to provide clear guidance for artists to get started.
Let's quickly dive in to learn how to make money with your art skills...​
#1 Affiliate Marketing
There's 2 parts to affiliate marketing. Let me explain...
​1.1 Being an Affiliate
​Firstly, you can build a website of your own and blog things related to your art. This can be anything - art knowledge, skills, experience, review of accessories, etc.
(By the way, don't be scared by the phrase "build a website". You do not need to know any coding. Follow my guide on how to create a website for beginners in 30 seconds for this.)​
​With a website of your own and some content in it, you can sign up for affiliate networks like Amazon to promote art related products to your visitors.
Whenever a visitor purchases a product via your affiliate link, you make a commission. You don't have to produce your own product. You simply recommend the tools and accessories you use in your art work to your audience, simple as that.
There are tons of affiliate products online that you can recommend to your audience. If you are an experienced artist, you probably have many tools and accessories yourself to recommend to people who are interested in arts. This is how you earn commissions.
In fact, with affiliate marketing...
I've personally created a 4-Figure Monthly Passive Income Stream and become financially independent at just 21 years old without any College degree or working experience!
Through my own hard work, I went from a broke restaurant waiter to living my dream laptop lifestyle in less than a year's time...
If you want to discover the secrets of how I did it at such a young age, click here!
1.2 Being a Seller
Many people understand affiliate marketing in one way only, that is being an affiliate to sell other people's product and earn a commission from it. However, they forget about the other way round.
​If you want to produce your own art related products, you can also become the seller in this affiliate marketing model.
Once you have the product, put it on platforms like Amazon to let other affiliate marketers sell the products for you.​
#2 Sell Online Courses
Sean McCabe Interview - Online Course Success Story
Before I talk about the details for selling online courses, check out this interview by Pat Flynn with Sean McCabe to see how he turned his lettering skills into a full-time business online by selling online courses!
By the way, if you are wondering, this is "Lettering":
​Since you have the skills and knowledge in your area of art, you are able to teach a lot of people who are interested to learn.
​With the help of internet today, your teaching is not confined to only your region. You can reach a very huge audience worldwide via the internet.
Teaching online courses can be even more profitable today with the help of various platforms (e.g. Udemy, Teachable, Academy of Mine, etc) to help you market and sell your online courses.
Another benefit of online courses is that the course is there 24/7 for everyone who is interested on that platform to learn. So, you are definitely making a passive income by putting up courses online.
What you can teach is basically unlimited. There are people from all levels of expertise to learn online so you can create courses from the most basic to the advanced ones.
Just make sure you know your target audience well and create the course accordingly to achieve the maximum result.
One more thing is to think creatively in terms of your course topic, how you present the course and your approach.
The most common way to present an online course is in the form of video.​
#3 Create Membership Site
​This is still on the teaching theme but it's a bit different from the previous one.
You only receive an one-time payment for every person who purchases your courses on other platforms. By creating a membership site, you can earn a recurring income by charging your students a monthly fee.
This allows you to have a recurring passive income from every member of your site.
It can be more profitable but it definitely has its downside.
A membership site requires more technical work to maintain the site and ensure a good user experience for your members. Not only that, you need to have the tools and most probably an assistance to help you manage the growing number of members.
One very important thing of a membership site is that you need to constantly provide valuable information on your site so that your members will continue subscribing. If not, they will unsubscribe and leave.
So, creating a membership site may be more profitable but it requires a lot more work and care.
​For example, Matthew Archambault offers a monthly subscription to Drawing Tutorials Online. It is a membership site charges at $19.97 per month which has a lot of resources to learn drawing. There are also more lessons added each month to keep the members subscribed.
I'm Jerry!
I Created My Own 4-Figure Monthly Passive Income at just 21 Years Old!​
#4 Sell Your Art Work
When most people think about how artists make money, they immediately think of selling art work. This is the most common one people have in their mind.
However, in today's digital world, there are many ways to do this. Some of the ways even allow you to make recurring passive income from just one of your art work.
(There's a downside to this. The profit margin is lower compared to others.​)
Let me give you 2 examples:
​4.1 Stock Art
Just like stock photography, you can sell stock arts online. Whenever someone wants to use your art work, you get paid.
If you have some graphic design skills, you can even create illustrations for sale online which have a variety of uses.
Once your work is live online, you can earn passive income 24/7 just like online courses. But there are definitely hard works need to be done to make it a full-time income.​
A very good place for stock artists is iStockphoto. It allows contributors to upload 6 different types of files: photos, illustrations, flash, video, audio and logo.
4.2 Original Copy
This is very straight-forward. This means selling your own physical art work online.
There are a lot of places you can sell art online. For example, you can set up an E-commerce site to build your own brand and sell your art. This may take a longer time to see results but once you've built your brand, you gain the traction and it will start to take off.
Apart from your own website, there are a lot of platforms where you can sell on such as Amazon, Ebay, Etsy, etc.
#5 Sell Prints of Your Art Work
​You can turn your art work into physical products for sale. This includes T-shirts, cups, iPhone case, pillow, blankets, bags, etc...
There actually a lot of products can be designed with art works to make them unique and beautiful.​
What's even more exciting for artists is that there are plenty of platforms that help you handle all the manufacture​ and delivery process. This is a form of drop shipping.
What you​ need to do is just to sign up with these platforms and upload your art work to cooperate with these companies. You don't have to handle any actual products yourself. You focus on producing your art work, which is your passion.
Isn't that great?​
Below are 4 websites that I found to offer this kind of service. Different website has different pricing and rules. Just make sure you fully understand each of their rules before starting to avoid any issues.​
From my research, ReBubble's website is not fully secured by SSL so the transactions on the website may not be 100% secured. Go with the other 3 websites first.
(The downside to this point is also lower profit margin.)
#6 Licensing Your Art
​Licensing your art is somewhat similar to the previous point, just that the approach is slightly different.
Basically, licensing is to give permission to other people to use your image/art work on their work. And they will pay you in terms of royalties, which is the percentage or amount they need to pay you to use your art work.
This transaction happens usually between you and a company. What companies are generally looking for are themes that can be used across a variety of products. So if you are targeting this kind of business, try to produce a collection of art works that can be used widely.
Some individuals may also request the license of your art work in their personal works or advertisements.
The main difference between licensing and selling prints in the previous point is that the former is more passive while the latter is more active.
Licensing is a more passive process because it needs to allow companies and individuals to notice your good work before working with you. Definitely, this requires some active self-promotion before others want to work with you.
Whilst, selling prints is more active because you are actively uploading your art works for other companies to print and sell them.
(The downside to this is that cooperating with companies is more complicated. It involved more legislative issues and agreements to be made.)
#7 Write a Book​
Finally, the last method here is to write a book. It can be both a physical book or an eBook.
If you are an experienced artist, writing a book is another way to teach others apart from creating online courses.
You don't have to be good at writing. You can work with professional writers.
For eBooks, you can sell it directly on your own website if you have one. It allows you to have more control over sales.
If not, you can put it on Amazon and let Amazon and other affiliates to sell it for you. This links back to point 1.2 about being a seller in affiliate marketing.
For a physical book, you can let the publisher help you to edit and publish the book for your convenience.
Anyway, the main point here is that you have something to teach and writing a book regardless of physical book or eBook is just a way to reach your audience similar to online courses.
My Recommendations
After compiling all these methods, there are 2 methods that I recommend: Affiliate Marketing and Creating Online Courses.
The reason is simple. ​
Firstly, the potential profitability for these two is one of the highest​ because once you set up the foundation for these, they can run on autopilot.
For affiliate marketing, your website and recommendations are there 24/7, so do the online courses.​
Secondly, these 2 are easier to build. You may need to be a very experienced artist to write a great book but you don't need to be an expert to build a successful affiliate marketing business in the art niche.
Similarly, you just need some skills in certain area to create a profitable online course in that specific area.
If you have watched the interview video above, you can see how Sean turned his skills in lettering into a really profitable online courses business. The potential is there.
Learn to Build a Profitable Affiliate Marketing Business from Scratch
Learn to Create a Profitable Online Course
Conclusion
Being an artist today is much luckier than those in the past. With so many platforms and technologies, there are tons of way to make money from your own passion.
Today, it's totally possible to pursue your passion without the need to worry for money, especially in the online world.
There are many other ways to make money with your art skills such as freelancing and coaching 1 on 1. But those are active income.
In this post, I aim to offer you ways where you can build a potential full-time passive income from your passion.
Do take note that these are great opportunities for you as an artist, but there are definitely hard work involved in each of the opportunity before you can turn it into a full-time income.
No legitimate business can make you rich overnight. You need to take consistent actions and persevere.​
---
Thanks for reading!
I hope this has been a great guide for you to get started and choose your path wisely.
If you have any questions regarding any of the points or you have other suggestions, please leave them in the comments below and don't forget to share it with your friends who are pursuing arts as well!​