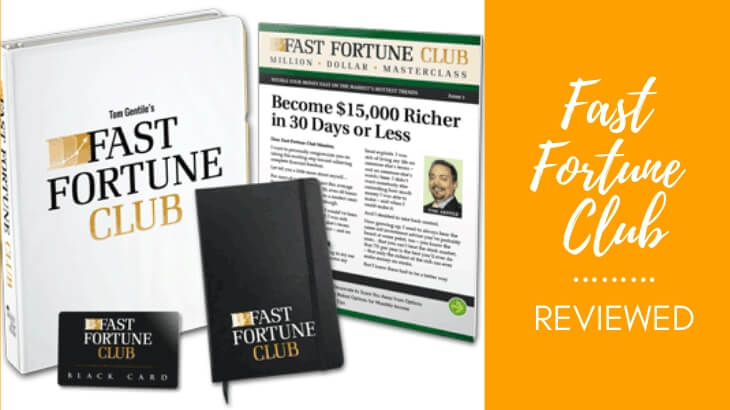 Fast Fortune Club Review – An Investment Newsletter REVIEWED!
Welcome to my Fast Fortune Club review!
This investment newsletter subscription claims that you can get rich with very little work done.
Is that the truth? Are you going to take his word for it?
Well, this is Fast Fortune Club.
First of all, I must Congratulate you for taking your time to do your own research before buying into any "seemingly good" product.
That's the way to avoid scams and find the legitimate way to make money online!
Let me be completely transparent with you, I'm not associated with Fast Fortune Club in any form.
So, rest assured that I'm not here to pitch or sell anything to you.
Instead, I'm here to reveal what this investment newsletter includes and if it provides you with anything of value!
Fast Fortune Club Review Summary
Product Name: Fast Fortune Club
Founder: Tom Gentile / Money Map Press
Product Type: Investment Advice Newsletter
Price: $599 per year
Best For: No one
Summary: Fast Fortune Club is an investment newsletter handled by Tom Gentile, who claims to be America's #1 trader. I'll just leave it at that. But despite the reputation, Fast Fortune Club is not something that I'd recommend. Apart from an expensive annual subscription, the parent company's reputation doesn't sit well with expert investors and its customers. Apparently, the bad reviews about the company's publications carries over to Fast Fortune Club's, and I find the quality of the program questionable.
Rating: 10/100
Recommended: No
More...
What is Fast Fortune Club?
Fast Fortune Club is an investment newsletter created by investor Tom Gentile, claiming to be America's #1 Trader.
I don't think that's true though.
The program kind of works similar to Lifetime Income Report in that it's a publication that comes from a parent company, Agora Financial.
Fast Fortune Club's parent company is Money Map Press.
I pointed that out because Money Map Press is also behind the program called Federal Rent Checks, which I reviewed earlier this week.
And that program was anything but legitimate as far as I am concerned.
Basically, you're just getting investment advice from someone who's claiming to be the top trader.
Who Is Tom Gentile, Anyway?
Well, he's a millionaire with over 30 years' experience trading in securities, stocks, futures, and options.
He's also the author of several books such as The Options Course and the Index Course.
But his claim to fame started in 1993 when he and a group of other people started a company called Optionetics, an options-trading education company which was sold to Charles Schwab in 2009.
That's all there is to him.
As mentioned in the introduction, you're paying for newsletters to give you advice on investments as well as market research and trading signals via your email.
But on top of the newsletters, you're also getting other products, which I'll list down below.
The Fast Fortune Personal Money Calendar: Tom shows you how to confidently predict simple options based on consistent trading patterns that have been around for more than a decade. By following the strategy, you can increase your profits when you invest. But of course, results will vary.
The First Fortune Payday Appointments and Alerts: These work hand-in-hand with the Money Calendar and will provide you with specific recommendations, instructions, and research to make the trades.
The Fast Fortune Million Dollar Masterclass: You get access to a monthly masterclass about different trading strategies, secrets, or techniques.
The Fast Fortune Club Quick Start Cash Course: A 7-part video that shows you the different types of trading, as well as learning about the terminology and jargon, how to set up an account, and so on.
The Fast Fortune Text Message Notifications: You'll get notifications sent straight to your mobile when FFC receives new information about stocks or trading in general.
The Fast Fortune Network: You'll gain access to their network of other members where you can share strategies, ask questions, and so on.
The Fast Fortune Progress Reports: You'll receive a progress report each week that shows you how all the recommendations are doing, and more importantly, how much money you're making.
The Fast Fortune Podcast: Every Friday, Tom Gentile records a podcast that plans out the mission for the upcoming week.
The Fast Fortune Roundtable: An online and live discussion where you can submit your questions to Tom and he answers in real time. It's kind of like an online Q&A, if anything.
The Fast Fortune Annual Summit: Tom sets up a training summit every year where members get a chance to mingle and learn from one another, and learn from the gurus behind the subscription.
I'm Jerry!
I Created My Own 4-Figure Monthly Passive Income at just 21 Years Old!​
How Much Does It Cost To Join Fast Fortune Club?
Agora Financial sells their newsletters for about $99 a year, which seems fair.
But Fast Fortune Club sells theirs at $599 per year.
I could argue that Tom provides more than just newsletters, but this is just way too much.
Who's Fast Fortune Club For?
For the price that you're paying, I don't think I can recommend this program to anyone, and I'll explain why in the next section below.
Fast Fortune Club Ugly Truths Revealed!
#1 - Parent Company Has Poor Reputation!
Money Map Press doesn't really have a good reputation in terms of what other investors think of it.
According to some of the reviews about the press, they just push products that are overly hyped but don't exactly work as they're marketed.
While this doesn't directly affect Fast Fortune Club, you can't help but think that maybe Fast Fortune Club may not be as effective as it's marketed.
#2 – It's Expensive!
If I wanted to learn something about investing, I'm pretty sure my money's better off with another program.
Sure, I'm paying $12 a month for investment advice and all of that, what if there's nothing of value that I can get for that period?
#3 – Investing Has Its Risks!
What you probably already know is that investing in stocks, bond, securities, futures, or currencies will always have its own risks.
You could make a lot of money in one day or lose it all the next day.
My biggest gripe here is that the platform seems intent on providing you with hype on making money through investing, but doesn't really cover the risks.
What I Like About Fast Fortune Club?
Quite frankly, I don't think there's something positive that's worth noting about Fast Fortune Club. And not because it's a scam or anything, but again, there are better platforms out there that provide guidance.
Is Fast Fortune Club a Scam?
Fast Fortune Club appears to be a legitimate investment newsletter and collection of products, if I may say so myself.
However there are certain things that don't quite sit well with me, so I don't recommend this program to anyone.
One of my biggest concerns here is that the parent company is known for its not-so spectacular quality for providing investment advices and publications, and Fast Fortune Club does seem to be affected by that.
Secondly, you're getting investment advice that's way more expensive than what you can research online.
If you're willing to pay more, then you'll probably want to spend your money on other programs because Fast Fortune Club doesn't really do anything apart from just telling you what to do.
How I Make a Living Online?
I've personally created a 4-Figure Monthly Passive Income Stream and become financially independent at just 21 years old without any College degree or working experience!
Through my own hard work, I went from a broke restaurant waiter to living my dream laptop lifestyle in less than a year's time...
If you want to discover the secrets of how I did it at such a young age, click here!