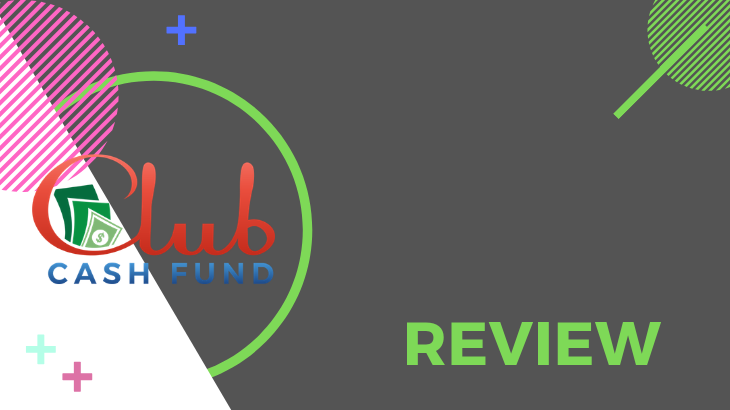 Club Cash Fund Review – A Cash Gifting MLM Exposed!
Welcome to my Club Cash Fund review!
All right, I've been receiving comments from different readers about when I'll do a review about this MLM program.
I didn't really pay attention to the program until I received the invite to join the program myself.
And so, I dug around and this is what I found about Club Cash Fund.
First of all, I must Congratulate you for taking your time to do your own research before buying into any "seemingly good" product.
That's the way to avoid scams and find the legitimate way to make money online!
Let me be completely transparent with you, I'm not associated with Club Cash Fund in any form.
So, rest assured that I'm not here to pitch or sell anything to you.
Instead, I'm here to reveal what this MLM company is all about and why it's a bad idea to invest in their program.
Club Cash Fund Review Summary
Product Name: Club Cash Fund
Founder: John "Chad" Stalvey
Product Type: Cash Gifting MLM Company
Price: $80 to sign up
Best For: No one.
Summary: Club Cash Fund is a cash gifting MLM opportunity that makes you think there's money to be made, but there's something about it that I can't put my finger on. Its business model is not sustainable in the long run, and it's reliant too much on recruitment that I won't be surprised if it gets flagged by the FTC as a pyramid scheme. Not worth your time.
Rating: 40/100
Recommended: No!
More...
Club Cash Fund is a MLM or multi-level marketing opportunity that focuses on direct mail cash gifting system.
What this means is that members who join the system send cash or money order in the mail in the hopes of receiving cash from other members who join after them.
Surprisingly, these schemes aren't exactly new nor are they exactly illegal. But it doesn't mean that they're legitimate business opportunities as well.
What makes Club Cash Fund different here is that there's some form of automation happening with the mailing sytem, which is designed to take care of everything so you don't have to.
And I'll get to how the system works in a while.
Who's The Owner?
Directly, you won't find any information about the owner or business model on the landing page.
But in one of the pages, you'll stumble across the owner's letter which then reveals his identity: John Stalvey.
This site was launched in October 2018, so it's relatively new.
Now, John Stalvey, or Chad Stalvey, first popped up on the MLM network through programs such as GiveOpp and Numis Network in 2010.
He then resurfaced by creating Infinite Leverage System and ran it through Streamlined Marketing Systems.
By 215, Infinite Leverage System collapsed and he launched Traffic Authority.
Traffic Authority collapsed in 2017 and got rebooted as Finish Line Network.
Now, he's gone and created Club Cash Fund.
Club Cash Fund Product Line
Club Cash Fund doesn't have any products to sell or to offer.
What it has is merely a gifting scheme that's as complicated as it sounds.
I'm Jerry!
I Created My Own 4-Figure Monthly Passive Income at just 21 Years Old!​
Does The Product Work?
I think the real question here is: Can You Make Money With Club Cash Fund?
The answer is yes, you can make money with schemes like this.
BUT…
If you're expecting to generate full-time income with this program, I hate to disappoint you but that's not how it works.
The sales pitch states that you "get $100 in your mailbox on autopilot" but it doesn't say that you get it NOW.
The second point that I want to make is that cash gifting via direct mail is not legitimate at all.
You're paying $80 for the purpose of qualifying for receiving gift payments from affiliates you recruit.
You're also earning these gifting payments across multiple levels.
I'm not saying that this is a pyramid scheme, but their business model alone is a HUGE RED FLAG according to FTC guidelines.
Not all MLM companies run pyramid schemes, and I hope you understand that.
How To Make Money With Club Cash Fund?
To make money with Club Cash Fund, you have to:
Sign up to qualify for cash gifts
Recruit people to join under you
Help people recruit under them to earn commissions
The bulk of your income comes from recruiting people into the program, which is another FTC red flag for pyramid schemes.
Again, I have no proof that Club Cash Fund is a pyramid scheme at this point.
How To Get Started With Club Cash Fund?
To join Club Cash Fund, you need to pay $80, which gets you into the gifting system.
Every time you recruit someone who pays the $80, you get $20 commission.
The remaining $60 goes to the one who referred you, and it goes on from there.
It sounds easy, but it actually isn't.
Club Cash Fund Compensation Plan
John Stalvey coordinates compensation through the website rotator system. This system is designed to take all of the member's referral links and divide them by everyone within the rotator.
This gives everyone equal opportunity to earn within the system.
So every direct and indirect referral gets you $20.
This is how their plan goes out:
Position 1: This is your current level, and you'll get $20.00
Position 2: Your sponsor would get $20.00
Position 3: Your sponsor has a sponsor too. So, they'll get paid $20.00
Position 4: Sponsors of your sponsors' sponsors get $20.
Position 5: The company receives $20.00
Still confused? I still am.
Here's a short video reviewing their compensation plan:
Club Cash Fund Ugly Truths Revealed!
#1 – You Need To Recruit A Lot Of People To Make It Worth Your While!
You need to recruit at least 4 people to recoup your initial $80 investment. And that's going to take a lot of work.
And you need to recruit more than that to start generating profit.
For me, that's not even worth the hassle when it comes to joining a program like this.
And to add, there's no fixed schedule as to when you get paid that $20 every time you recruit someone.
So, all that work for $20?
No thanks!
#2 – Not A Sustainable Business Model
The company's business model is not sustainable because people only get paid once after they sign someone up.
That's it. I am not entirely convinced that this is a MLM company at all because they don't have products to sell, and when this company shuts down for any reason, you stop making money.
#3 – Red Flags Of A Pyramid Scheme
I hate to admit it, but there are several red flags that it's a pyramid scheme if I were to base it on SEC guidelines.
Here's a short illustration on the telltale signs that the program you're joining might be a pyramid scheme:
But since they're not flagged yet by the FTC, I can't say that this is a pyramid scheme. But it has all the makings of one.
What I Like About Club Cash Fund?
There's just nothing about the site that's worth listing under this section. There's just a lot of things going on to the point that it doesn't make sense to even join this program to begin with.
Is Club Cash Fund a Scam?
Club Cash Fund is not a scam, but it definitely isn't doing something legitimate as well.
As far as I am concerned, it has the makings of a pyramid scheme due to its heavy focus on recruitment and that there's no physical product being sold.
Their business model is far from being sustainable and it takes a lot of work to even recoup your initial investment.
You can't make a full-time income out of this program, so I would stay away from this program.
How I Make a Living Online?
I'm not a fan of MLM, not because it's illegal or not profitable, but because of all the restrictions and the expensive costs involved.
Instead, Affiliate Marketing is my top recommended business model for anyone to make money online.
The reason is simple...
You don't have to recruit anyone to make money
You have the freedom to promote any products you want and not being restricted to only promote the products from one MLM company
It's Free to get started
In fact, with affiliate marketing...
I've personally created a 4-Figure Monthly Passive Income Stream and become financially independent at just 21 years old without any College degree or working experience!
Through my own hard work, I went from a broke restaurant waiter to living my dream laptop lifestyle in less than a year's time...
If you want to discover the secrets of how I did it at such a young age, click here!