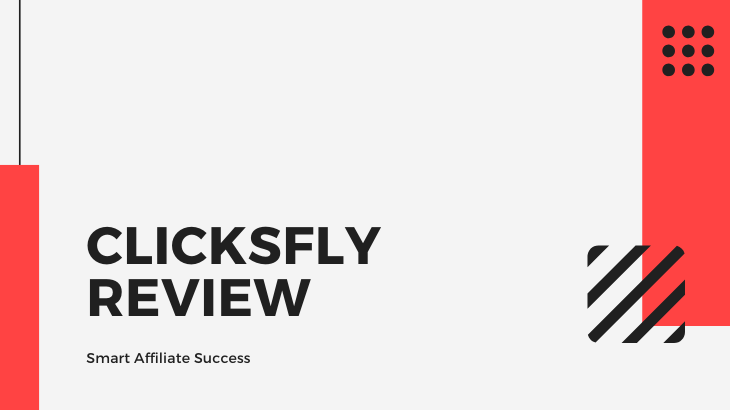 Clicksfly Review – Make Money By Shortening Urls?
Welcome to my Clickslfiyreview!
So, this program is probably one of the most unique programs we've ever reviewed this year.
This program pays you when you shorten a website's URL and if it gets enough traffic.
And we'll talk more about the program in this Clicksfly Review.
First of all, I must Congratulate you for taking your time to do your own research before buying into any "seemingly good" product.
That's the way to avoid scams and find the legitimate way to make money online!
Let me be completely transparent with you, I'm not associated with Clicksfly in any form.
So, rest assured that I'm not here to pitch or sell anything to you.
Instead, I'm here to reveal if this program is worth your time and effort, and if it can really make you some money...
Clicksfly Review Summary
Product Name: Clicksfly
Founder: Not Disclosed
Product Type: Get Paid To Shorten URLs
Price: Free to join
Best For: People with high traffic sites and content.
Summary: Clicksfly has you making money by shortening URLs. Every time someone uses your link and they view the ad, you get a percentage of the ad share. It's a legitimate program, but it's not something that I'd recommend. The income potential is low, and we're going to show just how much you're going to need to earn to get this cash.
Rating: 50/100
Recommended: Yes and No!
More...
Clicksfly is a URL shortener website where you can sign up for free and create short links to earn money.
The main concept of the program is you send people to a site, article, video, or anything with content using the Clicksfly shorten link, which then shows them ads before they get redirected to the link you shortened.
It sounds confusing, but the company is earning ad revenue from traffic you send them before they send the visitors to wherever it is you want them to send.
Now this isn't a new concept, and Clicksfly is a relatively new player in this paid URL shortener service industry.
They have one of the highest payouts in the industry, and that's according to their website. The income they get come from Google Adsense, so their capital is consistent.
The signup is very easy, you just have to click on the Register link on their landing page and enter your username, password, and email.
Then you have to read their Terms of Use document, which isn't a long read. It just tells you that you shouldn't shorten adult links, traffic exchange links, PTC websites, viruses and Trojan websites, bots, and other illegal sites.
How To Make Money with Clicksfly?
You want two things before you start making money with Clicksfly.
First, a site that gets a good source of traffic. As long as it doesn't violate their Terms, then you should be good to go.
Second, a good source of content where the shortened URL goes to.
For example, you could sign up for a forum and find a frequently visited or responded post and shorten it. Then you can share it to people who want to check it out.
You'll earn every time a person clicks on one of your links and a Google Adsense ad is displayed.
This can be replicated infinitely, so you'll earn different amounts of money depending on the country the click came from.
Each country has a different price per 1000 clicks, as listed below:
These are the current prices listed at the time of review, but it may be different when you view their website.
I'm Jerry!
I Created My Own 4-Figure Monthly Passive Income at just 21 Years Old!​
Clicksfly Referral Program
Clicksfly also has a referral program in place that lets you earn when you invite people into the program.
You get 20% of your referrals' earnings, which is kind of high.
Then you just have to convince people that the program is good and that people are getting paid, so they'll be incentivized to earn and you'll earn as well.
What Method Of Payment Is Accepted?
The minimum payout is $3, and they payout weekly or monthly, depending on your preference.
Their payment methods include PayPal, Bitcoin, Payoneer, Paytm (India), Bank Transfer (India residents only), Payeer, TEZ, and UPI.
This payout threshold is surprisingly low, given that it would only take you at least 1000 views to get the $3 minimum payout.
Are People Actually Making Money With Clicksfly?
If you visit their official website, you'll find a Payment Proof link at the top of every page. If you click on it, you'll see a list of payments made and the dates when the payment was made. The username and the amount paid are also displayed on this list.
The page is updated regularly it seems, and the amounts are fairly small. Majority of the payouts average at about $3, while I saw a handful of payouts reaching hundreds of dollars.
However, there's no way to gauge how long it took them to reach this amount, so there's that.
Clicksfly is a decent income opportunity, but it's not without its downsides. This program may not be for everyone given that you have to do a lot of things to get traffic flowing into your links.
With that said, if you know your way around links and some basic SEO, you could make this program work for you.
Clicksfly Ugly Truths Revealed!
#1 Low Income Potential
At an average of $3 per 1000 views, you're going to have to chunk out a huge amount of views if you want to earn thousands of dollars a month. Ideally you want to be sitting at 3000 views per hour if you want to go above an hourly wage.
I'm not saying that it's impossible, but it will be difficult. Unless you own a personal blog that can guarantee you 1000 views at any given time, the income potential won't change.
There's also the issue of different rates per country, so you'll have to be selective of where you want to get traffic from if you want to speed up your income faster.
#2 Quick To Ban Members
Their Terms of Use state that they're going to ban accounts if you ever redirect URLs to illegal or malicious sites.
With that said, they have a decent system in place that allows them to track and ban customers who violate the Terms of Use.
What I Like About Clicksfly?
#1 People Got Paid
The fact that people got paid and have proof of it means that the program's legit as far as I'm concerned. It's quite rare to see programs like these to pay their members, and I have not found any issue at all concerning delayed payments.
Again, the income potential is low but you're going to get paid.
#2 Customer Service is Attentive
Their customer service is attentive, meaning they're quick to address complaints. They're also going to throw what you do against their site if you do complain about getting banned, as seen in this example below.
So, it's a good sign that the bans they're carrying out are not arbitrary but rather based on evidence and user logs. If you do something bad, you're going to get punished for it.
Clicksfly is a legitimate platform with an average income opportunity. Sadly, the income potential is quite low, so don't expect to turn this into a source of full-time income.
You're looking at a few dollars a week, so don't quit your day job.
However, there's proof that people got paid and that their system is working decently so there aren't any complaints about this program at this time of writing.
How I Make a Living Online?
I've personally created a 4-Figure Monthly Passive Income Stream and become financially independent at just 21 years old without any College degree or working experience!
Through my own hard work, I went from a broke restaurant waiter to living my dream laptop lifestyle in less than a year's time...
If you want to discover the secrets of how I did it at such a young age, click here!