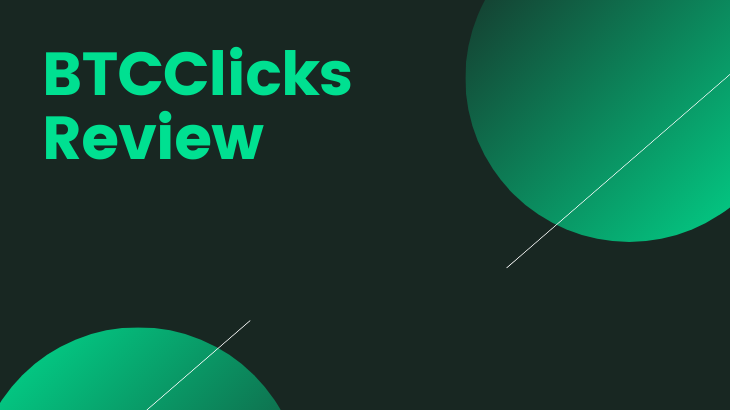 BTCClicks Review – Get Paid To Click on Ads? We Don't Think So!
Welcome to my BTCClicks review!
A lot of programs that we reviewed here on Smart Affiliate Success are GPT or Get Paid To Programs. But this one is unique for its own mechanics and payout system.
Let's talk about BTCClicks in this review.
First of all, I must Congratulate you for taking your time to do your own research before buying into any "seemingly good" product.
That's the way to avoid scams and find the legitimate way to make money online!
Let me be completely transparent with you, I'm not associated with BTCClicks in any form.
So, rest assured that I'm not here to pitch or sell anything to you.
Instead, I'm here to reveal if there's any money to be made here
BTCClicks Review Summary
Product Name:  BTCClicks 
Founder:  Not disclosed
Product Type:  Get Paid To Click on Ads
Price:  Free to join
Best For:  No one!
Summary:  BTCClicks is a GPT program that pays you to click on ads, but it only pays out with Bitcoin. It has terrible income potential so much so that it doesn't make it worth anyone's time.  Check out what we have to say about their program in this review...
Rating: 10/100
Recommended:  No!
More...
BTCClicks is a PTC or paid to click site where you click on ads and view them for about 10 to 20 seconds and then earn some Bitcoin for your time.
You don't really have to do anything with the ad except to open it. You're just basically looking at a website that the website owner wanted you to see when you click on their ads.
There's no cash to be made here, but you do earn with BTC or Bitcoin, which is a cryptocurrency that we've all heard at some point.
No information about the owner or company managing BTCClicks is posted on their website, but a quick WHOIS query shows that the website was created in 2013 and was updated in 2015.
BTCClicks works a lot like a GPT or Get Paid To program because you're getting paid to click on ads. Their program is straightforward and is easy to sign up for.
On their registration page, you simply have to sign up as Earner and provide them with your name, email, and other information.
There's no need to fill up anything for demographics, so you don't have to worry about wasting time on a long questionnaire.
Once that's done, you can now start earning money through their program and we'll explain that part next.
How To Make Money from BTCClicks
Option 1 – Click Ads
The main source of income here is to click on ads, and on this photo below, you'll see a sample dashboard of the ads that could show up at any given time.
Most of the ads will require you to open them for about 10 seconds while there are others that need 30 seconds or longer.
Once you click on an ad, it will open a new window and you have to view it for a set period of time. What most people do here is just leave the window open and then go do something else.
However, you should go back and check on it because there's a captcha code at the end of each ad and asks you to confirm that you're not a robot. Once the captcha appears, it's safe to close the window. You'll be credited the BTC value for that ad.
I'm Jerry!
I Created My Own 4-Figure Monthly Passive Income at just 21 Years Old!​
Option 2 – Referral Program
You can also earn through their referral program if you refer friends to their site.
You have to send them your referral link, which they'll use to sign up with and then they become your direct referral after they complete registration.
You can also post referral banners on your social media profiles to get people to sign up for. It.
Through the referral program, you earn 80% of their ad earnings that your referrals get. The percentage is pretty high, but it still depends on how active your referral is. There's no guarantee that you're going to earn money from this method.
To make thing s interesting, they also have a "rent referrals" system in place. This is a way for you to increase your earnings by renting a referral using the rewards you earned from clicking ads.
The referrals you rent are those members who've registered for the site without being referred by someone. They must also have clicked on at least 15 ads in the last 5 days to qualify as a referral.
How Do You Get Paid?
BTCClicks pays you in Bitcoin and no other currency. If you're not familiar with Bitcoin, it's a form of digital currency that's made headlines over the last few years due to its monetary value. However, don't get your hopes up.
For every you click, you earn mBTC or milliBitcoins. So you're earning in decimal places. The payout is 0.10000 mBTC which is roughly $1. This might be a pretty low threshold to reach, but this doesn't mean that all ads will pay out immediately.
There's no other payment method offered, so if you don't have a Bitcoin wallet, it doesn't make sense for you to join this program.
How Much Money Can You Make?
You won't be making a lot of money with BTCClicks, let me just say that right away.
Most of the offers pay at about 0.00005 and you need to get to 0.10000 to get to $1 payoff. You basically have to click and watch through 2000 ads or more to get to that payoff.
And 2000 ads multipled by 30 seconds is 60,000 seconds or 1,000 minutes, which is about close to 24 hours (24 hours = 1440 minute).
And then there's the issue of the being only able to click on a limited number of ads per day. So if you're able to just click on a finite number of ads per day, then that's going to take you a long time to get to the minimum payoff.
BTCClicks isn't that much appealing for those looking for a full-time source of income, but it does give you something to do if you're just mindlessly browsing the Internet.
BTCClicks Ugly Truths Revealed!
#1 Low Income Potential
The income potential for BTCClicks is low, and I understand this completely. GPT programs aren't meant to be sources of full-time income. We already showed you the math above, and it's not looking that great for this program.
#2 No Information About Owner
I don't like how there's no information posted about the owners on their website. They have a record of paying out users, which is great and all, but the secrecy is just too unnerving. This isn't something that I would trust immediately if I don't know who I'm working with.
#3 Bitcoin Only
You can only earn through Bitcoin, which is a negative in itself because there's no other way for you to make money.
You also have to jump through hoops to convert your Bitcoins into real money too.
#4 Limited Ads Per Day
The income potential is lowered even more because you can only view a limited number of ads per day. If you can only view up to 10 ads per day and you have to get at least 2000 ads to get to the payout, it's going to take you 200 days or almost a year to get through it.
What I Like About BTCClicks?
There's nothing about the program that I like.
BTCClicks is a legitimate PTC or paid-to-click program that pays out in Bitcoin if you click on their ads. Sadly, I don't want to recommend this program to anyone who's looking for a full-time source of income.
The income potential is terrible and we've shown you the math on how long it takes to get to the minimum payout threshold.
And the fact that you're only going to earn in Bitcoin means that you have to do some legwork if you want to get real money from it.
How I Make a Living Online?
I've personally created a 4-Figure Monthly Passive Income Stream and become financially independent at just 21 years old without any College degree or working experience!
Through my own hard work, I went from a broke restaurant waiter to living my dream laptop lifestyle in less than a year's time...
If you want to discover the secrets of how I did it at such a young age, click here!