2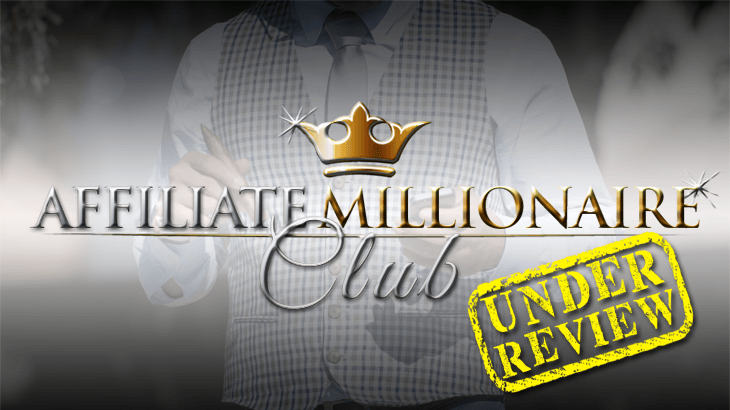 Affiliate Millionaire Club Review (7 UGLY TRUTHS Revealed!)
Welcome to my Affiliate Millionaire Club review!
First of all, I must Congratulate you for taking your time to do your own research before buying into any "seemingly good" products.
I'm not like any other "normal" marketers out there claiming things like "Read This Before Buying!".
So you know that I'm an authentic and no BS guy who's just trying to help.
And yes, I'm here to give you my honest review about Affiliate Millionaire Club. But more importantly, I'm here to reveal to you the UGLY TRUTHS about this product (with proofs!).
I'll do my best to make it well-worth your time. So, let's dive right into it...
Affiliate Millionaire Club Review Summary
Product Name: Affiliate Millionaire Club
Founder: First launched by Ahmed & Mo back in 2014
Product Type: Affiliate Site Builder + Training
Price: $47
Best For: The owners & probably affiliate marketing newbies
Summary: Affiliate Millionaire Club is a sub-par affiliate site builder with legit but very basic training which is not enough for you to really succeed with affiliate marketing.
Rating: 35/100
Recommended: No
More...
What is Affiliate Millionaire Club?
According to themselves...
"Affiliate Millionaire Club is a Revolutionary Software that builds custom websites around a particular product a customer chooses from our Private Marketplace. We have hand selected only the best products across all niches to ensure high conversion rates & low refunds for our uses. This is by far the easiest, best and most newbie (but advanced) affiliate site builder on the Market today!"
In short, it's a software which can help you build websites to make money from affiliate marketing.
That's basically it. But let's see how Mo, the founder, is trying to hype things up with all the unrealistic income claims and proofs in their sales video below:
Mo, the founder of Affiliate Millionaire Club claimed that he has been making millions of dollars online since 2011.
From the very beginning of the sales video, Mo said he has built an affiliate site for YOU (the audience) and you'll be able to start making money just by watching his presentation. (What?!)
Then, he showed some fake testimonials before showing you that you've just made $53 with the site he has just built for you without you doing anything:
Seriously, if you believe in this BS, then there's something wrong with you. You haven't even invest any of your time and money. Why would a stranger help you build your website and make you money?
That's not the end. He moved on to show lots of fake income proofs, fake success stories and unrealistic income claims.
For example, he said that he will do all the hard work and the heavy-lifting for you (standard scammy sales pitch!).
All you need to do is to invest a one-time fee of $47, pass him your personal info and wait for the money to come in.
Not only that, he said you can start making $1,200 a day from the very first day you sign up...
I must say this is complete BS and 100% hyped up sales pitch.
If you're really serious about making money online, stop chasing after "shiny objects" like this and start putting in real hard work by following the right system.
Let's face it, making money online is really not that easy. Stop dreaming about finding a magical push button and money will just appear in your bank account.
Back to this product, Mo even claimed that he'll cover all the costs including domain, web hosting, marketing expenses, etc. for just a one-time fee of $47.
Is it really true? Let's prove him wrong...
I'm Jerry!
I Created My Own 4-Figure Monthly Passive Income at just 21 Years Old!​
Haven't Made Your First $1 Online?
Studies have shown that more than 70% of the people who want to make money online have not made their first dollar yet. So you're not alone!
Wanna Check Out My Top Recommended Training?
Inside Affiliate Millionaire Club
1. Cookie-Cutter Website Builder
First of all, the main selling point for Affiliate Millionaire Club is their website builder.
All you need to do is to:
Choose the product you want to promote
Choose the domain name you want
Put in your affiliate link
Then, the software will help you build your website within minutes.
But the problem with this is that those are completely duplicated website. That's what we called the "Cookie-Cutter website".
Yes, you can have a website with your affiliate links to make money. But it's not gonna work with no originality.
2. Training
In fact, I was quite surprised that they actually have a set of training because in the sales video Mo claimed that all you need to do is to plug-in the system and wait for money to come in.
Their training comes in two forms - PDFs and videos. Below is an overview of the training provided:
The very first problem I realized when I first saw their training is that it totally contradicts with Mo's claim.
Affiliate marketing, list building, Search Engine Optimization (SEO), all of these requires A LOT of time and effort to make it work.
Mo can help you build your website but he cannot do all these other work for you.
Another problem is that the entire training is VERY BASIC!
For example, the each PDF only consists of a few pages with very introductory contents which are definitely not enough for you to start making money.
What are the Affiliate Products to Promote?
Since the first step is to choose the product to promote, you might be wondering what are the products you can promote.
Below are some of the product categories provided:
Arts & Entertainments
Betting Systems - Poker, soccer, etc...
Computers/Internet
E-Business & E-Marketing - Affiliate Marketing products
Games
Health & Fitness - Addiction, Diet & Weight Loss, Yoga, etc...
Home & Garden
Basically, ALL of them are just Digital Products taken from ClickBank.
For those of you familiar with ClickBank, you'll find the categories very familiar because that was directly taken from ClickBank's product category:
7 Affiliate Millionaire Club Ugly Truths Revealed!
Here comes to the most exciting part where ALL the UGLY TRUTHS are going to be exposed under the sun...
1. FAKE Testimonials
Just like many other scam products out there, Affiliate Millionaire Club is also hiring actors from Fiverr to come up with these fake testimonials:
These guys are not unfamiliar to me. In fact, I've seen them in other scam products like Click 4 Surveys.
Basically, these guys are poor and they need money. They've never tried any products. All they do is to offer freelance service on Fiverr for $5 or $10.
2. FAKE Success Stories
Again, Mo showed some fake success stories using stock photos online:
As you can see, he claimed that this guy named Tom made $1,330 a day from Affiliate Millionaire Club. But in reality, this is just a stock photo from Pixabay.
This one is even worse. He took a real photo from this person called Tricia Cusden, yet he claimed that she is "Lauren Clark" which is obviously a fake name.
Last but not least, another stock photo from another platform called DepositPhotos!
3. FAKE Income Proof
Next, what can an account balance show? It doesn't show anything.
Having a huge bank account doesn't prove that his method is really making money.
Do you know what's even worse about these screenshots below?
The truth is... These screenshots are fake. They Photoshop the numbers.
If you take a closer look, you'll find out that the fonts and sizes of those numbers don't fit the actual context. It's very obvious that they were being Photoshopped.
In PayPal, the real account will use the word "balance" instead of "money. And the numbers won't be in red!
4. No Traffic = No Business
Having your affiliate site set up is just the very beginning of your business. You can't make any money if you have no quality traffic to your site.
That's why I said all the claims Mo had made in his sales videos are not true.
Fortunately, there are some legit training on traffic generation inside the members area.
But from my experience, those are really not enough to get you real results.
If you go and invest in this product, you'll be struggling to get sales even though you have a website setup for you. That's the harsh truth!
5. Deceptive Sales Techniques
On the sales page, there are quite a few deceptive sales techniques being used, such as the use of fake scarcity and fake customers:
These techniques are very common among the scam products to scam innocent people's money.
6. Ads Everywhere
If you take a look at their members area, you can see lots of unrelated advertisements/banners all around the place.
This is not a free website or whatsoever. It's a paid platform. Why are you still putting all these unrelated Ads for your customers?
This just proves that Mo is just trying to make more money for himself. That's all!
7. Subdomain Website
Last but not least, Mo claimed that he will take care of all the website costs for you which is not really true.
If you're familiar with websites, you'll know that you need to pay in order to own your domain.
At Wealthy Affiliate, my top recommended affiliate marketing community, this normally cost around $14 to $16 per year.
Anyone tells you that you can have your OWN website for FREE, it's a LIE!
Free website only exists for Subdomain website, which means the website does not belong to you and you're just hosting on someone else's web hosting.
What I Like About Affiliate Millionaire Club
After exposing all the UGLY TRUTHS about Affiliate Millionaire Club, I guess it's time to talk about some of the good sides about this product because I'm an authentic person who always write balanced reviews.
1. Real Founders
Initially, I thought this was another product with fake and unknown founders like many other scams. Because the sales page and videos are all very misleading and Mo never even showed his face.
But I was wrong...
Upon further research, below is a photo of Ahmed & Mo, the founders of Affiliate Millionaire Club:
2. Legit Business Model
Another advantage of this product is that it is running on a 100% legitimate business model - Affiliate Marketing!
All the techniques being taught in the training are real as well. So this is definitely a good point we should acknowledge.
But my suggestion to you is still the same...
If you want to learn affiliate marketing, follow the step-by-step training at Wealthy Affiliate!
3. 60-Day Money-Back Gaurantee
Lastly, there's a 60-day refund period which means you can still get your money back if you realize this is not for you.
But the problem with refund policy today is that it's way too saturated and common. There are a lot of loopholes in it.
It's very easy for them to decline your refund request probably because you don't meet certain requirement.
So, that's something you should really take note!
Is Affiliate Millionaire Club a Scam?
No, I wouldn't say Affiliate Millionaire Club is a scam despite it's really scammy especially their sales video.
I wanted to say it's an outright scam in the beginning but everything turned around when I saw that they have some real training provided.
But I just want to say that if this product is really good, why do they need to hire actors and show all the fabricated testimonials, success stories, income proofs, etc...?
Real legitimate programs won't use such fake proofs simply because they have REAL proofs to show.
So my conclusion about Affiliate Millionaire Club is that it's just a subpar program to teach you the basics about affiliate marketing.
It's not comprehensive enough to make you real money. That's why they have to rely on fake testimonials things like that.
How I Make a Living Online...
I've personally created a 4-Figure Monthly Passive Income Stream and become financially independent at just 21 years old without any College degree or working experience!
Through my own hard work, I went from a broke restaurant waiter to living my dream laptop lifestyle in less than a year's time...
If you want to discover the secrets of how I did it at such a young age, click here!