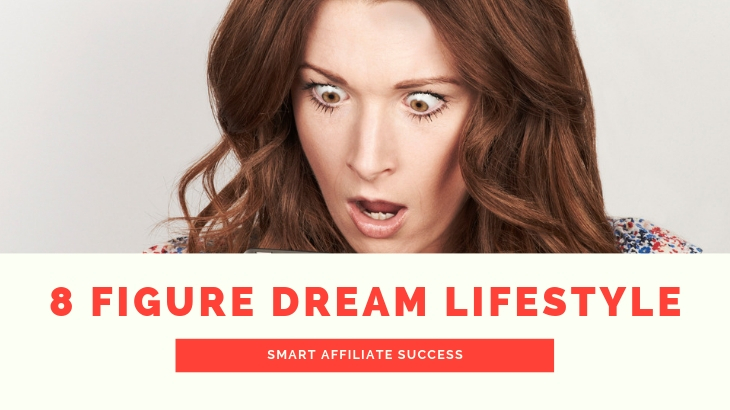 8 Figure Dream Lifestyle Review – A Possible Pyramid Scheme EXPOSED!
Welcome to my 8 Figure Dream Lifestyle review!
Sometimes, it's very easy to figure out if a program is legitimate or not through their names.
And if you were to judge this program by its name alone, you'd probably think that there's something going on.
And your hunch is probably right.
When you have a program called 8 Figure Dream Lifestyle, it doesn't do what it promises to do.
And here's why.
First of all, I must Congratulate you for taking your time to do your own research before buying into any "seemingly good" product.
That's the way to avoid scams and find the legitimate way to make money online!
Let me be completely transparent with you, I'm not associated with 8 Figure Dream Lifestyle in any form.
So, rest assured that I'm not here to pitch or sell anything to you.
Instead, I'm here to reveal what this program has, and why I think it's safe to conclude that this is a pyramid scheme.
8 Figure Dream Lifestyle Review Summary
Product Name: 8 Figure Dream Lifestyle
Founder: Scott Miller
Product Type: MLM / Internet Marketing Platform
Price: $2000 to $22,000.
Best For: No One!
Summary: 8 Figure Dream Lifestyle presents a promising business opportunity but falls short of what it can deliver once you start to get into the details. The mere fact that it has the makings of a pyramid scheme is more than enough to dissuade me and a few others to not give this program a shot.
Rating: 1/100
Recommended: No
More...
What is 8 Figure Dream Lifestyle?
8 Figure Dream Lifestyle claims to be a MLM or Multi-Level Marketing program under the guise of an Internet Marketing platform.
The platform was developed by Scott Miller, who also happens to be the brains behind another ponzi scheme called TelexFree.
Now there's not a lot of information about what the company sells, which is completely weird for a MLM business because it's usually their main selling point on top of their compensation plan.
But as I investigated the program further, there were several red flags that were raised that just didn't sit well with me.
And I have no choice but to expose them all in this review.
Inside 8 Figure Dream Lifestyle
8 Figure Dream Lifestyle is a MLM/Internet marketing program that works similar to programs such as MOBE, and we all know how that ended.
What Are The Products?
Being a MLM program primarily, you'd expect the site to sell their products on their landing page but unfortunately, they don't do that.
You won't find any information about their products or services made available for purchase, and the only thing available for you to purchase are its affiliate memberships.
So basically, you're buying into an income opportunity and a training course that's supposed to
What's The Compensation Plan?
I mentioned the income opportunity is the only thing that you can purchase on 8 Figure Dream Lifestyle.
After you join the company as an affiliate, you'll be introduced into a unilevel compensation system through which cash gifting takes place.
This cash is gifted between members using a 1-up system, and there are 5 different tiers to choose from:
Tier 1 — $2000
Tier 2 — $3500
Tier 3 — $6500
Tier 4 — $12,500
Tier 5 — $22,000
Now, the first commission that you can earn through their cash gifting activities is passed through the person who recruited you.
The next commissions will then be given to you.
If you would like to keep all of the commissions you generate, you have to buy in at Tier 5, which costs you a whopping $22,000 so you don't have to pass all of your earnings to other members.
Another thing worth mentioning here is you can only earn through the tiers that you bought into.
If you bought Tier 1 for $2,000, you can only earn for that tier. So if your recruit buys a Tier 2, you can't earn their commission.
You have to purchase Tier 2 to get the commission.
I'm Jerry!
I Created My Own 4-Figure Monthly Passive Income at just 21 Years Old!​
How To Get Started With 8 Figure Dream Lifestyle?
So, you have 5 packages to choose from, and here's an individual breakdown:
Basic Membership – $2,000 plus $195 admin fee (Includes a series on meditation, marketing modules, flyers, law of attraction, self-esteem tips, and more).
Builder Package – $3,500 plus $295 admin fee (Includes training material for the fitness niche, how to lose weight, material on motivation, and more).
Advanced Package – $6,500 plus $395 admin fee (Includes 25 training videos on how to drive traffic to a sales page).
Pro Package – $12,500 plus $445 admin fee (Includes training on how to use YouTube for traffic, email marketing, list building, hosting webinars, and more).
VIP Package – $22,000 plus $495 admin fee (Includes "blueprints" for webinars, podcasts, video sales, email copy, and social media).
The packages, even at Tier 1, are very expensive and don't really offer that much for their price.
But if you look real close at what these programs have to offer, you can find the information for free ONLINE if you just know where to look for.
I signed up through a dummy email and I got an email by someone from the program and asked what level I would be interested in joining.
He then sold me more tools that he said I would need to run the business, and these aren't free.
Phone Dialer System – Pay as needed, $500/week on average (depends on how many leads you want to work with)
Texting System – Pay as needed, $50/month on average
Email (Aweber) – $19/month
Funnel/Website – $95/month
Virtual Assistant – $250/month
Right off the bat, you're going to have to invest a lot of money and all of your time into the program if you want to earn some money.
And believe me, you're only recruited to resell what you bought, which is similar to the MOBE, Digital Altitude, and Global Affiliate Zone scams that were all shut down!
Who's 8 Figure Dream Lifestyle For?
No one.
There's just nothing about this program that's even worth your time and money, and there are far more legitimate programs out there.
If you really want a good start on making money online, you can check out my step-by-step guide on affiliate marketing.
It will show you how to earn money online and what platform to use.
It's free and it doesn't require you to sign up for anything.
8 Figure Dream Lifestyle Ugly Truths Revealed!
#1 - It's Got All The Red Flags Of A Pyramid Scheme!
This is where things start to get shaky for 8 Figure Dream Lifestyle.
It's got all the makings of a Pyramid Scheme, and the FTC or Federal Trade Commission has guidelines on how to spot one.
Based on that snippet, you'll see what the red flags are.
First, there are no products or services to sell, so you're giving out money for the sake of earning money.
This leads me to the second point, which is the amount of money you're earning depends on what you bought and who you recruited.
#2 – The Income Is Not Even Guaranteed!
They were probably right about the 8 figure income being a dream because their income disclaimer says that there's no guarantee you're going to earn what they're claiming you're going to earn.
The third line can be translated simply as "as long you invest in the products, you have a chance of earning".
And that doesn't sit well with me.
#3 – Pay To Win System!
Even if the program wasn't flagged as a pyramid scheme, the fact that you have to buy your way into their compensation plan means that if you don't purchase, you don't earn.
It's as simple as that.
And that's not even worth the hassle of wasting thousands of dollars just to earn thousands of dollars back!
What I Like About 8 Figure Dream Lifestyle?
Nothing!
This is a program that doesn't actually help you make money online. If anything, it'll just suck the money out of your wallets and you'll be poorer for it.
Is 8 Figure Dream Lifestyle a Scam?
8 Figure Dream Lifestyle has the makings of a pyramid scheme based on FTC guidelines, and I'm pretty sure that it's going to be shut down sooner or later.
The fact that you have to rely on what you purchase to earn means there's no way for you to earn real money without spending anything.
On top of that, the training courses they provide can easily be located online for FREE, so there's no logic at all to spend thousands of dollars to learn about Internet marketing.
I would avoid this program at all costs.
How I Make a Living Online?
I've personally created a 4-Figure Monthly Passive Income Stream and become financially independent at just 21 years old without any College degree or working experience!
Through my own hard work, I went from a broke restaurant waiter to living my dream laptop lifestyle in less than a year's time...
If you want to discover the secrets of how I did it at such a young age, click here!